News 2017
» Latest News | » 2019 News | » 2018 News | » 2017 News | » 2016 News | » 2015 News | » 2014 News
Cheque for £250 donated to Gosset Ward, (Special Care Baby Unit), Northampton General Hospital.
A cheque for £250 was presented by Richard McMahon (Macca) to Grace Rodgers, Ward Sister, Gosset Ward (Special Care Baby Unit) at Northampton General Hospital.

The money will be used to buy a new fridge for parents of babies who are being cared for on the ward.

Gosset Ward was chosen by the Club as the family of one of its members had been a patient.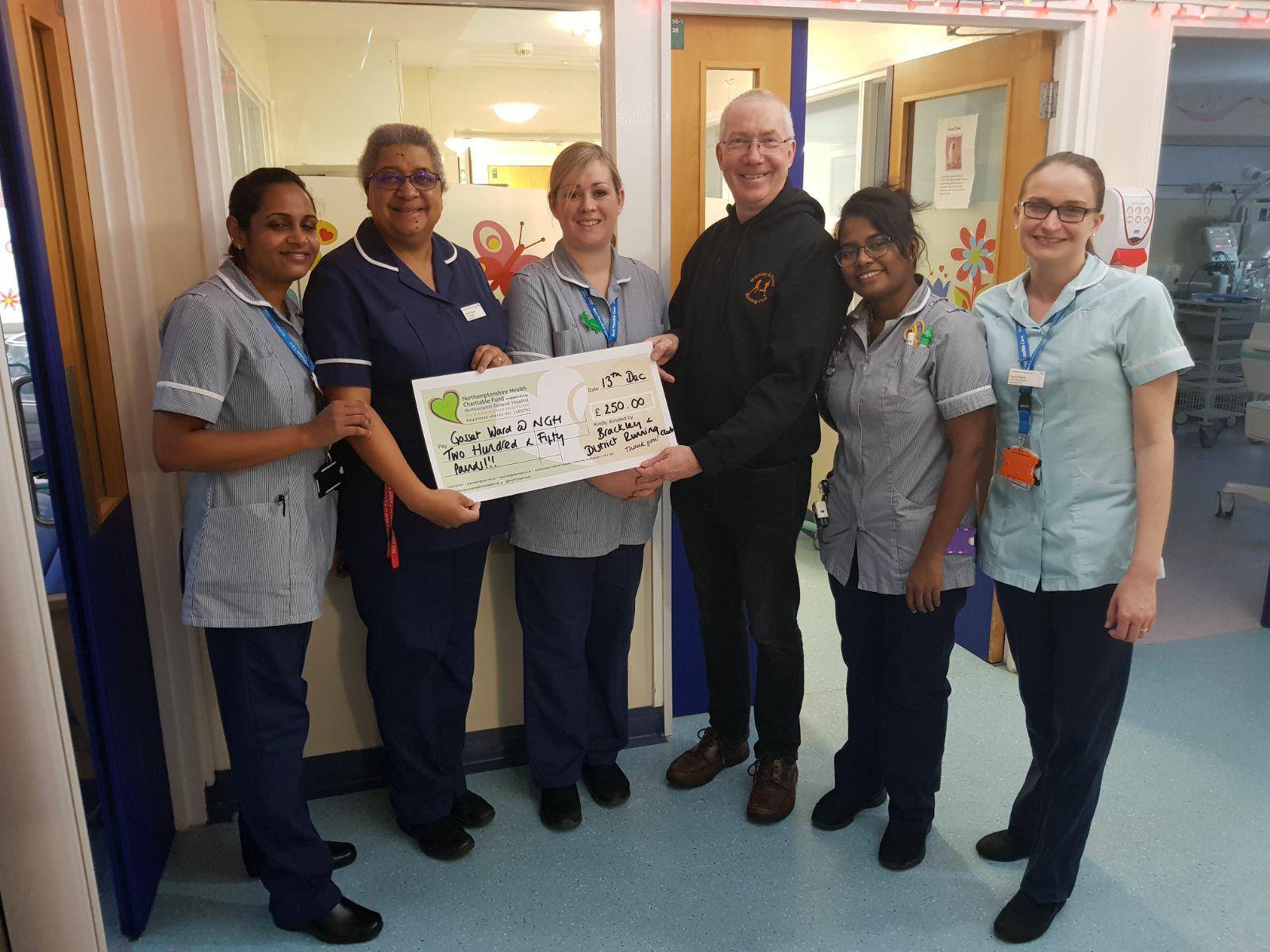 ---
Annual General Meeting & Awards Night
10th November 2017
At a well attended AGM on Friday night a new committee was elected for the forthcoming year:
Chair: Ian Marriot
Membership Secretary: Suzanne Peel-Yates Bass-Twitchell
Race Secretary: Adrian Crookes (re-elected)
Web Master: Nicola Crookes (re-elected)
Club Secretary: Richard McMahon (re-elected)
Treasurer: Julie Waller (re-elected)
Social Secretary: Claire Frogley (re-elected)
Merchandise Officer: Chris Noble (re-elected)
General Committee Member: Natasha Berry (re-elected)
General Committee Member: Nikki Jenkins
We now have a full complement of committee members to represent you and the club.

Thanks to all who have served in the past year including those re-elected above and Gareth Bowden (Chair), Dawn Breward, Tessa Gunson who also served on the committee last year and have stood down. Also thanks to Keely Weir for all her help with the Gentle Pace Group over the last two years.

Following the AGM the club held it's awards presentations and the following were awarded:

2017 Ladies Championship
Champion: Nicola Crookes
2nd place: Dawn Breward
3rd Place: Heidi Lewis

2017 Mens Championship
Champion: John Russell
2nd place: Mark Torrington
3rd Place: Gareth Bowden

2017 Ladies Handicap Championship
Champion: Suzanne Peel-Yates Bass-Twitchell
2nd place: Nicola Crookes
3rd Place: Maxine Sutton

2017 Mens Handicap Championship
Champion: Michael Bishop
2nd place: Adrian Crookes
3rd Place: Eoin Tweeddale

2017 Time Trial
Champion: Eoin Tweeddale
2nd place: Richard McMahon
3rd Place: Julie Waller

Members Awards
Club Person of the year: Nicola Crookes (» View members comments)
Club Achiever of the year: Pete Faulkner (» View members comments)

Chairman's Award
A special recognition award from the Chair to a member of the club; this years recipient was Michael Bishop (AKA BBB) - for being 'Michael Bishop'..

London Marathon Place for 2018
The draw for this was made and the person representing us next year at the VLM 2018 is Brad Hook . If Brad can't run, Claire Froggley is second in line.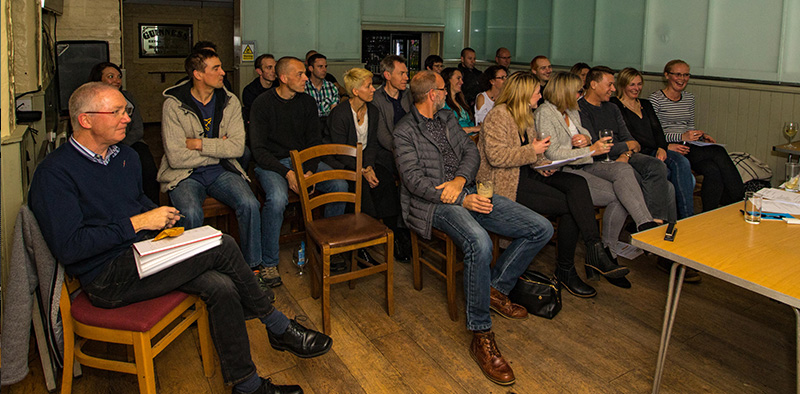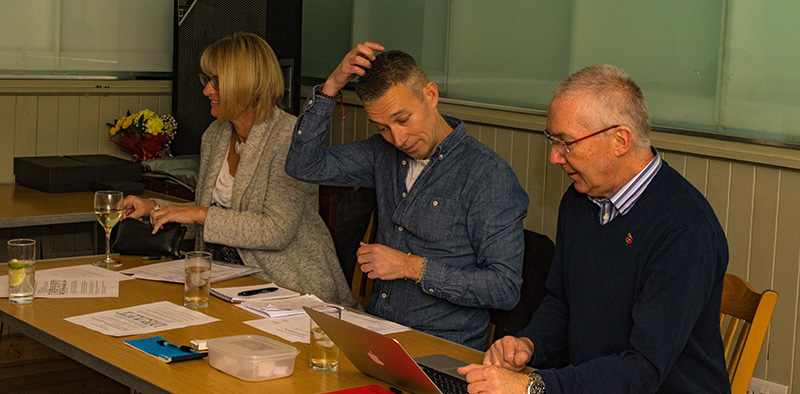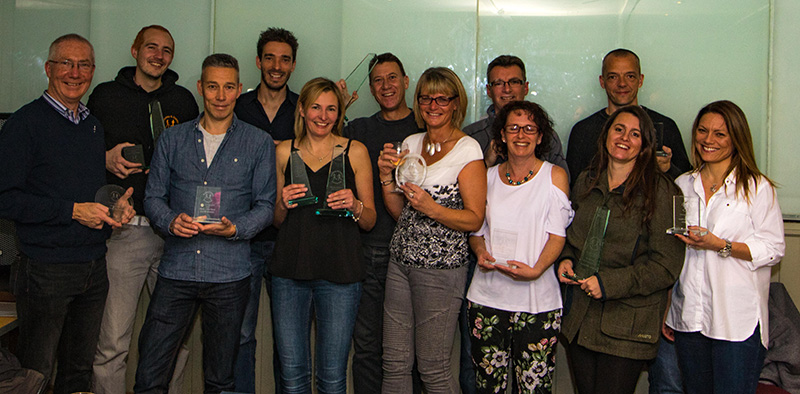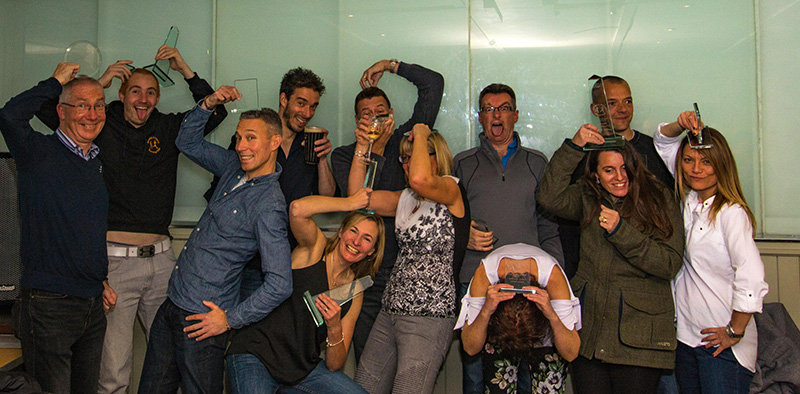 Thanks to Chezza (Cheryl Torrington Photography) for great pics of the AGM.
» Click here to view all AGM pics
---
Nicola hands over cheque to Helen & Douglas House - 22nd May 2017
Each year, Brackley & District Runing Club donates a sum of money raised during our Annual 10km Chicken Run event, to charity. Last years chosen charity was Helen & Douglas House Hospice. Our webmaster, Nicola Crookes, is seen below presenting a cheque for £250.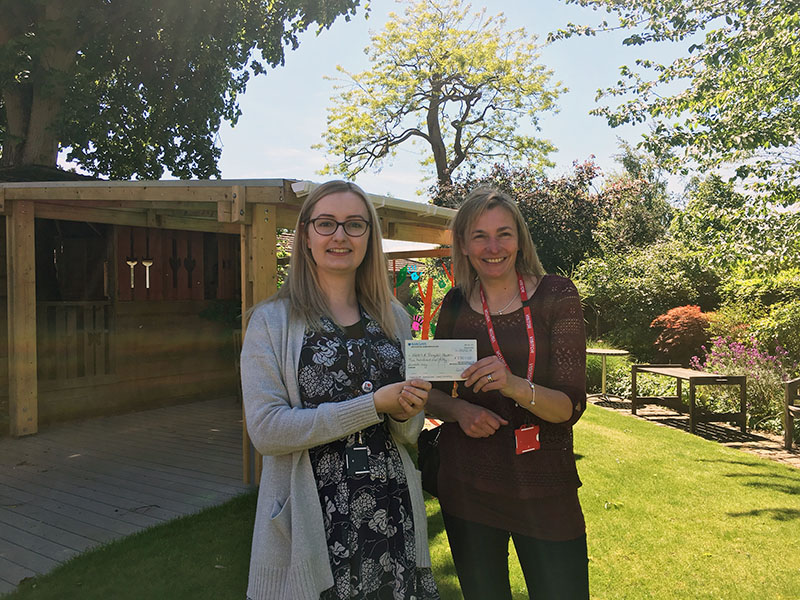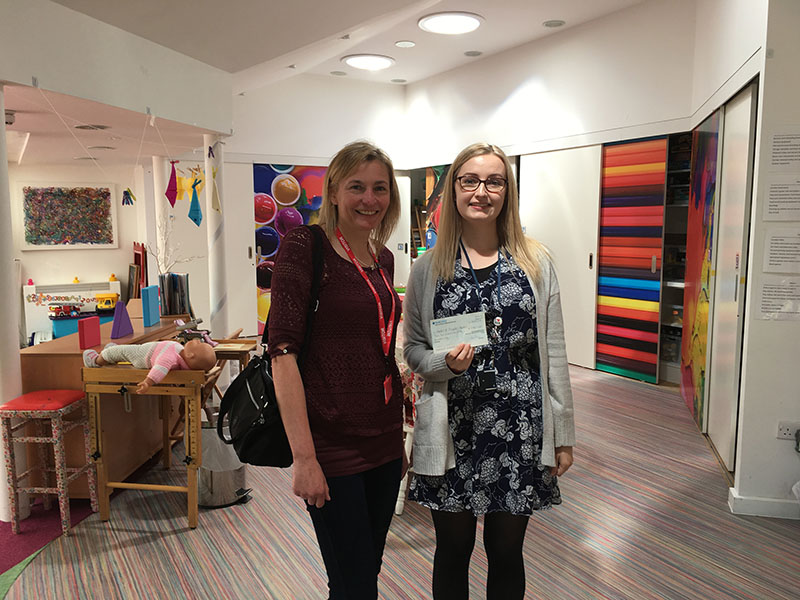 ---
BDRC held first Advice & Support Session - 28th March 2017
On Tuesday 28th March we held our first, very sucessful, advice and support session for everyone taking on new (or old) running challenges at any level. The session took place after the club run at The Plough, Brackley. A panel consisting of Gareth (ChairBow) Bowden, Ian (Mazza) Marriott and Chris (Nozzer) Noble answered questions covering many topics, from fuelling, to water carriers, to pacing etc.