News 2015
» Latest News | » 2019 News | » 2018 News | » 2017 News | » 2016 News | » 2015 News | » 2014 News
Club Chairman hands over cheque to local charity
24th December 2015
Each year, Brackley & District Runing club donates a sum of money raised during our Annual 10km Chicken Run event, to charity. This years chosen charity is Katharine House Hospice. Our chairman, Gareth Bowden, is seen below presenting a cheque for £250.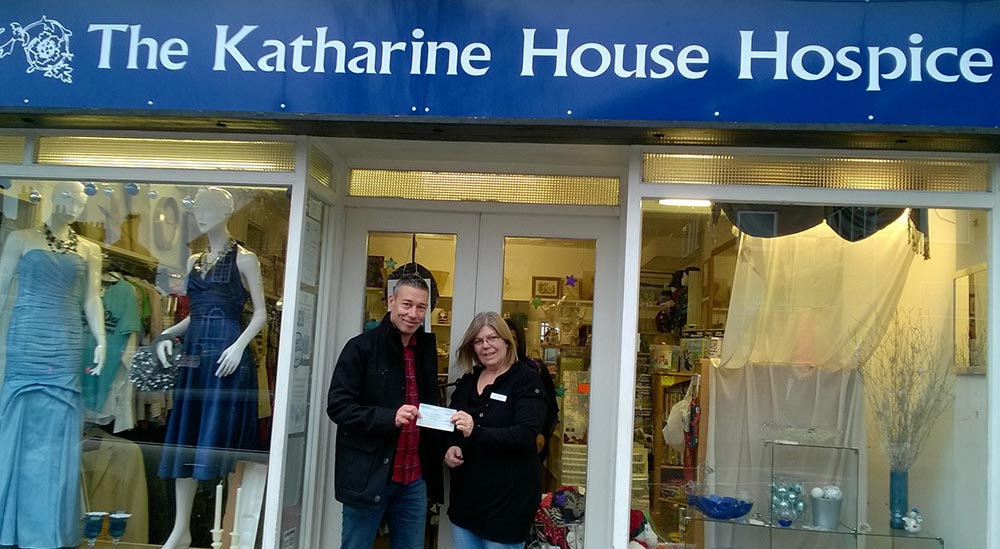 Annual General Meeting & Awards Night
13th November 2015
At a well attended AGM on Friday night a new committee was elected for the forthcoming year:
Chair - Gareth Bowden
Club Secretary - Eoin Tweeddale (re-elected)
Treasurer - Suz Meacock (re-elected)
Web Master - Nicola Crookes (re-elected)
Social Secretary - Keely Weir (re-elected)
Membership Secretary - Dawn Breward
Race Secretary - Adrian Crookes
Merchandise Officer - Alex Bailey
General Committee Member - Kirsty Hambleton
We now have a full complement of committee members to represent you and the club.

Thanks to all who have served in the past year including those re-elected above and Ali Nutall and Matt Spenceley who also served on the committee last year and have stood down.

Following the AGM the club held it's awards presentations and the following were awarded:

2015 Ladies Championship
Champion was Dawn Breward

2015 Mens Championship
Champion was Mark Woodus
2nd place - Gareth Bowden
3rd Place - Ian Marriott

Members Awards
Club Person of the year - Gareth Bowden
Club Achiever of the year - Ian Marriott

Keely has posted the full text of nominations of the members awards above on our Facebook page. Many thanks to all that voted.

Chairman's Award
A special recognition award from the Chair to a member of the club for efforts on behalf of the club and dedication to running. This years recipient was Nicola Crookes.

Lifetime Members award
Presented by our first Chair, Andy Howe, to a fellow founding member of the club who, though not running so much these days because of injury, has always supported the club. The award of Lifetime member to Darren Long.

London Marathon Place for 2016
The draw for this was made and the person representing us next year at the VLM 2016 is Ian Marriott.