Latest News
» 2019 News | » 2018 News |» 2017 News | » 2016 News | » 2015 News | » 2014 News
Miles for Mind - May 2020

The runrMiles for Mind challenge has drawn to a close and across the country has raised over £105,000 for the charity Mind. Fifty five runners from the Brackley and District Running Club (this incudes 16 minors) originally pledged to run a total of 3910 miles. Once the challenge got under way they discovered they loved it so much that the total miles run came 4839.4

It was a perfect and very enjoyable lockdown challenge but the impetus to keep it going and run more miles came from the knowledge of the good work Mind does to help people access advice and support with mental health issues.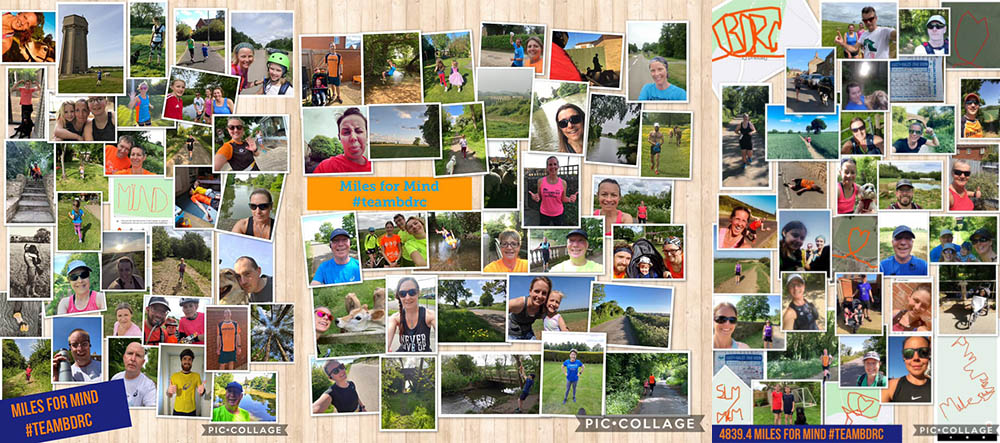 ---
Lockdown News

At a time when many sports lovers are missing their team mates as much as playing their sport, runners do at least, enjoy a small advantage. You can run alone. We are even encouraged to do so by the government in these lock down days. We can enjoy the miles but we miss our running companions and many are missing the events they'd signed up for having done months of training, much of it during the unkindest winter weather.

On 5 April, the day of the cancelled Manchester Marathon, one of the club members, Deb Payton, decided not to let her training go to waste and ran her first marathon, not in Manchester but in her back garden. Non stop. She ignored the thought of the enticing settee indoors, she didn't waver at the thought of her kitchen and refreshments just a few steps away from the course, she kept going. For 594.2 laps of her garden. The crowd support was good, her family ably replicating the sounds of crowded Mancunian streets. A high tech lap counting system of pebbles per lap was employed, possibly for the first time at such a prestige event. Deb completed her first marathon in 5 hrs 6 minutes and 50 seconds. She also raised funds for 2 charities, The Oxford Hospitals Charity and The Roy Castle Lung Foundation.

Deb's solo marathon effort is in keeping with these times as solo running is all we are allowed to do but there are virtual challenges and events that keep us motivated. Fifty three members of the BDRC have joined the Runr Miles for MInd Challenge 2020 to raise funds and awareness for the charity Mind. Each member has pledged to run a certain number of miles in May. The most popular distance seems to be 75 miles but several have pledged more miles, up to 200! The total number of miles pledged is 3910, I think it highly likely that number will be exceeded. Anyone inspired to donate to the cause can visit Miles for Mind Just Giving page. The Charity support and empower anyone experiencing mental health issues.