» 2022 Reports |» 2021 Reports |» 2020 Reports | » 2019 Reports |» 2018 Reports | » 2017 Reports | » 2016 Reports | » 2015 Reports | » 2014 Reports | » Download template
---
Milton Keynes 10km (EMGP)- Tuesday 11th July 2023
Report by: Kim Fox
Distance: 10km
Location: Willen Lake, Milton Keynes
Web link:

Event Details:This race is part of the EMGP series, which is a series of 8 road races that are held on weekday evenings throughout the summer. You can enter the races individually or enter for the entire series.

Before the race:The race started at 7.45pm so it gave people time to get there after work. There was lots of parking near the lake, although no free parking unfortunately. People who entered for this race only could collect their numbers and/or sign up on the night, previous runners of the series had to remember to bring their number that got from previous races. There were toilets to use before the race too, which was lucky as we all like a pre-race toilet visit don't we!

Who ran: Kim, Louise, Mary, Sarah C, Loren, David, Bish, Cornish, Jayne, Sue, Rachel (Lolly), Charlotte

The Race:
The race started and finished at Willen Lake and was well marshalled throughout. It consisted of 2 loops and involved a mixture of lake-side paths and paths along the main road. There was a water station halfway but disappointingly it only had sparkling fruit flavoured water. Not very refreshing at all. To make matters worse, at the end there was a very short supply of still fruit flavoured water. Several runners didn't even get a bottle of water. So that was a shame, because otherwise it was a well organised race. No medals either, so not one for the medal collectors among us.
BDRC Results:
Cornish – 35.33
David – 45.11
Kim – 46.30
Bish – 52.03
Louise – 52.22
Rachel – 52.25
Sarah – 52.34
Sue – 54.01
Mary – 54.17
Jayne – 54.57
Charlotte - 57.52
Loren – 63.14

Would you recommend?
Definitely, as long as they sort out the water next year! It is a relatively local, mid-week race, it always has a good turn out too.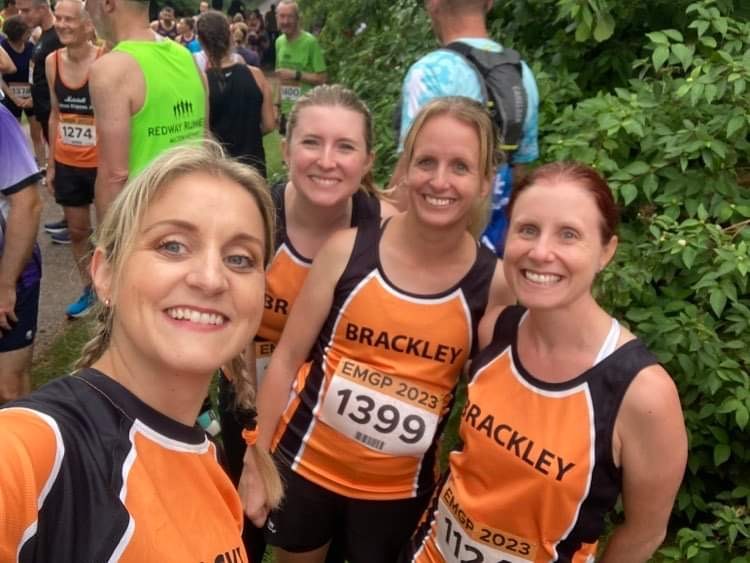 ---
Otmoor Challenge - 1st July 2023 2023
Report by: Richard McMahon (Macca)
Distance: Half Marathon
Location: Horton cum Studley
Web link: http://www.otmoorchallenge.co.uk

Event Details:The Otmoor Challenge has been taking place for more than 40 years, however 2023 is the first time it has been held for three years due to the pandemic. It is a mixed terrain half marathon, with roughly half on road the rest on tracks and field paths. The course is mainly flat with the big exception of a significant hill around mile 10. In the past there has been a fete on the sports ground where the race starts and finishes but sadly this year there was no fete.

Before the race:There was plenty of parking on the field, meticulously organised by the Army Cadets!!

Who ran: Lolly (Rachel Prior), Bish (Michael Bishop) and Macca (Macca!)

The Race:
There was a sprinkling of rain before we headed off, but soon hit a bottle neck as we queued to run down a single width field-path, with no room to overtake. However, many of the early miles were on quiet country roads and it was then easier to get into a consistent rhythm. As the race progressed it moved onto trail, with some particularly uneven sections a threat to our ankles!! After mile 10 there is an extended steep climb and Humphries Hills stood me in good stead until the final 20 metres which were un-runable!! This climb was followed by a steep, slippery downhill over a meadow. The final mile was in the sun and is fast and flat along quite a busy road, before turning back onto the sports field and the finish.
BDRC Results:
Michael Bishop - 1:50:22
Rachel Prior - 2:07:
Richard McMahon - 2:09:13

Funny Moments
We thought Bish has stayed in bed, but he rolled up in time for the start!

Would you recommend?
I am a reluctant cross-country runner so I entered this race knowing it was roughly half on trail paths to challenge myself. It made a nice change to be on mixed terrain, but I still prefer road and so personally I would be reluctant to enter again, but I think many Club members would really enjoy this event. The race was well organised, well marshalled and there was tea and cake available at the end!!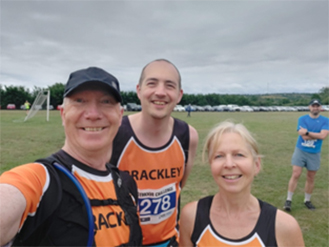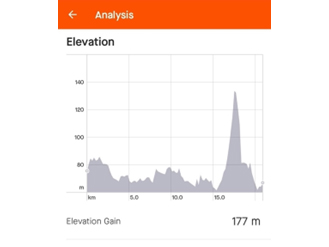 ---
Weedon 10k - 20th June 2023
Report by: Kevin Tustain (Cornish)
Distance: 10KM
Location: Weedon
Web link:

Event Details: This race features the fastest mile you are ever likely to do during a run. It's described as a undulating course and it is a little challenging. It is usually absolutely roasting but this year was actually a decent temperature.

Before the race:Well signposted to a big car park again which is right next to the start just outside the village hall on the road, only a handful of toilets though..

Who ran: Kevin Tustain, David Griffiths-Allen, Michael Bishop, Heidi Carrruthers, Sue Torrence, Natasha Berry, Jayne Cooper, Charlotte Brown.

The Race:
The start happened eventually after probably the longest pre race briefing ever heard, he certainly enjoyed his moment.. The race starts winding up through Weedon and out the other end of the village onto a country road, there is then a couple of junctions before a slight climb on Everdon Stubbs, once up the top it flattens out a little before another little bump in the road and a very fast downhill back down towards to Weedon, left onto a residential street which kicks up towards the finish line in a cul-de-sac.
BDRC Results:
Kevin Tustain 37:01
David Griffiths-Allen DNF
Michael Bishop 46:33
Heidi Carruthers 54:43
Sue Torrence 54:56
Natasha Berry 57:10
Jayne Cooper 57:02
Charlotte Brown 61:18

Would you recommend?
I'd always recommend the EMGP race. Weedon is very challenging but it is so much fun too. Do try to get to this race if you can, you won't regret it. Less than 30mins away too.
---
Blisworth 5 - 9th June 2023
Report by: Kevin Tustain (Cornish)
Distance: 5 miles
Location: Blisworth
Web link:

Event Details: The Blisworth 5 is a long standing race that is always on a Friday night. The course is undulating with a very fast start followed by a slight climb then pretty much plain sailing after 3 miles. This event like a lot of the EMGP races is well attended by "serious" faster runners and runners looking to enjoy a race atmosphere.

Before the race:There is a little way to go from the large car park to the start line but I'd treat it as a good opportunity to do a good warm up. Lots of people warm up along this road and it is open the whole time so you do need to be a bit wary but it is a generally quiet road. The start is on the road just outside a farm.

Who ran: Kevin Tustain, David Griffiths-Allen, Michael Bishop, Heidi Carrruthers, Sue Torrence, Rachel Prior, Jayne Cooper, Mark Poulton, Maxine Sutton.

The Race:
The start can be a bit chaotic what with the road still being open but it's an extremely fast start down to and through Blisworth then back up the hill towards the farm and through to Gayton, a couple of left hand turns and you're soon heading back along the same road towards the finish in the farm yard. It was a very hot day this year and the sun was very bright and in your eyes for a couple of miles, glad I had my hat. My own race went very well, pushed hard at the start and hill and managed to hold on and get myself up to 11th and a PB so was pretty chuffed with that.
BDRC Results:
Kevin Tustain 28:25
David Griffiths-Allen 35:16
Michael Bishop 36:52
Heidi Carruthers 40:33
Sue Torrence 41:42
Rachel Prior 42:30
Jayne Cooper 44:22
Mark Poulton 47:27
Maxine Sutton 52:44

Would you recommend?
I would highly recommend the EMGP races, they're very well organised and a lot of fun. Blisworth in particular is a favourite of mine, it's a good challenge and only ten minutes up the road. Only a tenner too..
---
OX5 - 26th March 2023
Report by: Adrian Crookes (YT)
Distance: ~5miles (came up a bit short!)
Location: Blenheim Palace
Web link: https://www.hospitalcharity.co.uk/news/ox5-2023-story

Event Details: A splendid traffic free road run round Blenheim estate, if not a little hilly. All proceeds go towards the fabulous Oxford Hospitals charity, which Chooch and I love to support – frankly, without the expertise of our local big hospital, we simply wouldn't have our eldest daughter (Lucy) with us now, so running 5 miles is a very small repayment on a lifetime of debt we have with them! I am reliably informed by all the ladies present on the day that the toilets were the BEST EVER at any event they've been to before! Praise indeed! I'd love to think the club could continue to support this event, it's a beaut! 😊

Before the race: The weather was slightly inclement on the day, drizzly and chilly, so we all huddled in the car until it was time to run. We did have a moment where we boogied to Jack FM just to get warm! Chooch, obviously won the dancing competition………NOT!! Louise H had loads of ex-colleagues running so they had a nice photo all together.

Who ran: Chooch, Mary, Louise H, Froggles & Christie (with the ever present Chris in support!) & me

The Race:
The distance came up slightly short (which I have raised with them), but other than that a lovely route through Blenheim, taking in some good views of the estate. Quite a tough route (Strava tells me ~360ft of ascent – felt more!). I think we all really enjoyed it!
BDRC Results:
Adrian CROOKES 00:35:19
Nicola CROOKES 00:38:16
Mary de Frates 00:40:37
Louise Honeyball 00:43:44
Claire Frogley 00:44:24
Christie Lines 00:49:22

Funny Moments
Silly things annoy me, like a young man passing me at a mile in saying "well done, keep going"……he was never gonna beat me after that, and he didn't. Pathetic, I know!!! 😊
Pre-race jigging around whilst stuffing our faces with Jack FM sponsored sweets.
Pointing out "Wooly Susan" on the start line……

Would you recommend?
Absolutely yes! It is a bit more expensive than "normal" races, but as a one-off charity event that's fine.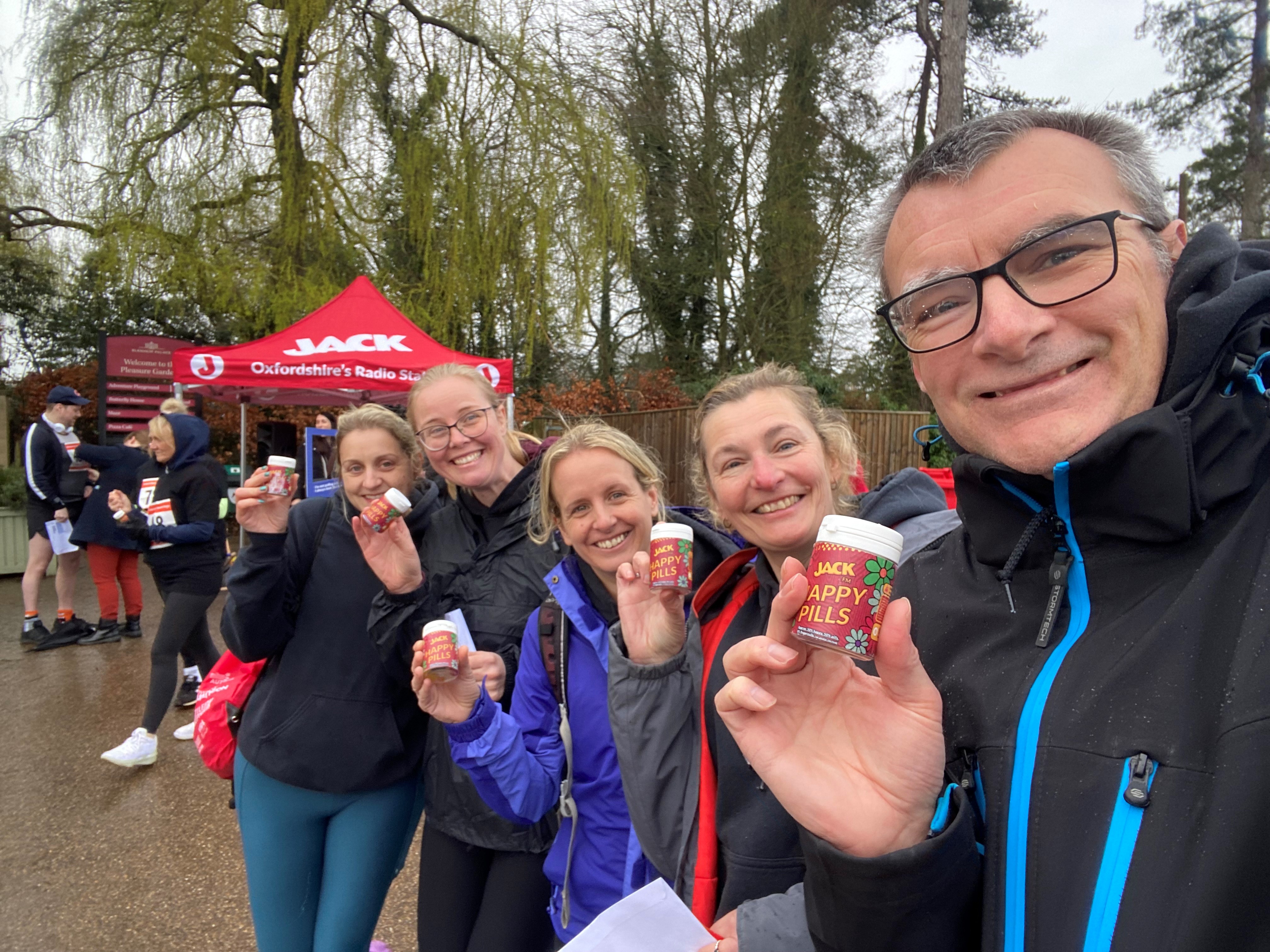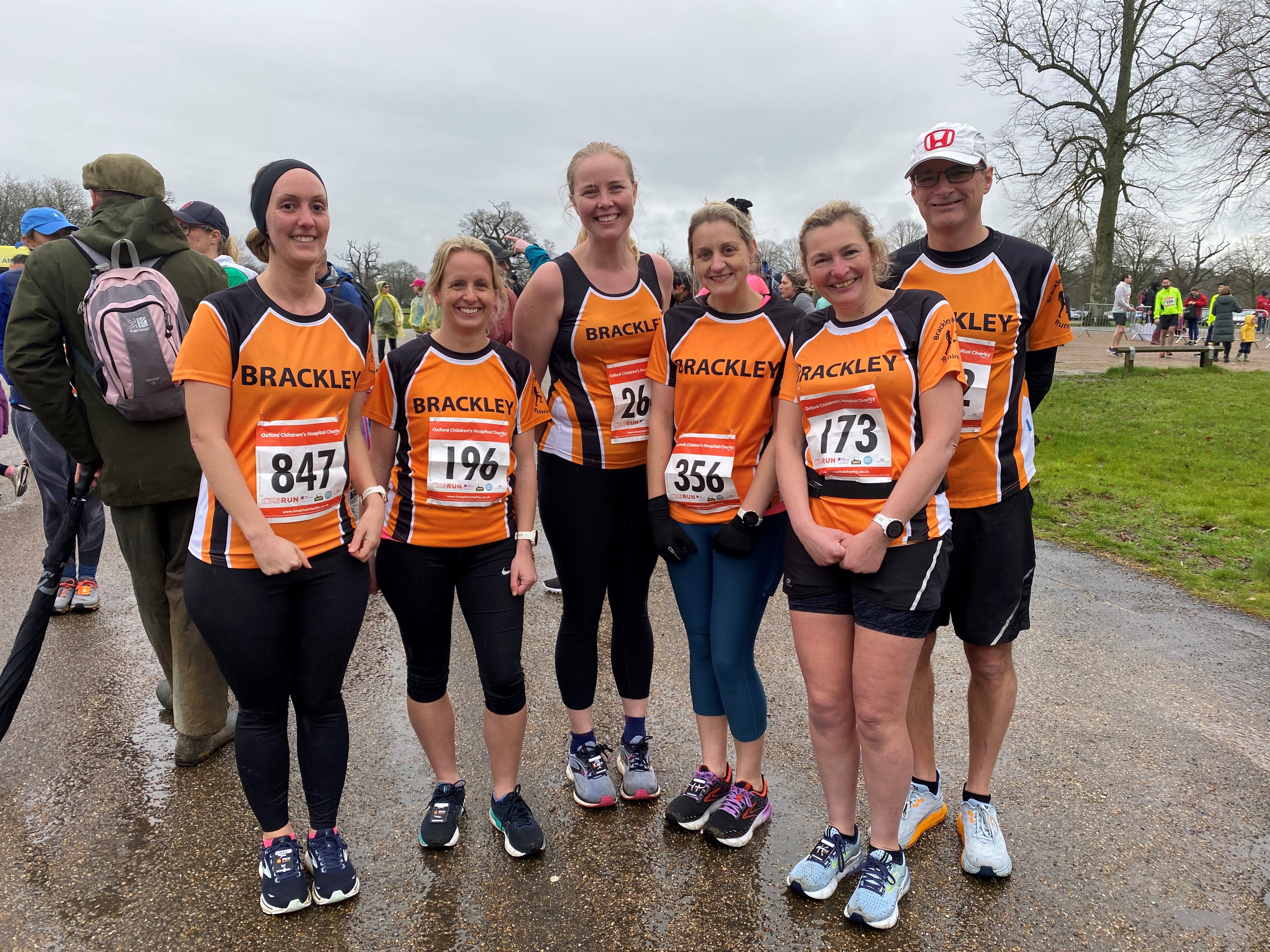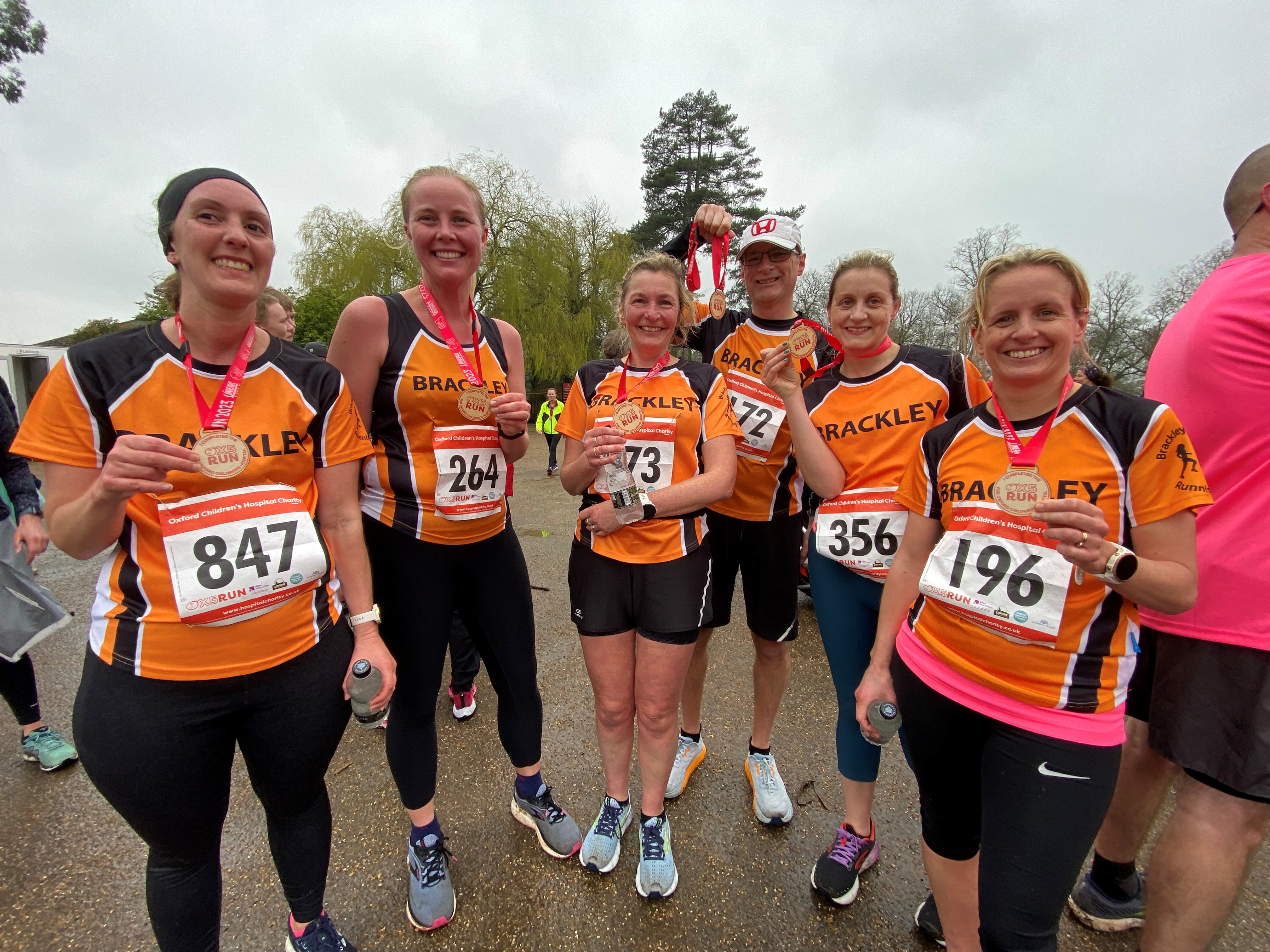 ---
Banbury 15 - 19th March 2023
Report by: Mary De Frates
Distance: 15 miles
Location: Spiceball, Cherwell Drive, Banbury, OX16 2BW
Web link:

Event Details: A 15 mile race which starts and finishes at Spiceball Park. It is a very undulating course!

Before the race:Race number collection , toilets and showers were available at the Race Headquarters which was situated in the spiceball leisure centre. It was then a short walk to the start of the race at the Spiceball Country Park. At the start of the race BDRC runners met for photos and some enthusiastic chatter before nervously lining up to start the 15 mile hilly race!

Who ran: Michael Bishop, Kate Capps, Mary de Frates, Frances Edwards, Kim Fox, Keith Fox, David Griffiths-Allen and Louise Honeyball.

The Race:
The race starts in S7piceball country park on grass but then the race is run on pavements and country roads. The route heads out of Banbury from the park up the Southam road and then through the villages of Little Bourton, Great Bourton and Cropedy. You then do a lollypop loop taking in some beautiful Oxfordshire countryside before heading back through the villages and into Banbury and back to Spiceball park for the finish . The route is very undulating with the main uphill climbs being at mile 1.5 -2.5, mile 8-9 and at mile 11-12. There are plenty of smaller inclines inbetween too! The final couple of miles of the race are downhill which is a great way to finish. At the finish line you receive a lovely medal and there are lots of supportive cheers from the marshalls and other runners and supporters too. A very well organised and friendly race.
BDRC Results:
Keith Fox 1:41:13
Kim Fox 1:56:53
David Griffiths-Allen 1:57:54
Kate Capps 2:07:33
Michael Bishop 2:09:28
Frances Edwards 2:19:11
Mary de Frates 2:35:11
Louise Honeyball 2:35:11

Would you recommend?
I would definitely recommend this race. It is a tough course but the sense of achievement at the end is brilliant. The marshalls and other runners on the course were all very encouraging and friendly which made it a very enjoyable morning.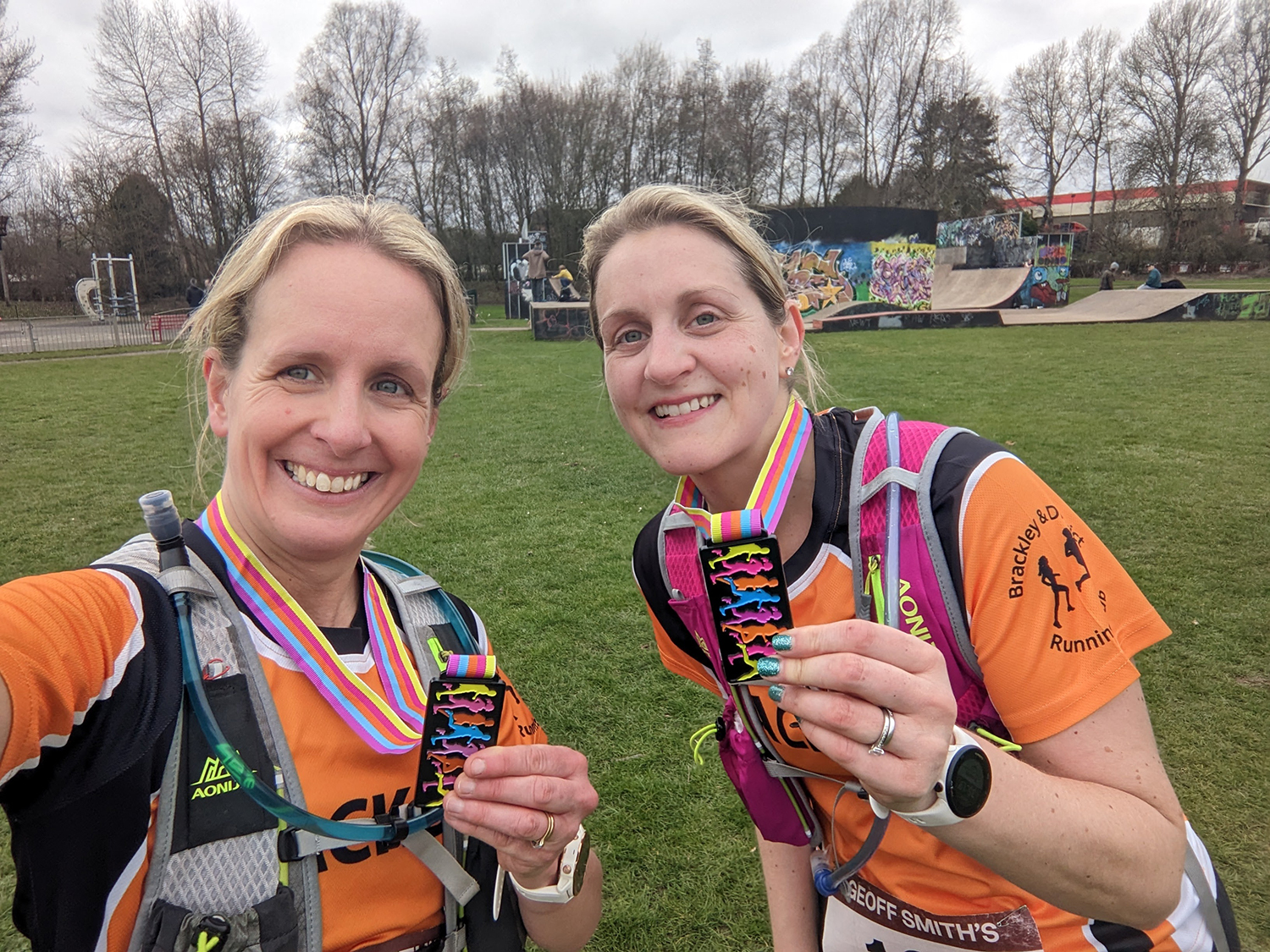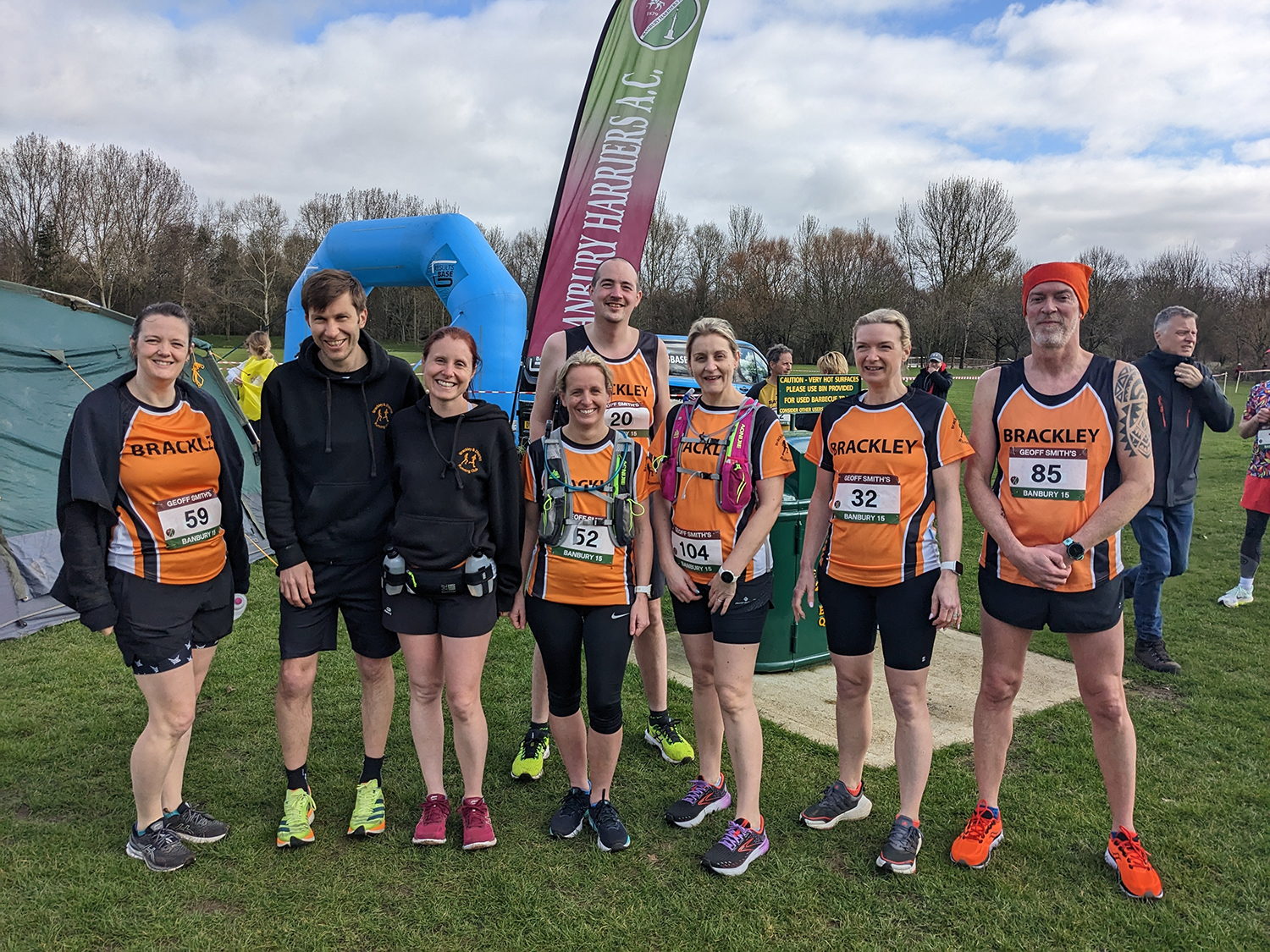 ---
Not the Roman IX - NTRIX - Sunday 29th January 2023
Report by: Louise Honeyball
Distance: 12km
Location: Alveston Primary School, Stratford-upon-Avon, CV37 7BZ
Web link: https://stratfordac.co.uk/not-the-roman-ix-ntrix/

Event Details: An undulating 12km route starting and finishing at Alveston Primary School

Before the race:Parking was available at Stratford Bowls Club and Riverside Caravan Park, although this was limited, and the recommendation was to travel together where possible. Race HQ was at the primary school, just up the road from the car parks, where numbers were collected, facilities utilised (portaloos – but not too grotty!), and one could purchase coffee and cakes for charity. There was also a bag drop.

Who ran: Nicola (Chooch), Mary, Louise, Adrian (YT), Kevin (Cornish), Kate, Sue, Jayne

The Race:
The race started just a short walk from HQ on a closed road. It was an unseasonably beautiful sunny day for January. Perfect racing conditions. The race is categorised as undulating, the ups are tough, but the downs are amazing and there are more downs than ups for everyone to enjoy! There was a water station roughly halfway around the course, and I had a well-earned post-race coffee and cake from the charity stall at the finish.
BDRC Results:
Kevin Tustain 00:45:56 Adrian Crookes 00:53:34 Nicola Crookes 00:58:28 Kate Capps 01:00:39 Louise Honeyball 01:01:02 Mary de Frates 01:02:50 Jayne Cooper 01:04:46 Sue Torrance 01:06:20
Would you recommend?
It was a well organised and well marshalled race on a pretty route. The race memento was a pair of socks. Once size fits all, fairly naff quality, and I can't say I've used them! As always, I would prefer a medal! Don't let this deter you though, it was a great race, and I would recommend it if Stratford AC put it on again next year.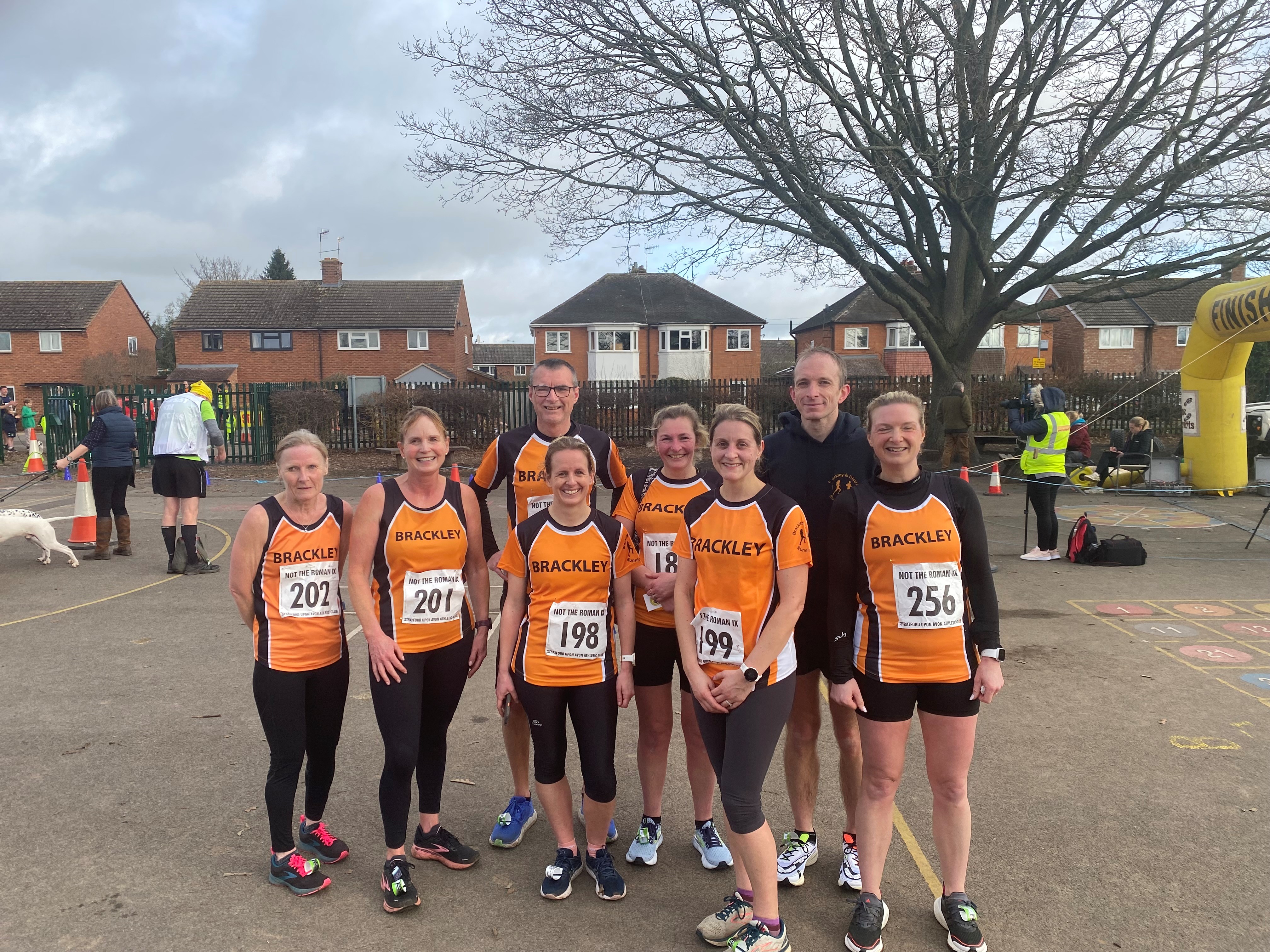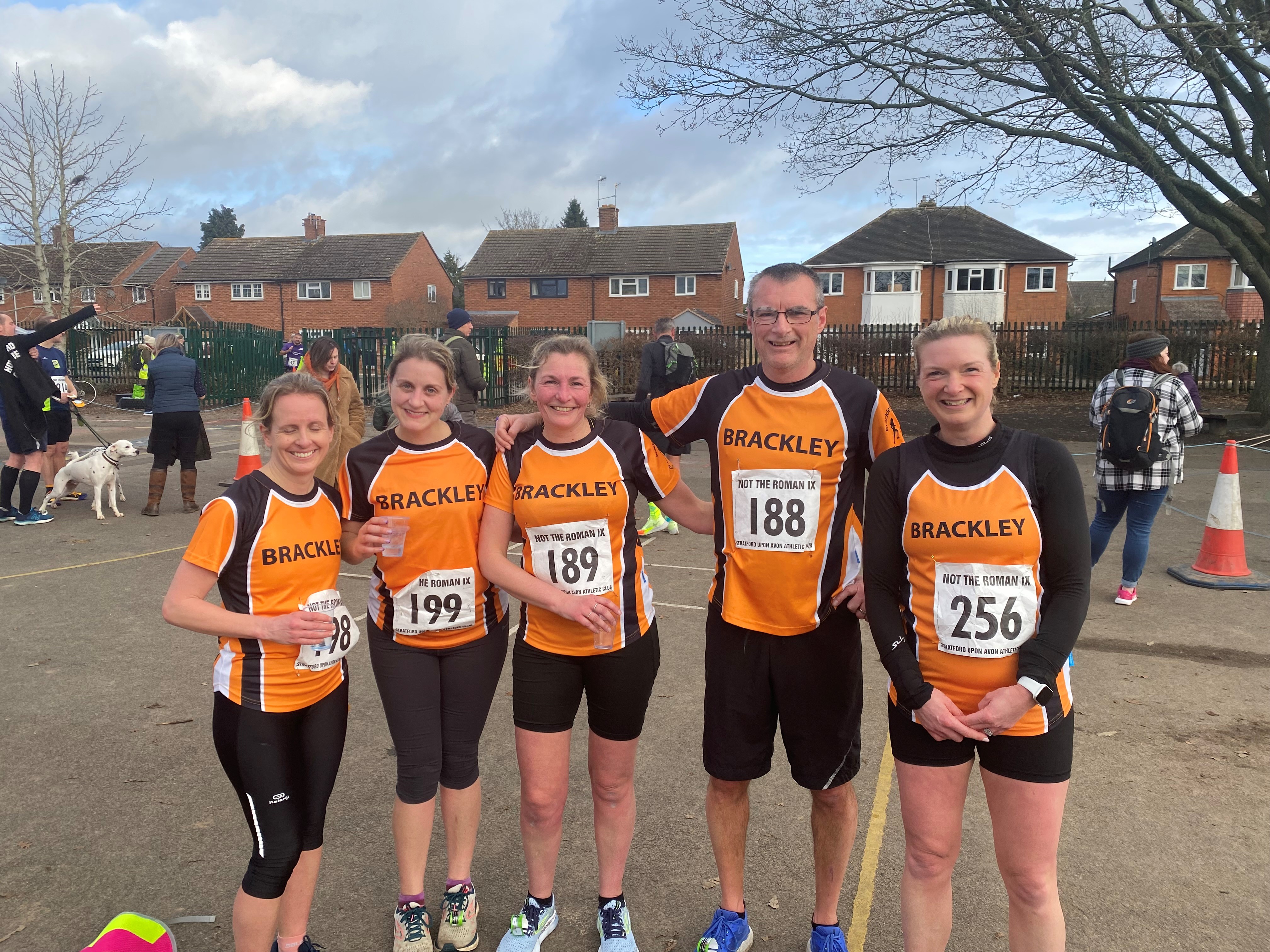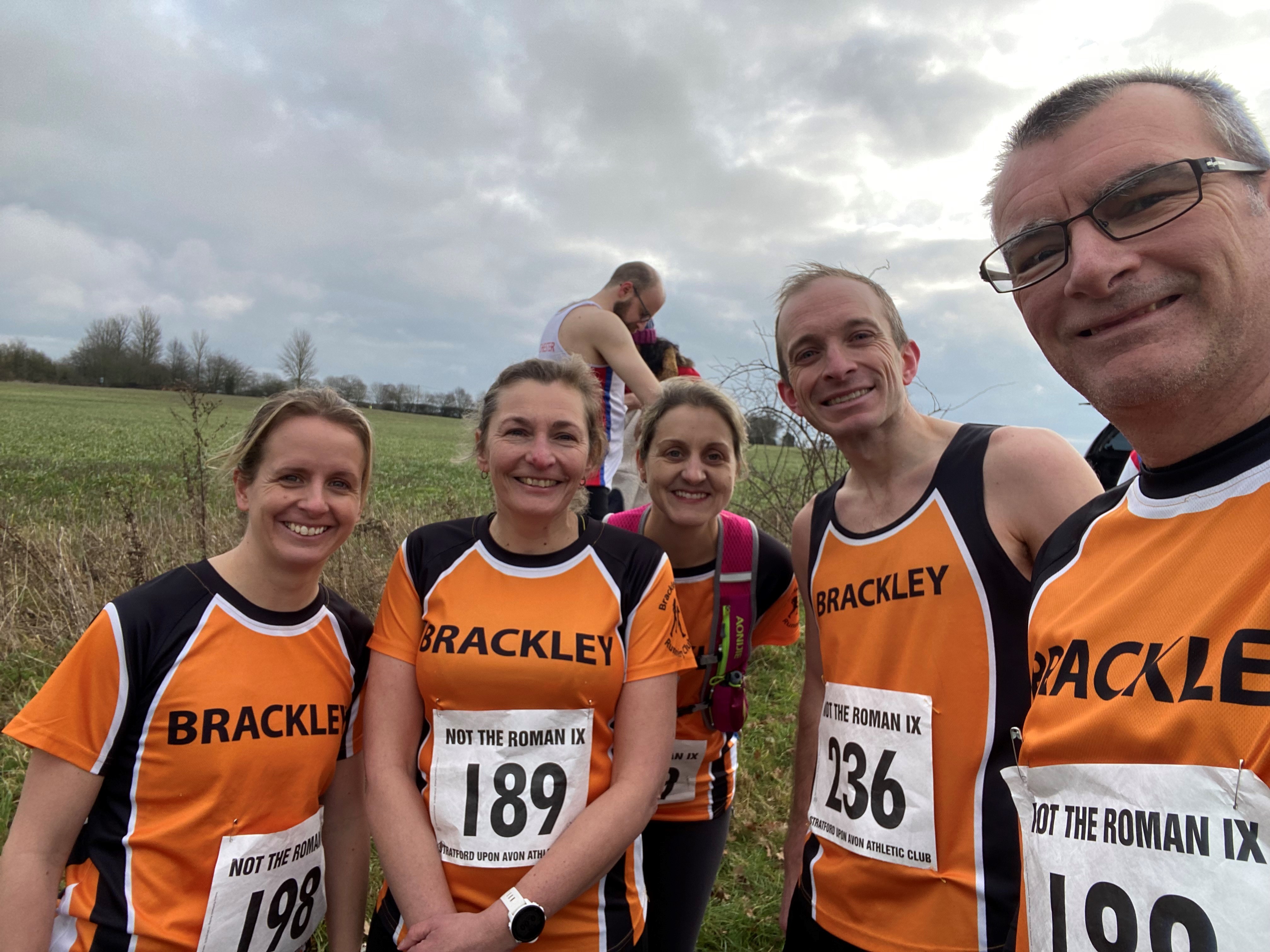 ---