2017 Reports | » 2016 Reports | » 2015 Reports | » 2014 Reports
Abingdon Marathon - Sunday 18th October 2015
Report by Kirsty Hambleton
Ever thought about a marathon? 'No way!' most people cry, but not the members of BRDC, who rather worryingly easily convinced me to do my first one this October. I don't normally fall folly to peer pressure except for one day in March when somehow, on a ('mere') 11 mile run I got carried away and two days later I booked myself onto the Abingdon marathon. Well known as more of a club marathon and, more importantly, flat! I chose it because I felt the pressure of a more mainstream marathon would be higher and I wanted to make sure I could actually run that far before making any fundraising promises that high profile races often attract.
"You'll be fine" they said, "You can definitely do it!" they said... and they were right!
After a summer spent getting up much earlier than seems sociable on a weekend to eat porridge and a banana I would then get out there and discover every corner of the NN13 postcode. It turns out that running a marathon is not so much about race day, but more about the training. Something that is so much more enjoyable and easier with fellow runners to train with. So a huge thank you to everyone who ran with me, but particularly Toby, Dave and Alex who were there on the longest ones. Luckily they are all happy to chat a lot about not very much for long periods of time, which distracts from blisters, sore knees/calves/quads and bizarrely arms over 15-22 miles.
Race day came and a lovely little Brackley crew assembled with Toby, Alex, Ian, Dawn, Gareth, Nick, Suz, Nicola and I all gathered next to the track that in 5 hours would be the last 400m of our 26.2 miles. The weather was what I believe people call 'ideal running weather' being dry, a bit cloudy but not too cold with a bit of a breeze. A few cheeky selfies at the start line and suddenly we were off!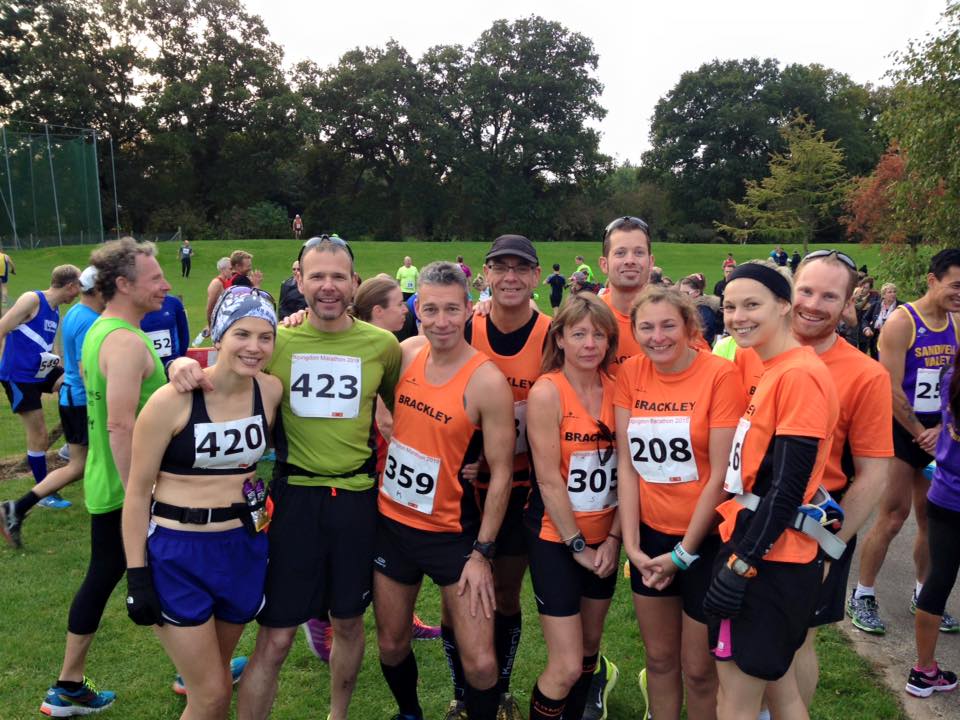 This was it, my first marathon. What would it be like? Would I hate it? Would I love it? Would I finish it?! These are all questions we ask ourselves, but for me the most important two things were 1) Finishing and 2) Not hating it. Thankfully I achieved both of these.
The start was busy due to both the pack of runners and the crowd, which was an early unexpected boost. We weaved through the town to cheers, cow bells and kids with signs. At about 6 miles it started to thin out as we reached the river Thames. I waved Toby off as I kicked my pace forward a little, feeling comfortable, and trying not to think too much about the 20 miles in front of me. The crowds were present almost all the way which really helped, especially those offering jelly babies! There were water, sponge and energy drink stations, giving me plenty of opportunity to refuel. The first loop went quickly and I clocked a 1:41 half, making me realise that I could be in with shot of beating my target time of 3.45 to 4 hours. I kept the pace steady and by 22 miles I was looking at the almost unfathomable possibility of finishing sub-3.30. By this point the miles were starting to feel much longer, with sore feet and a distinct loss of form I was struggling. Luckily the unmistakable ding-a-ling of Ali's cow bell was there to give me a lift and on I went. A well placed stranger with a boom box blaring out Queen's 'Don't stop me now' pushed me through to the last few miles. It was here that the runner's code stood true and a complete stranger almost dragged me along with him to the sports ground where I finally found that little bit of energy to pull me round the track and sprint to complete my first marathon in a truly unexpected time of 3:23:41. No one was more astonished than me!

But enough about me, my fellow runners were all pushing hard too and after chatting for the first 6 miles Toby decided to step back his pace a touch to reach a strong finish circa 3.40, despite having had a nasty sickness bug less than two weeks before! Suz, Nick and Alex were marathon novices like me, with all of us bagging PBs by default, despite Suz battling with a wicked stitch for the last 8 miles. A particular mention to Alex who took up a spare place at the last minute having never run more than 15 miles, great determination. Ian surpassed himself with a sub-3.25 personal best and the ever speedy Gareth clocked just under 3 hours. Seasoned marathoners Dawn and Nicola got to the finish line in great times too, despite not necessarily enjoying it as much as other runs; particularly Nicola who turned out to have run miles of the race with a fractured foot (Get well soon!). All in all it was a solid performance by our club and great team spirit with cake and pasties afterwards to feed our tired bodies. Thank you for getting me through my first marathon, this club has made me love running even more; here's to more races together soon!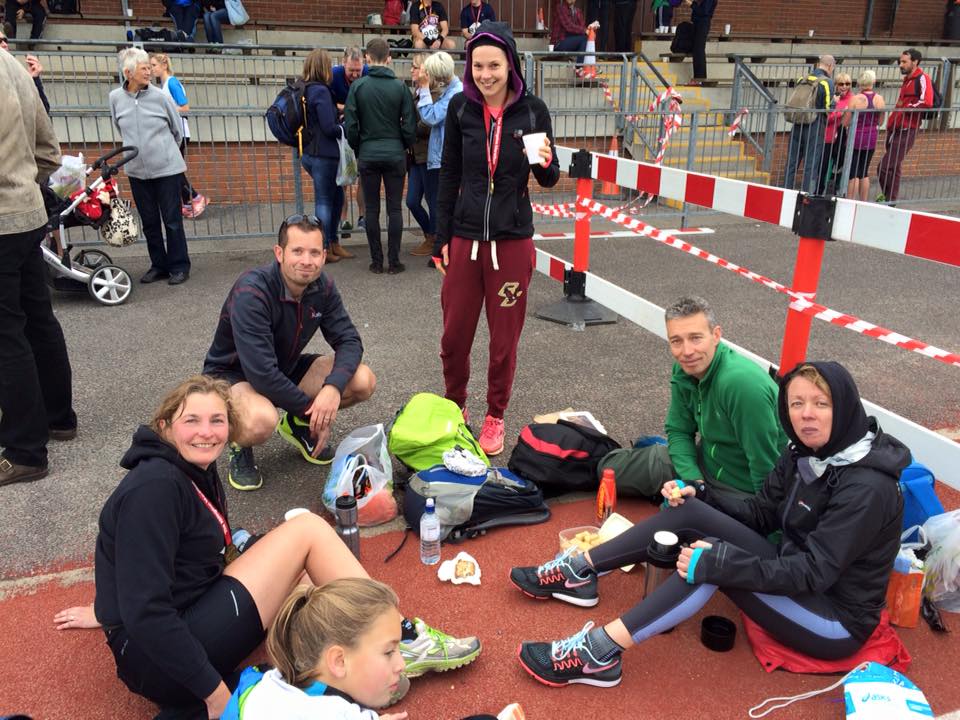 Gareth Bowden: 2:58:31
Ian Marriott: 3:22:23
Kirsty Hambleton: 3:23.40
Dawn Breward: 3:40:08
Toby Cartright: 3:40:59
Alex Bailey: 4:01:54
Nicola Crookes: 4:05:02
Suz Meacock: 4:58:10

---
Hilly 100 - Sunday 17th May 2015
Report by Gareth Bowden
Alarm clocks around Brackley started going off at 3am as the early BDRC crew got ready to shoot off to Stratford at 3.45am from the park at the bottom of Pavillons, not even enough time for a quick go on the zip wire before we left . ET, Ian and myself ( Gareth) led the way because of our immense navigational skills , followed by the Breward mobile containing Dawn, Keely, Helen and Clara and our final convoy vehicle was piloted by the well prepared Diane, with Julie, Nicola and Chris for company . We reached Stratford around 4.30, giving us a little prep time before the 5am start and the first of ten 10 mile legs which would take us around the Cotswolds and back to Stratford upon Avon later that evening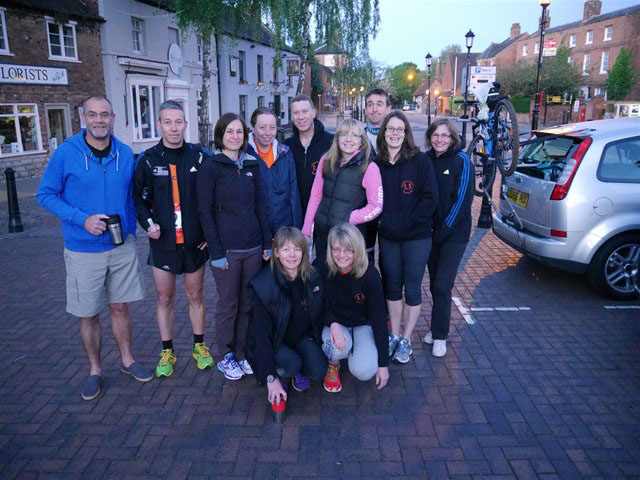 Unfortunately our first contestant, the ever young Nicola had to pull out because of some minor knee niggle ;-) so I had the honour of leading the team out on the first (flat) leg and the second (slighlty bumpier) leg, I was to be ably assisted by my faithful valet Christophe on his velocipede, who would look after my navigational needs and carry my vanity case.
'Twas a beautiful clear morning as the sun rose shortly before the start, but rather chilly and I began to regret not bringing my gloves, hat, and scarf . All the first leg runners gathered under the clock monument and as 5am chimed the race began . I settled in behind the three leading runners , all ladies and cruised along just under 7 minute mile pace . Christophe soon joined me on't bike offering words of wisdom and highly caffeinated drinks , the BDRC cars whizzed by, tambourines at full volume, unfortunately Dawn's clackers didn't make any sound , yet she would persist with them all day long ;-) The temperature dropped as we ran near the river and despite going at a reasonable clip my hands were very cold, and Christophe was very chilly as he was hardly having to use any effort on his bike . At Welford, Chris and I had to make our way past a group of delinquents camped out in one of the bus stops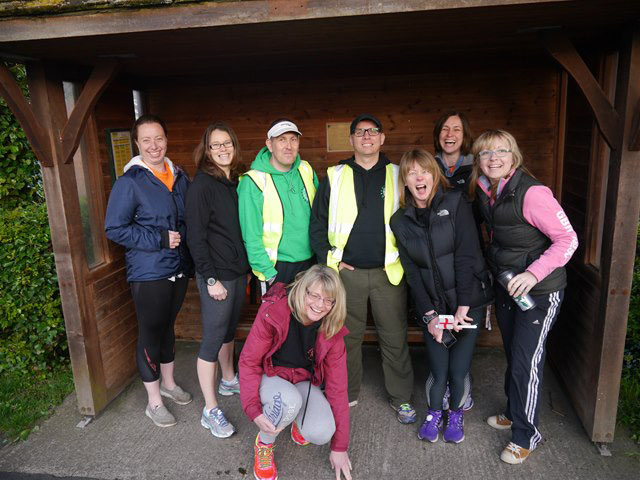 Once safely past this unsavoury bunch I moved into third place, still running comfortably within myself. As the handover point between the first and second legs approached I pushed on past the second placerunner and was in second myself as I ran past our cacophonous crew once more.

The first place runner was now clearly in sight as we approached Mickleton and I moved into first place shortly afterwards . The first real incline came at about the 13 mile mark and over two miles we climbed about 300 ft , by now there was no sign of any runners behind. There was a lovely descent into Chipping Camden and the weather was perfect now , bright and still . I cruised through Chipping Campden and past the gang again , Christophe and I discussing the upcoming hill as we continued.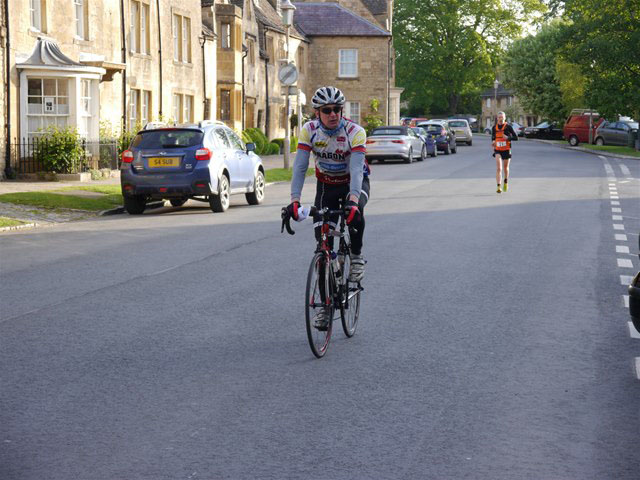 The hill at 16 miles took us up 450ft in two miles and really sapped the energy from my legs and it felt very slow even when I got back on flatter ground, made worse by a stiff headwind too, however after a mile or so the road began to descend slightly and my pace increased as my rendezvous with Tony approached, only a slight uncertainty about the final turning held me up as I passed on the baton to the "press up king" himself , the first twenty miles taking just under 2 hours and 19 minutes and BDRC in first place at that moment in time . Bacon butties awaited .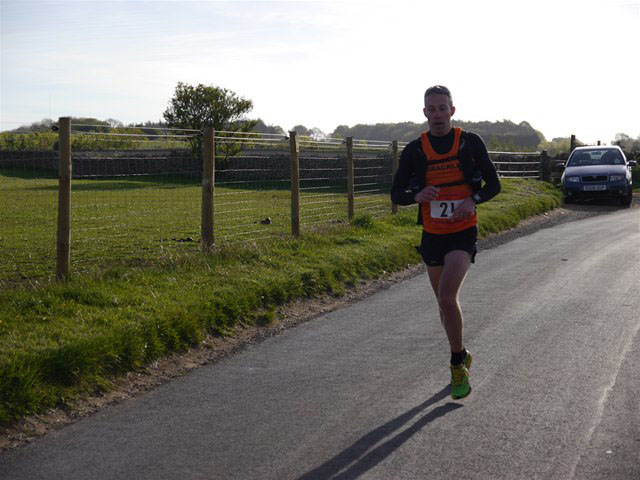 And eight more legs would be completed at great effort by the fabulous BDRC Hilly Crew . An absolutely awesome day , running many miles with friends , in the sunshine . ( The bakewell tarts were quite good apparently, not sure who made them ………).
» Click here to view more images of the Hilly 100
---
MILTON KEYNES 10K - Sunday 8th March 2015
Report by Gareth Bowden
On Sunday 8th March Nicola Crookes , Lorna Spenceley , Paul Stevens and myself lined up for the 10k race at the Milton Keynes festival of running which was supported by fourteen club members over three different distances.
About 2000 runners were at the start of the 10k and as the gun went we set off on a nice gently downhill first mile or so and the strengthening wind was at our backs giving us a bit of extra speed for the first four miles. The course took us past some more villagey parts of Milton Keynes where the locals had come out to lend their support , we skirted Willen Lake briefly before finally running into the strong headwind. I had hoped to dip under 37 minutes beforehand but the strong winds and cruel little hill half a mile from the finish line put pay to that, nevertheless I was very pleased with my time of 37:26, eight position overall and the first old man (vet 40).
It was great to see all the guys and gals finishing their respective races as the day went on, just a shame the sun didn't make an appearance.

10km: Gareth Bowden: 37:26, Nicola Crookes: 48:31, Paul Stevens: 52:38, Lorna Spenceley: 52:39
Half Marathon: Dawn Breward: 1:40:27, Adrian Crookes: 1:43:06, Diane Geatch: 1:50:00, Ali Nuttall: 2:02:54, Andrew McLeish: 2:03:24
20 Miles: Mark Woodus: 2:06:17, Stephen Woodus: 2:22:30, David Bowen: 2:23:06, Nick Locke: 2:49:15, Clara Locke: 4:01:31
---
Winslow 10k - Sunday 22nd February 2015
Report by Adrian Crookes
A relatively small turnout for BDRC at the Winslow 10k. On this cold February morning, it was billed as the battle of the Crookes' (not by the Crookes' I must add). On a nice undulating course, there was a bracing breeze, and the first half was almost entirely uphill! However, this was made easier by the friendly and encouraging marshals and good local folk who were out to support. A well organised and relaxed event which spawned 3 PBs, out of the 4 runners. First home Chris Noble (41.52), followed by Adrian Crookes (46.18 PB), Nicola Crookes (46.43 PB) and Diane Geatch (48.52 PB).
---
Bourton on the Water 10K - Sunday 22nd February 2015
Report by Woody
The Woody brothers took to the scenic Cotswold village of Bourton on the Water. A crisp morning, although the forecast of snow held off the -3 temperature took a while to get used to. This course is for the best part flat with a slight incline between the 4k - 6k makers. As with all Cotswold villages the scenery was outstanding. It was a well organised event that brought out the supporters in the village. Little Woody smashed his pb whilst Big Woody was happy to reach the finish line.

Mark Woodus: 35:44 (PB & club age group record)
Stephen Woodus: 41:31 (club age group record)
---
Stratford Valentines Marathon - 14th February 2015
Report by Dawn Breward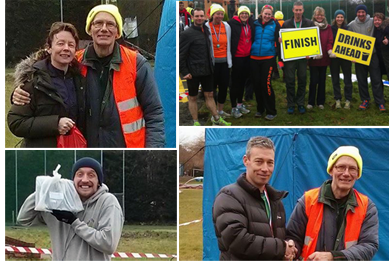 A self navigate 'Off Road Marathon' with an XC calf injury, without my mate Marriott's ear to chew. I must have been mad.

The course started along the Stratford Canal and I initially wondered why I'd bothered with trail shoes. However it didn't take long until the mud appeared and I was glad I'd worn them.

First 12 miles I saw a few folks, but most of those 12 I ran close to a girl called Laura who hadn't done the event before either, but we kept each other right. From 12 onwards I ran with Harry, a chap in training for this years Marathon des Sables. He was great company and kindly helped navigate me to the finish whilst taking my mind off the calf pain which was utter torture from mile 16. By then I felt like I was walking not running. I personally felt it was tricky making the transition from mud back to road again.

Cheered up when I got a cracking shout out from the BDRC crew when Marathon runners were cruelly directed through the finish line at mile 22 and then had to run out a further 4!! Mile 23 and smiley Chops Woodus passed, looking way too jolly as if he was just running off his lunchtime special at Prezzo. Close to the end pain more pain, lots of steps up a steep muddy bank and a little bit more getting lost again.

Yeah!! finally the finish was in sight. More amazing support from BDRC, a few tears, YUK! chocs, rose and prizes. Great hug from Wazler and an even better one from my best boy Tom. Finished 2nd Lady Home, chuffed with that but gutted with my time 4:08:10. Without the injury, possibly Sub 4.

Great event and very social if you just want to chat and plod, which I did for most of it. Lovely folks at the drink and food stations and more Marshalls than I'd expected, although a lack of stripy red and white route tape along the way at times. Even with my Ordnance Survey map (thank you B) and copious printed instructions for the route, I still managed to get lost at least 5 times. The course was very tough in places when the muddy hills were just too slippy it was hard to even walk. Maybe next year I'll be stupid enough to do it again.

Gareth Bowden 3:17:18 (2nd)
Mark Woodus: 3:36:55 (4th)
Dawn Breward: 4:08:10 (2nd Lady)
Nick Locke: 4:46:22
---
Stratford Valentines Half Marathon - 14th February 2015
Report by Nicola Crookes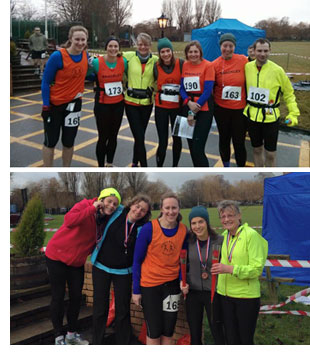 With directions clutched tightly in hand, a group of seven runners from BDRC (six doing the half-marathon and Nick doing the full marathon) went through the start line together and had to stop within 200m to try and follow the first instruction and find the canal! Once we had grasped the hang of running whilst trying to read and understand the directions, we finally made it onto the canal towpath with a sigh of relief (only 12 minutes to do the first 1mile). Once on the tow path it was a lovely run with around one mile of mud starting at around 5 miles which made the newly purchased trail shoes very worthwhile!

After the muddy interlude, it was back down the towpath to the Cricket Club, through the finish line and then back out for another 3 miles which were really muddy and included lots of steps! At this stage, most of us ended up on the wrong side of the river following the marathon route, apart from Clara, who was the only Brackley half-marathoner to go the correct route! Overall, it was a great run, very relaxed and most commented they would definitely do it again, particularly enjoying the 'orienteering' aspect and the fact that it was almost completely off-road. To top off great day, we all received a rose and box of chocs from coach Woody for running :-)

Nicola Crookes: 2:09:56
Helen Brawn: 2:09:57
Ali Nuttall: 2:28:35
Julie Waller: 2:28:42
Suz Meacock: 2:28:43
Clara Locke: 2:59:07