Sessions - December 2023

---
»
Click here
to download this month's sessions in PDF format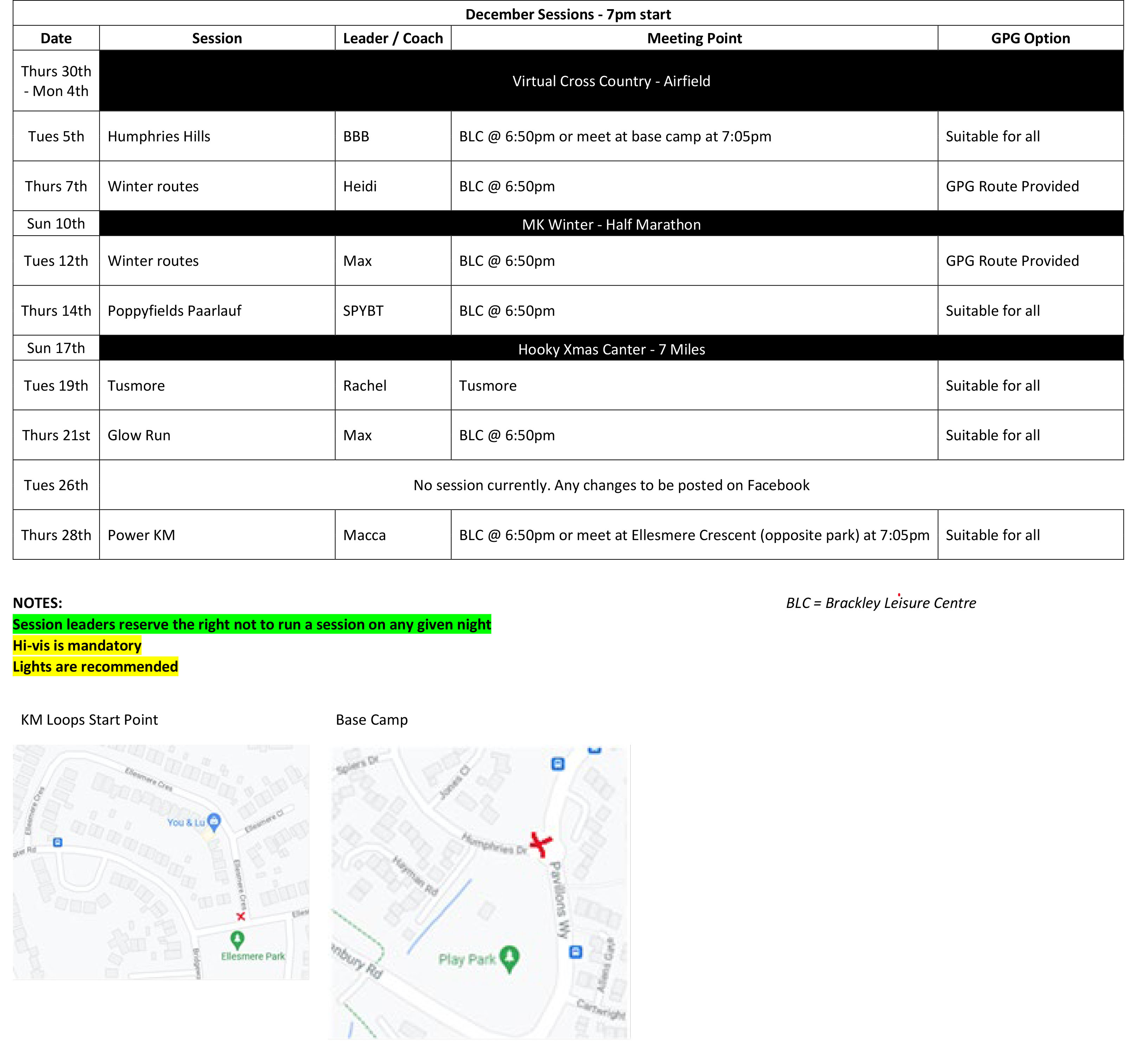 »
Click here
to download this month's sessions in PDF format
---
»
Click here
to download the guidelines for members
»
Click here
to download the guidelines for session leaders
---
Session leaders: All our session leaders hold either the England Athletics' Leadership in Running Fitness or Coaching in Running Fitness course. We welcome anyone who would like to assist with a session, please speak to any of our session leaders.
Routes: please ensure you are familiar with the routes.
Intervals: unless notified otherwise these will start from BLC and be a mix of hill sessions, sprints, loops etc.
Sunday long runs: although there no formal orgainised Sunday routes planned, there are often informal routes posted on our Facebook page.
HIGH VIZ MANDATORY PLEASE
We would encourage all runners to arrive up to 10 or 15 minutes early to cater for announcements.

Unless otherwise stated, start and finish at Brackley Leisure Centre. Low light conditions dictating, runs tend to be of short to medium distance depending on the 'group' that each individual places themselves in.

3 - 6 miles is typical and we tend to adhere to 'safe' 'around town' loops or circuits that are reasonably well lit and free from vehicular traffic.

ALL runners shoud wear a high-viz vest or some other form of high visibility clothing to ensure that they are easily seen by any vehicular traffic that they might encounter.

Departure times are PROMPT thus runners should arrive in good time, 10 to 15 minutes beforehand, for any briefings and the usual social 'chit chat' and exchange of pleasantries!!
Risk Assessments
» Click here to download the Tuesday Session Risk Assessment