» 2022 Reports |» 2020 Reports | » 2019 Reports |» 2018 Reports | » 2017 Reports | » 2016 Reports | » 2015 Reports | » 2014 Reports | » Download template
---
Yorkshire Marathon - Sunday 17th October 2021
Report by: Mark Poulton (AKA: Del Boy)
Distance: 26.2 miles
Location: York
Web link: letsdothis.com/gb/e/the-yorkshire-marathon-16691

Event Details: Around 7,000 runners start and finish in York taking in the lovely surrounding countryside and villages. A 10 mile race also took place starting just after the marathon.

Before the race: I stayed in a hotel close to the train station in York, where a regular shuttle service took runners and spectators to and from the event village. There was a real friendly atmosphere and buzz in the air and everyone eagerly awaiting the start of this re-arranged marathon. There was plenty of indoor space at the campus to keep warm and dry, a well organised event village with baggage store and stalls to buy food, drinks and discounted running gear.

Who ran: Me

The Race:
The race started at York University, running through the City Centre, passing York Minster just before the 2 mile mark. There was a large enthusiastic crowd even though the weather was not ideal for spectators, although perfect for runners, being still with a little drizzle. The start is perfect to get into a good stride being either flat or a slight downward trend for the first few miles.

After 4 miles you're leaving the city behind you and start to take in the lovely Yorkshire countryside. In the village of Stockton-on-the-Forest you get to see the vicar standing outside his church high-fiving and blessing runners as they go past. The second half of the marathon is characterised by two out-and-back sections, the first of the U-turns being at Stamford Bridge where there was plenty of encouragement. These sections seemed never-ending, but the crowd support made it easier. The route returned to York, the sun came out for the last few miles and it was back to the university and the finish line, having being outran by "that sodding Rhino" but finishing comfortably before the Minions.
BDRC Results:
Mark Poulton: 04:47:58

Funny Moments
High-Fiving a Vicar, I'm not sure if any amount of prayers would have helped me on the last 10k though!

Would you recommend?
Yes, lovely location, well organised and supported. Plenty of water and gel stations.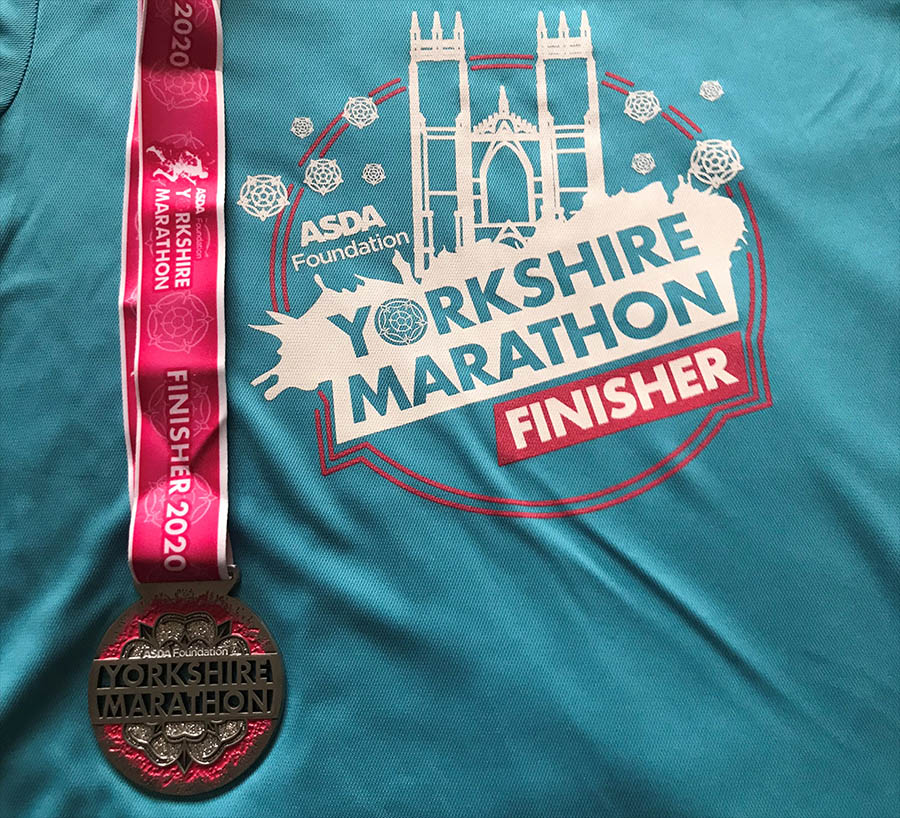 ---
London Marathon - Sunday 3rd October 2021
Report by: Julian Chronicle (AKA: King Julian)
Distance:26.2 miles
Location:London
Web link: virginmoneylondonmarathon.com

Event Details: The marathon that everyone wants to run! A huge event which generates world-wide interest, is televised in multiple countries and sees huge crowds cheering runners on. Getting into the marathon is not easy, you either have to be a) really good and get a "good for age place" b) raising lots of money (minimum of £2000) for a charity place or c) really lucky and get a place in the ballot. Your other option is to enter the draw for the BDRC club place, which has its own criteria!

The race starts on the outskirts of London in Greenwich, gradually working its way along the Thames to Tower Bridge, then looping around Canary Wharf before the iconic finish on The Mall.

Before the race: The London Marathon experience starts days before the actual run, with a trek out to Docklands to pick up your number and, if you're like me, spend a fortune on new running kit!

On the day itself you need to get to Greenwich, which is easy enough as TfL have free travel for runners. Be warned, from the station it's still quite a walk to the start. As well as the usual maaahooosive queues for the loos there was a real sense of excitement amongst runners, with lots of friendly encouragement and banter being exchanged. This year the run was started in waves, which I think worked well and controlled the numbers crossing the start at any one time, which helped runners settle into their pace more easily.

Who ran:
London: Sarah Scott, Stuart Coomber, Julian Chronicle, Karen Heslop
Virtual: Deb Payton, Sara Brookes, Kim Fox, Keith Fox, Mary de Frates, Holly King-Gubbins, Heidi Carruthers, Christie Lines

The Race:
After the start the race runs through Greenwich Borough and to be fair, it was pretty non-descript! The first real highlight was the iconic loop of Cutty Sark, at around mile-9, followed shortly after by the Thames crossing on Tower Bridge. Both of these had huge crowds, bands and a chance to wave to the cameras.

After Tower Bridge the halfway point was passed and it was into Docklands and Canary Wharf. Truth be told I don't recall this area much, I hit "the wall" around mile-17 and wasn't really taking much in. I do vaguely recall some huge shiny buildings! Heading back into Central London you pass the Tower of London and hit mile 20 and huge numbers of supporters - if you get this far the atmosphere will get you home. I honestly couldn't believe the wall of noise you run through and it really helped me in the last few miles, before you make that final turn in front of Buckingham Palace for the "sprint finish" on the Mall. Then, as with any race, it's finding your kit bag, posing for photos with your shirt and medla and trying to find your supporters amongst the tens of thousands of people!

Around the course there were water, gels, toilets at frequent intervals. Together with regular first-aid points. From a health and welfare perspective, I've never run a better set up race.

While there were a few quieter points the support from the crowd was phenomenal – people handing out sweets, drinks, calling out encouragement and running past a church a priest blessing runners!
BDRC Results:

London:
Karen Heslop: 3:26:44
Sarah Scott: 4:12:13
Stuart Coomber: 4:29:19
Julian Chronicle: 4:33:05

Virtual:
Keith Fox: 3:17:30
Kim Fox: 3:31:45
Heidi Carruthers: 4:00:14
Sara Brookes: 4:25:56
Mary de Frates: 4:35:23
Holly King-Gubbins: 4:57:52
Christie Lines: 5:10:25
Deb Payton: 5:22:52

Funny Moments
1. That sodding rhino - when you're dying the last thing you want is to be overtaken be a rhino, I think Scotty had the same issue.
2. One of the bands playing YMCA and watching 50 tired runners trying to do the arm movements.

Would you recommend? Without a doubt yes – the hype is real – whatever you can do to get in, do it! I've already entered ballot for 2022. If you've never run a marathon before and not sure you can – let me tell you this – you can! I did

A final word:
As most of you know I am very keen to promote mental health awareness and to get everyone talking openly and honestly about it. Although I got in through ballot, I used the opportunity to raise money for MIND. To date I raised over £1600 which makes me doubly pleased I did it!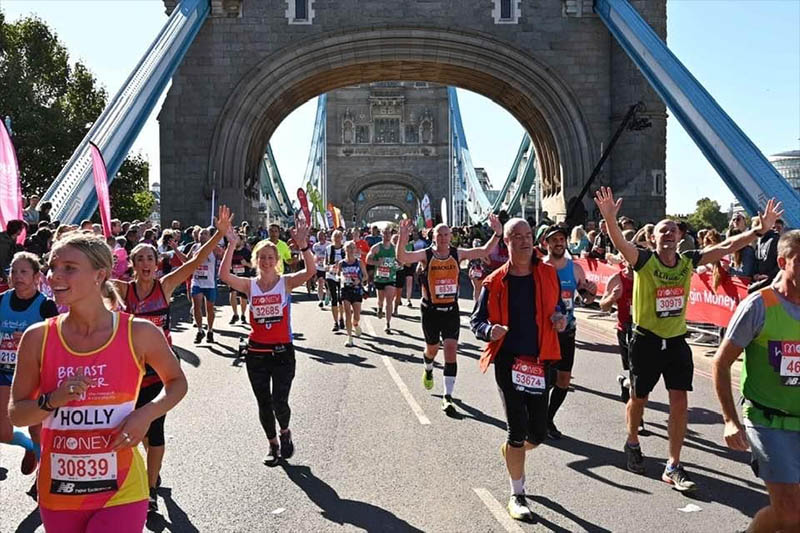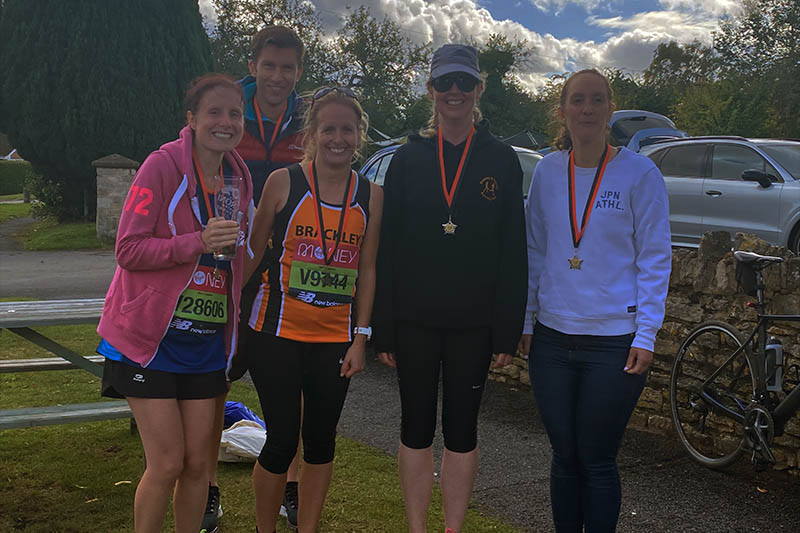 ---
Stratford 10km - Sunday 5th September 2021
Report by: Adrian Crookes (AKA: YT)
Distance:10km
Location:Stratford
Web link: tempoevents.co.uk/events/stratfords-big-10k/

Event Details: Very established race, with quite a large field of runners, starts at the park in the centre of Stratford and runs South west out of the town towards Clifford Chambers and further Welford on Avon.

Before the race: With so much parking available at that time of day in Stratford it is dead easy to park pretty much anywhere and walk to the start/finish area. Gathering in the big playing field on a lovely warm day, it is then a further few hundred metre walk to the actual start out on the Shipston Road. There were some "loosely" arranged starting pens, but all got mixed up in the walk out to the start!

Who ran:
Cornish, Noz, The Power, YT, Choochi, Holly KG, Sue T, Blue, Del Boy, Karen D, CP#1

The Race:
It is a very nice countryside route. Starts by heading South West out of the town towards Clifford Chambers and further Welford on Avon. There is a sharpish turn off the main road at around halfway when you then head back towards Stratford along the Greenway. An old railway line with a decent packed shingle surface. It's a very peaceful part of the course! The finish is back at the big wheel in the centre of town.

People tell me there were a couple of decent climbs on the route, I wasn't pushing hard so didn't really notice them, but the second one is a drag (apparently!) – the hills are both in the first half. Once on the Greenway it is dead flat!

It was mine and Chooch's first proper race in 18 months, having both recently had Covid we couldn't race it as we'd have liked to, but was great to be back in race!
BDRC Results:

Kevin Tustain 00:38:09
Christopher Noble 00:40:43
Serge Daval 00:42:14
Adrian Crookes 00:47:40
Nicola Crookes 00:51:43
Holly King-Gubbins 00:52:27
Sue Torrance 00:53:43
Karine Peter 00:55:19
Mark Poulton 00:55:04
Sanjeevpal Rai 00:58:21
Karen Dykes 01:01:35
Chloe Plester 01:03:59

Cornish arriving (with Noz obviously!) before the lark, and before the course was even set up. Me forgetting my wallet so couldn't pay for the car park, so Delboy, who also kindly drove us there, had to pay…..I then found my wallet in another pocket! 😉 (Not called YT for nowt!!)

Would you recommend? Yes, definitely. Great venue, nice route!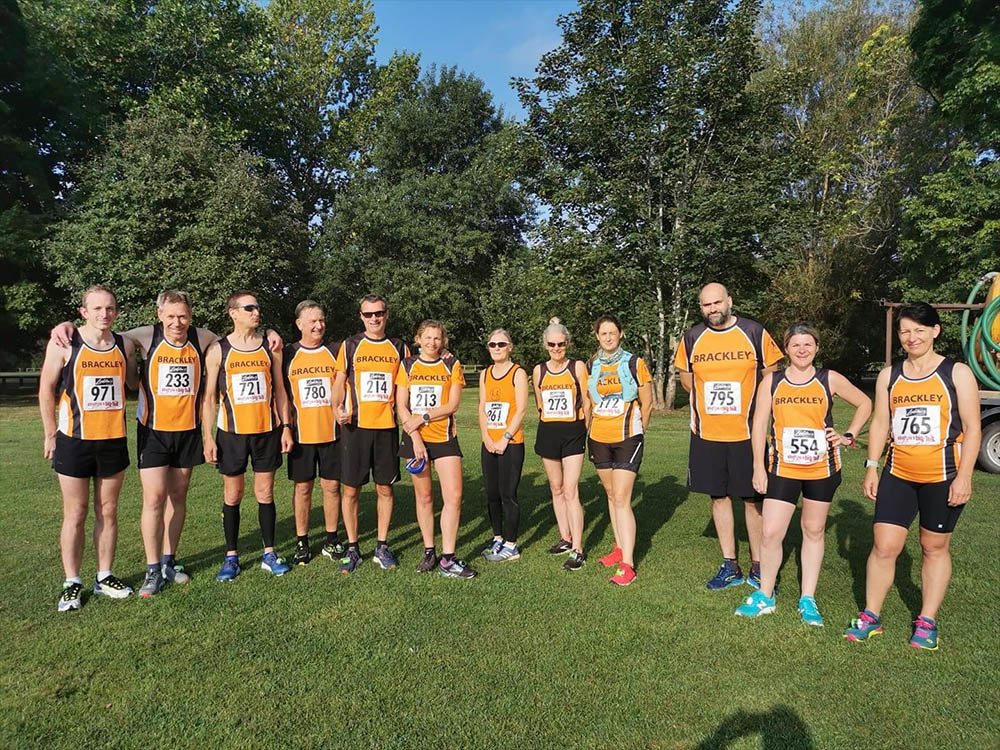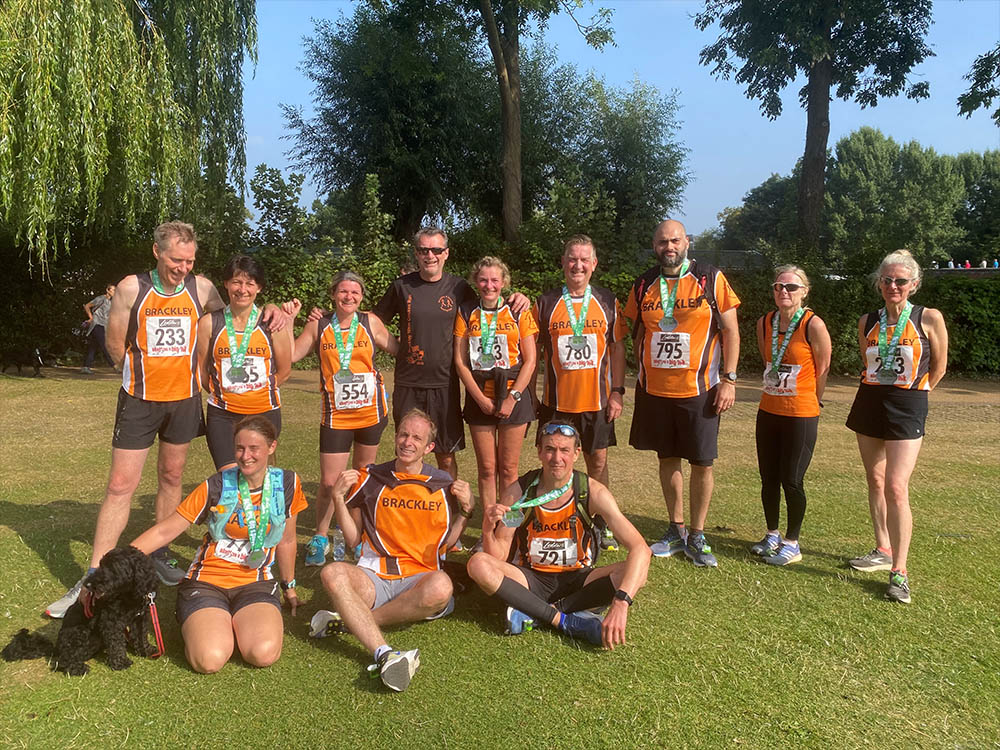 ---
Cotswold Classic - Saturday 4th September 2021
Report by: Alan Smith
Distance:10 Miles
Location: Witney
Web link: witneyroadrunners.co.uk/cotswoldclassic/

Event Details: The Cotswold Classic 10 mile road race is a firmly established event in the local running calendar organised by Witney Roadrunners on an undulating course with a fast finish.

Before the race:A bit of a journey across country to get to Witney and then the car park was half a mile from the registration point which was then another half a mile to the start so the warm up was not required! Registration to get our numbers was straightforward and there was a map of the route with a worrying 'HillzaKilla' marking at 5 miles! There was just time to look out for the other Brackley runners and after a catch up and good luck we walked up to the start.

Who ran:
Jane Rymell, Tom Shepherd, Shaun O'Gorman, Alan Smith

The Race:
A good turnout of runners and we set off on time with the first mile being a steady climb. The next few miles were undulating with some nice downs and not too bad ups. The weather was fine and there were some lovely views and all was going well until we hit the 5 mile mark where the dreaded 'HillzaKilla' began. This was a steep climb for about 100 metres followed by a mile of up. By the top there had been a lot of blowing and puffing and it was a relief to meet some relative flat terrain. However they decided to throw in another shorter but steep hill before a welcomed mile and a half downhill to the finish. All the way round the course there were wonderful marshalls (over 100 of them) who encouraged and kept the traffic at bay.
BDRC Results:

Tom Shepherd 1:09:14
Shaun O'Gorman 1:15:59
Alan Smith 1:17:53 (3rd V60)
Jane Rymell 1:52:38

Funny Moments I am not sure that I could claim any funny moments on such a challenging hilly course although the free pint of beer at the end was a surprise

Would you recommend? I would thoroughly recommend this race whilst tough it is excellently organised and the route through the Cotswolds is lovely (if you have any energy left to look after 'that' hill)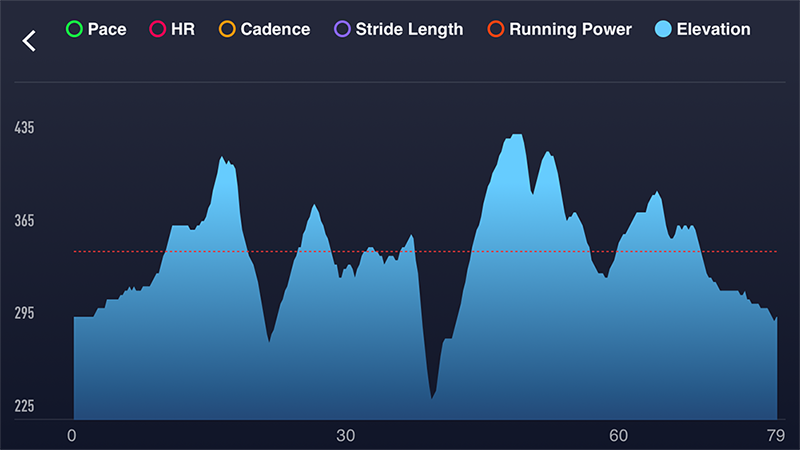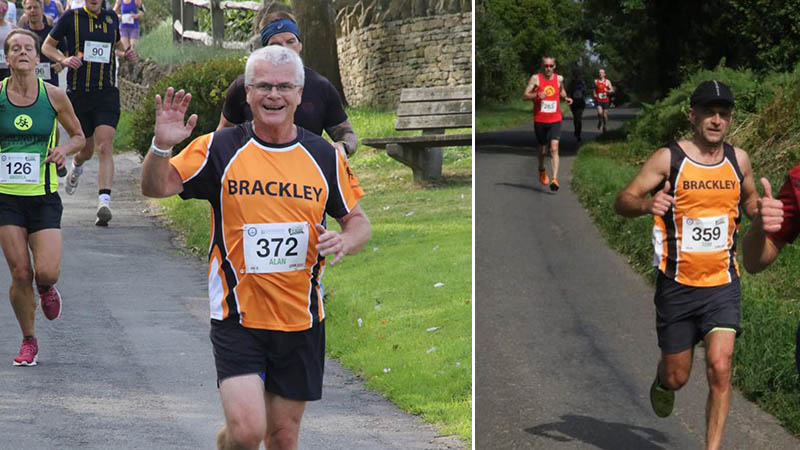 ---
Headington 5M - 29th August 2021
Report by: Frances Edwards
Distance: 5 miles
Location: Oxford
Web link: hrr.org.uk/h5m

Event Details: Organised by Headington Road Runners it is a fast flat 5 mile loop with chip timing and a 75 minute cut off.

Before the race: More towards the edge of Oxford and so relatively easy to get to. The car park was very well signposted with marshals ensuring people parked sensibly. Race HQ was a short walk from the car park and the race start a further short walk.

Who ran: Alan Smith, Frances Edwards, James Olliffe, Karen Dykes, Mark Poulton, Sue Torrance

The Race:
The race was extremely well marshalled and signposted. There was even some humour in the signage as one closer to the end reminded us at least it was flat! While you might expect a race in Oxford to provide stunning views of the Spires this race instead gave a great view of the northern bypass. But what it lacked in historical glamor it made up for in wide flat uncrowded pavements. There were even various supporters out round the route. It was obviously a fast race as when I made it to Barry's first photo spot at 1.4m he had just finished packing up to move to a spot closer to the finish.
BDRC Results:
James Olliffe 28:16
Alan Smith 35:31 (A special well done for setting a club record)
Frances Edwards 40:04
Sue Torrance 41:19
Mark Poulton 43:07
Karen Dykes 46:52

Funny Moments
They called people to the start line based on expected finish times. They did this in small increments until they got to 40 minutes and then they just asked for everyone else… which was quite a lot of us! 119 out of 230 finished in over 40 minutes. James was once again probably home and showered before I finished. The race organisers had seem to have a working crystal ball as they issued me race number 113 and I finished in position 113. Mark managed to almost live up to his race number of 151 but seemed to somehow finish in joint(!?!) 152th place.

Would you recommend?
I would definitely recommend. The tshirts are great quality and it is a well organised race. They even had water and bananas which seem like a real luxury in this new covid world.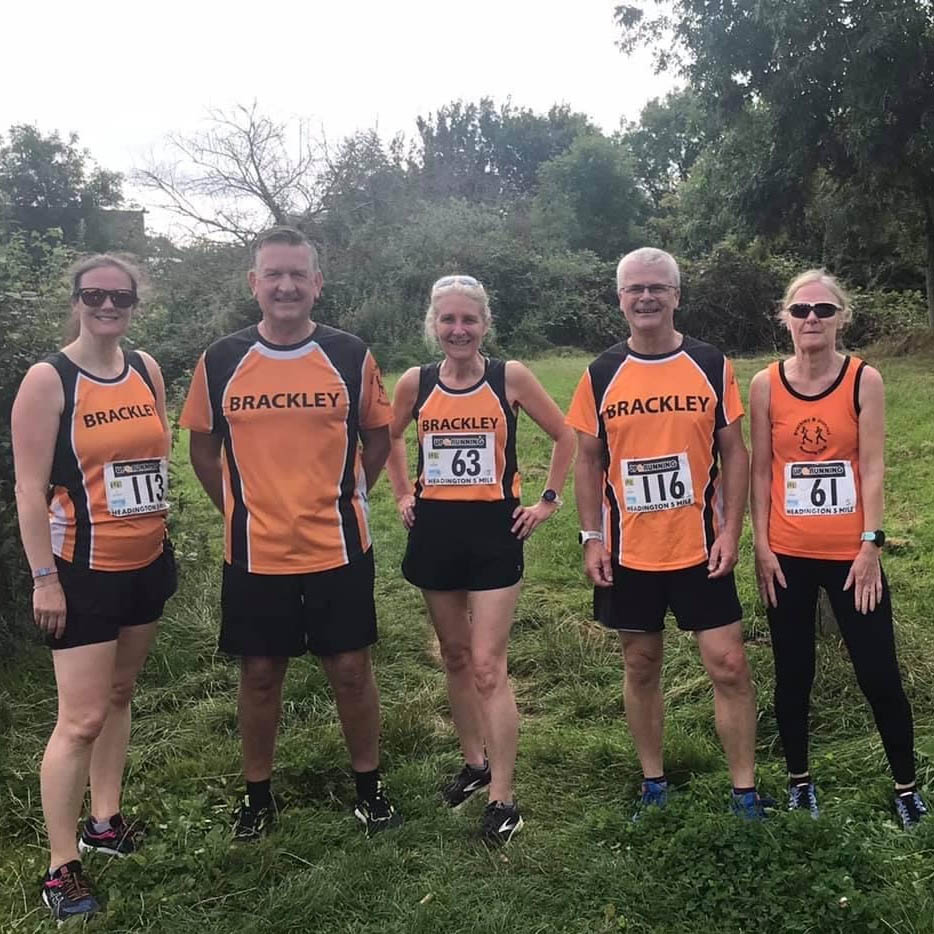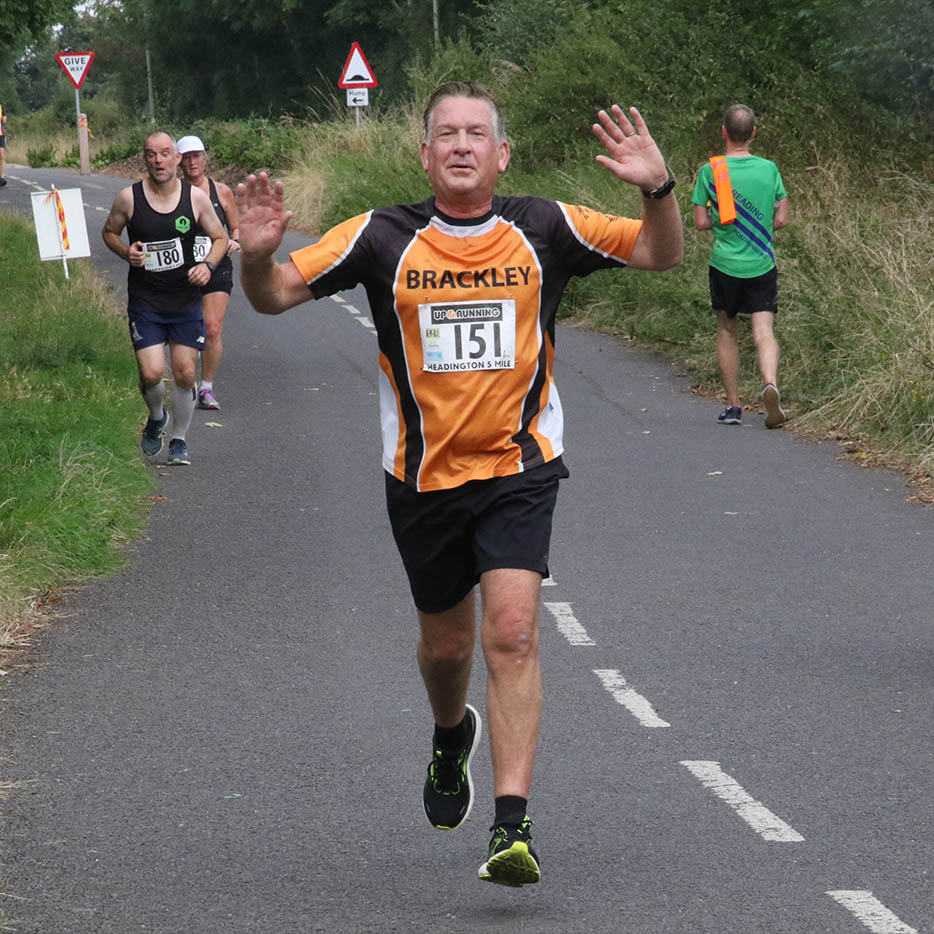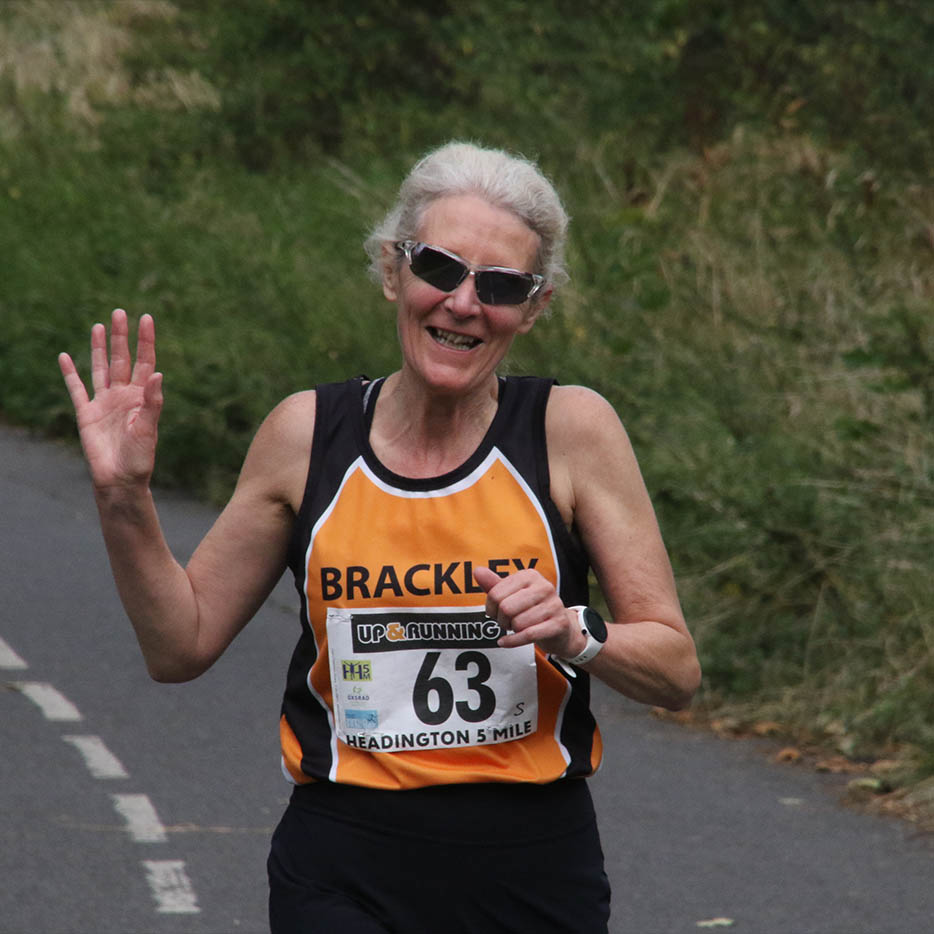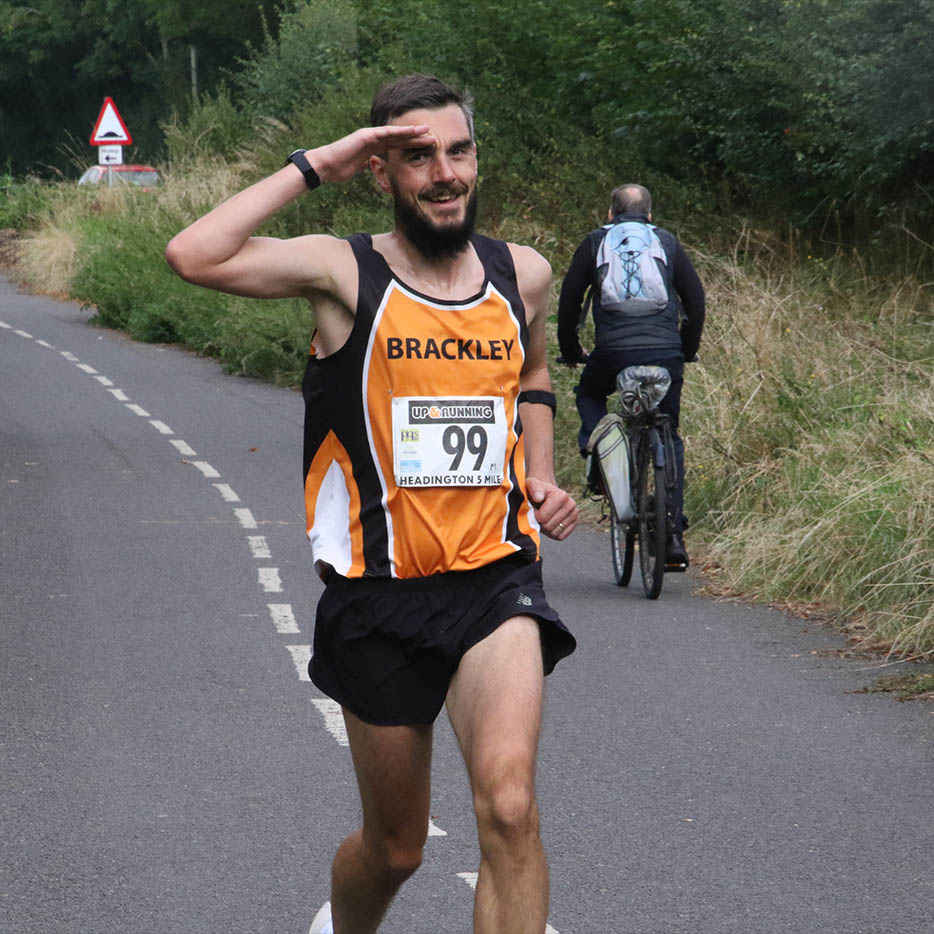 ---
Cattle Creep 10km 17 June 2021
Report by: Rachel Prior
Distance: 10km
Location: Wolverton, Milton Keynes
Web link: bigcowsports.com/events/cattle-creep-10k-run

Event Details: Cattle Creep 10km Starts and ends near the Wolverton House pub is a fairly flat picturesque route that takes in paths, through fields, canal towpaths, river paths, cattle grids and the 'Cattle- Creep' which is a 15m low dark tunnel, under the Grand Union Canal.

Before the race:We arrived in good time and there was plenty of parking around the start location, ample toilet facilities and friendly race organisers to answer any questions.

Who ran:
Kevin Tustain, Rachel Prior, Sue Torrance, Jayne Cooper, Karen Dykes, Chloe Plummer and Abbey Palmer.

The Race:
At the time of booking we were offered start times 15 minutes apart, and so at our allotted time after a very detailed pre race briefing we were walked down to the start location, and set off at 10 second intervals. The weather was perfect not too hot or windy and so quite pleasant to run through the open countryside, past the friendly Marshall's who were very supportive and also kept the gates open. The route takes you across parkland, past the Wolverton Viaduct, then a bit of boardwalk and a short section of road side path, along the canal towpath and through the Cattle Creep, (where even I had to duck to get through without banging my head !) And then back through the fields to the finish line, to be rewarded by sweets and a fabulous wooden medal.
BDRC Results:

Kevin Tustain 38.31- Overall Winner
Sue Torrance 50:02
Rachel Prior 52:07
Abbey Palmer 54:22
Jayne Cooper. 55:25
Karen Dykes 59:07
Chloe Plummer 1:02:08

Would you recommend? Yes definitely. A well organised race, friendly Marshall's and and a very inspiring route. I really enjoyed it and would do it again.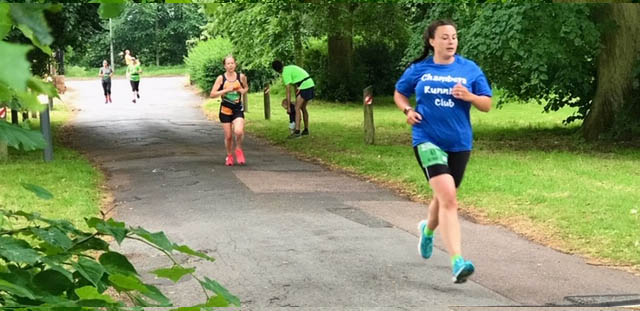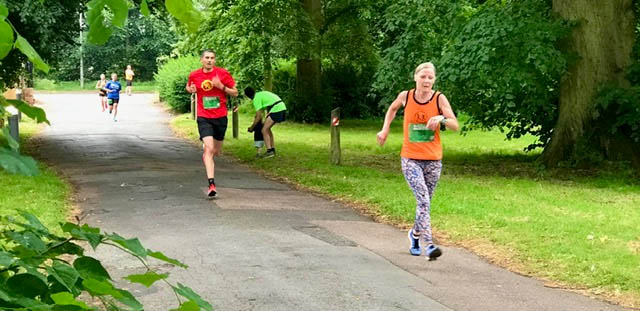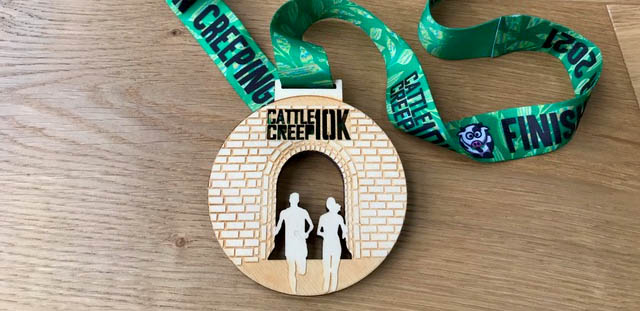 ---