» 2022 Reports |» 2021 Reports | » 2020 Reports |» 2019 Reports | » 2018 Reports | » 2016 Reports | » 2015 Reports | » 2014 Reports | » Download template
Hook Norton Christmas Canter 2017 – Sunday 17th December 2017
Report by: Julian Chronicle (AKA: King Julian)
Distance: 7 miles
Location: Hook Norton

Event Details: A largely trail based course with fields, footpaths, tracks, gates and stiles to contend with! The course was roughly a figure of eight taking in some beautiful countryside between Hook Norton and Great Rollright – at least I'm told it was beautiful, hard to see through the driving rain!

Before the race: Billed as a "Christmas Canter", this is very much a fun run rather than a serious race, with many people running in fancy-dress. There were some amazing costumes on display, with people running as presents and Christmas puddings as well as numerous Father Christmases. The less said about the brave chap running in a mankini the better!!!!

Keeping warm was the main priority pre run, with most people choosing to enjoy the festive atmosphere in the Club House and a pre-run coffee and mince pie. A few brave souls ventured out for a warm-up, probably the ones who were taking it seriously!

Who ran: An impressive turnout from BDRC with John, Helen, Serge and Karine entering into the spirit with some impressive costumes.

Ladies: Dawn Breward, Julie Waller, Karine Peter, Helen Brawn

Men: John Russell, Stuart Coomber, Serge Daval, Julian Chronicle

The Race: Thankfully, the Race Director didn't keep everyone hanging around on the Start – a brief warning to watch out for ice and we were off. From Hook Norton it was straight onto the fields and up a long and very slippery hill to a very exposed stretch, where the snow was still lying and the wind and rain were making their presence felt! It was then an undulating slog across muddy fields to the welcoming mulled-wine on offer at the half-way point.

Out of Great Rollright, there was a brief road section providing respite from the mud, until a left turn took us back across the fields towards Hook Norton. Mile 7 started with a superb view down to the village and a, much appreciated, downhill section. However, just when you thought it would be a gentle canter to the finish, the course went into a snow covered field and onto a very slippy and narrow track, before finally coming out close to the finish and a final rise up to the finish line.

Everyone who finished was rewarded with a well-deserved mulled wine and mince pie.
BDRC Results:
Ladies: Dawn (1:02:59), Helen (1:08:47) Karine (1:11:48) Julie (1:22:51)
Men: Stuart (1:01:21), John (1:08:47) Serge (1:11:48) Julian (1:14:09)

Funny Moments:
1. Most runners gradually shed layers in the lead up to the start, however for this race Julie was gradually adding more and more as she looked out the window at the weather.

2. The Race Directors increasingly desperate attempts to get everyone to assemble on the start line and leave the club house, most of us would have been happy starting from in there.

Would you recommend? Very much so, a well organised and fun event providing a break from Christmas shopping and general face-stuffing.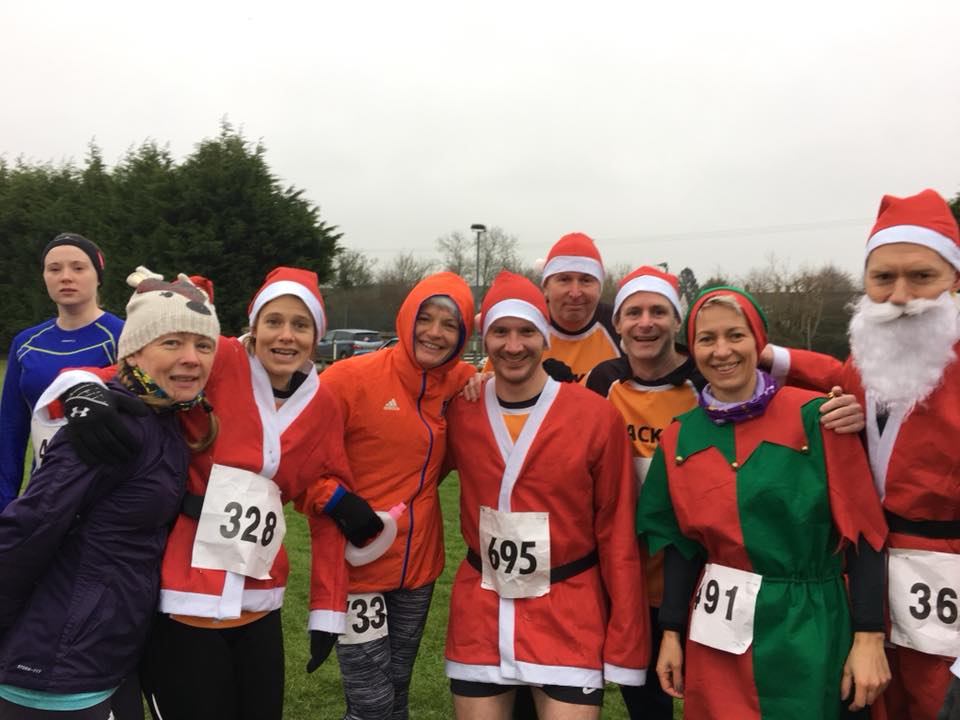 ---
Helmdon Hurler – Monday 28th August 2017
Report by: Ade Crookes (AKA: YT)
Distance: 4.3 miles
Location: Helmdon

Event Details: A short race part on road, part on track. Undulating course with a decent hill at the start.

Before the race: You get the sense you're in for an amusing day when you're stopped in Tesco car park and get asked to "sort out the High Street" by a passer-by. Apparently, wearing a Brackley running shirt means you're responsible for the state of the Brackley high street!!

Anyway, back to Helmdon, it's a very relaxed race – perhaps scheduled too late in the morning, though they do this so that it coincides with the pub opening and the BBQ being lit. I can forgive them for that! It makes for a fine way to spend Bank holiday Monday, a run, followed by a few pints and a burger.

Who ran: A huge turnout from BDRC:
Ladies: Choochi "Jonny Brownlee" Crookes, Tiny Dawn, Froggles, Clip Clop, Helen, Maxine, Claire, Wazler
Men: JR, YT, Grazer, Macca, Bish Bash, The Meadester, King Julian, Nozzle, Sam, Nick, Toby.

The Race: The race:
It was a hot August bank holiday. It's August, so would be better if they scheduled the race earlier in the day to avoid the heat, should it arise. The route goes uphill for the first half a mile or so. It then cuts left on to a track where it remains for over a mile. It's a bit rough underfoot but not anything too bad. Another left turn takes you on to the Wappenham road, where you'll stay until near the finish. There is quite a big hill, not steep but steady climbing and in the heat this year, it was energy sapping. It was near the top of this that I noticed Chooch staggering a bit – a few hundred yards later she was all over the road. Luckily I was able to escort her to the line without too many dramas, and after a little intervention from the paramedics she was fine. A decent reminder for us all to respect the heat, even on short runs/races.

Everybody performed well on a hot day. Special mention to Helen who rescued a young boy who was struggling on his own and in the heat. Well done Helen, definitely performance of the day! Great run by Sam also to finish 4th overall.
BDRC Results:
Ladies: Nicola (32:41), Dawn (33:50), Tash (37:09), Helen (41:04), Maxine (41:54), Julie (42:09), Claire (52:01).
Men: Sam (25:54), John (27:00), Noz (29:04), Toby (31:27), Michael (31:45), Graham (32:01), Ade (32:43), Gareth M (35:27), Nick (36:36), Macca (36:44), Julian (38:25).

Funny Moments:
1. Froggles turning up with the "Hurler Trophy" (a bucket) – an ode to Clip Clop's effort last year, and I guess now Nic's nearly hurl this year. Who will it be next year I wonder? It's not called the Hurler for nothing!
2. The Crookes' turning up at the finish line like the Brownlees (just not as fast!)

Would you recommend? Yes, always a good friendly family atmosphere.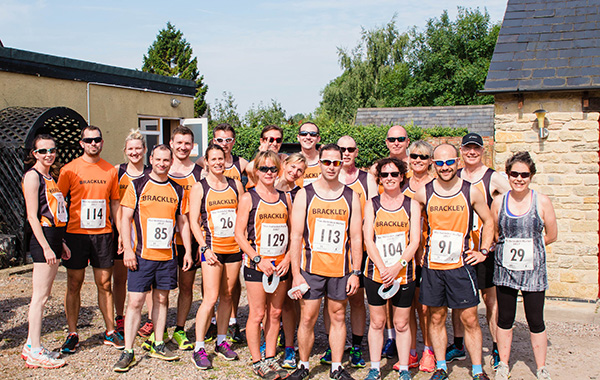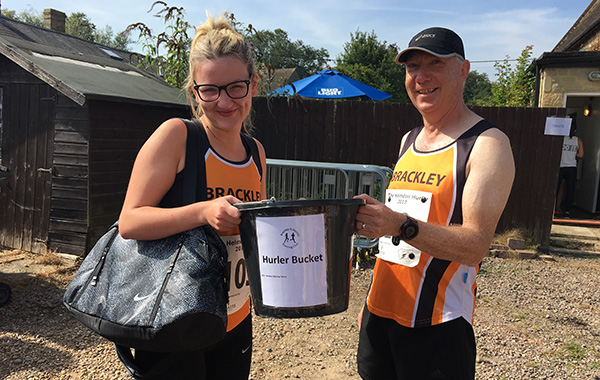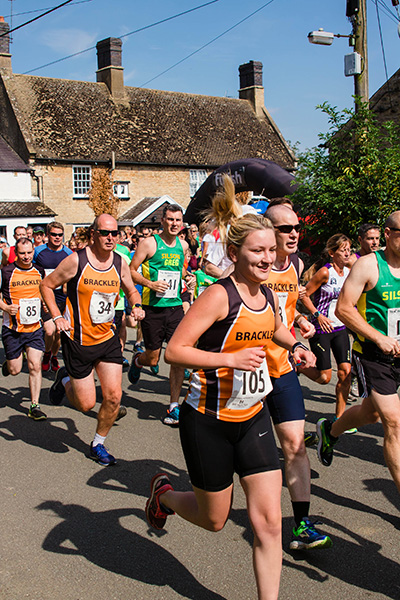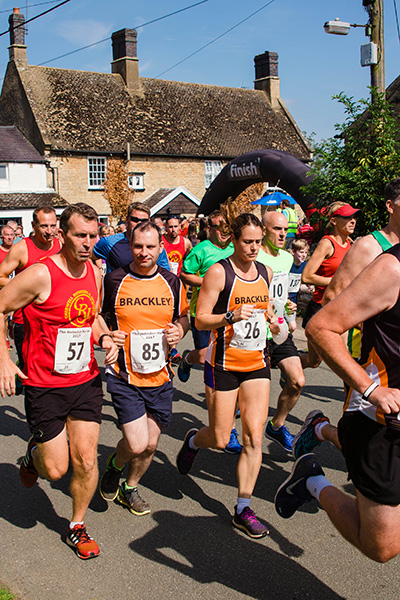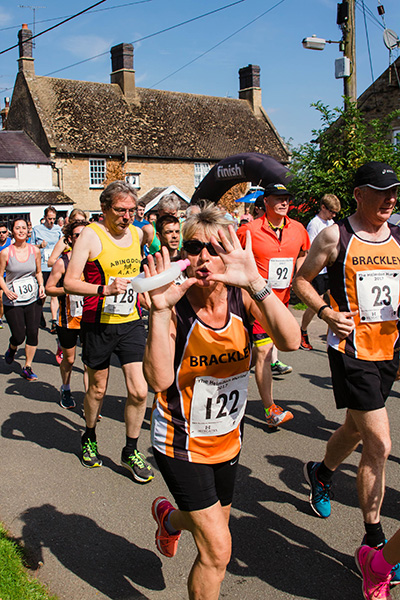 ---
Alchester Summer 5km – Tuesday 15th August 2017
Report by: Claire Frogley (AKA: Froggles)
Distance: 5 km
Location: Marsh Gibbon

Event Details: This is the replacement race for the Cottisford 5km which was cancelled earlier in the summer.

This is a fast, flat race around the country lanes surrounding Marsh Gibbon, Bucks.

Before the race: Parking was available in a field approximately 1km from the race HQ and start. Many found the parking particularly problematic to find as it was not very well signposted and the website information regarding parking being 600m from the start felt somewhat optimistic.

Due to an accident on a nearby 'A' road it was quite a rush to get to the start for some.

Collection of race numbers and ankle timing bands from the very friendly organisers took place at Race HQ at the Marsh Gibbon Sports Club.

Who ran: This race has a max entry limit of 200 with 180 runners taking part on the night. Nine BDRC runners entered with the girls out in force on this occasion.

The Race: The runners set off at 7pm from just outside the sports club entrance. The first part of the race took runners on road back up into and through the village. The middle section of the course ran between fields on more mud/grass tracks with a few potholes and puddles to be avoided before returning on road back downhill towards the village and then along a 1km flat road to the finish.
BDRC Results:
Kevin Tustain 00:18:50
Ian Marriott 00:20:25
Claire Reynold 00:22:00
Heidi Lewis 00:23:17
Natasha Berry 00:24:59
Claire Frogley 00:25:08
Suzanne Bass-Twitchell 00:27:14
Julie Waller 00:29:20
Nikki Jenkins 00:29:30

Funny Moments: Having arrived at the race straight from work I navigated my way down the country lanes from the carpark to the race HQ in work heels and pencil skirt, I'm sure this was fairly amusing to some passers-by!

Would you recommend? Yes, this was an enjoyable, relatively local race with friendly marshals and a good few pbs to be had.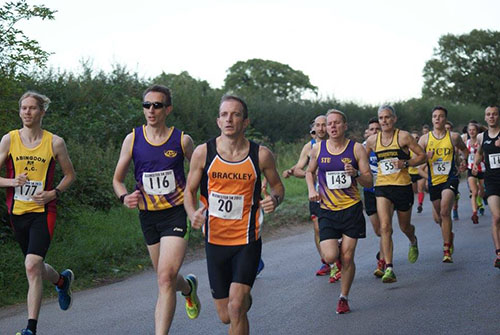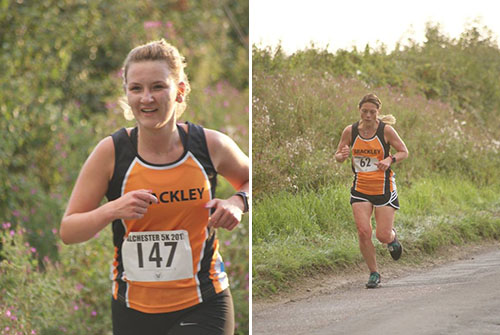 ---
EMGP Milton Keynes 10K – 27th June 2017
Report by: Michael Bishop (AKA: BBB)
Distance: 10km
Location: Milton Keynes - Open University

Web link: http://mcs.open.ac.uk/mkac/emgpmiltonkeynes10k.htm
Event Details: The final race of the East Midlands Grand Prix Series. Flat and good PB potential

Before the race: I arrived at the event with Julian and Matthew Chronicle. Plenty of parking but the Open University was a bit of a maze to get through. Eventually we found the Pavilion and the other runners.

Who ran: John Russell, Kevin Tustain, Michael Bishop, Keely Weir, Eoin Tweedale, Gareth Meade, Julian Chronicle, Claire Frogley, Suzanne Bass-Twitchell, Kelly Llewelyn.

The Race: The race was predominantly flat with a few underpasses to negotiate. The start was on grass, then winded through a quiet urban area before joining one of the many paths Milton Keynes alongside the main road. The finish was in front of the Cricket Pavillion where the awards for the race and the series were presented later that evening.
BDRC Results:
63rd John Russell 38:40
94th Kevin Tustain 39:59 PB
165th Michael Bishop 43:44 PB
285th Keely Weir 48:50
290th Eoin Tweedale 49:02
321st Gareth Meade 50:30 PB
331st Julian Chronicle 51:10 PB
354th Claire Frogley 52:44
422nd Suzanne Bass-Twitchell 59:14 PB
448th Kelly Llewelyn 1:05:52

Funny Moments:My warm up was compared to a rain dance and it really did rain in this race. We were all absolutely soaked by the time we crossed the finish line. The start was a mess - there was a crowd of runners talking away and then the air horn went and we were off. It caught many out, several then went out too fast and paid for it later.

Would you recommend? Great if you're PB hunting but not so good if you enjoy a nice view.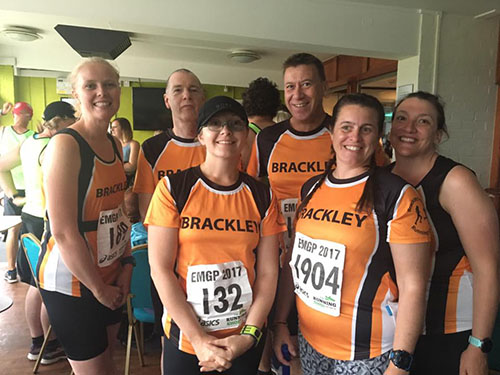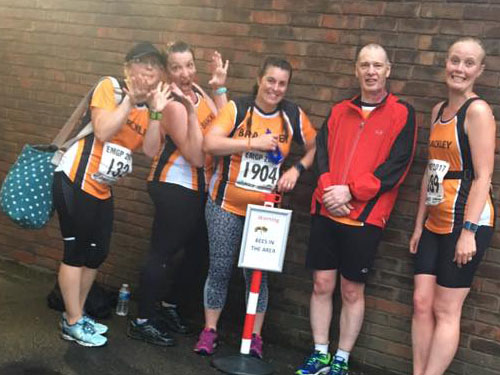 ---
The Otmoor Challenge – 3rd June 2017
Report by: Mark Torrington (AKA: El Torro)
Distance: 13 miles
Location: Otmoor Plain (beginning and finishing Horton-cum-Studley)

Event Details: For the last thirty seven years the small Oxfordshire village of Horton-cum-Studley has hosted The Otmoor Challenge, a race of about 13 miles around the Otmoor Plain. Otmoor is a site of special scientific interest and home to a large RSPB reserve, around it's edges are a number of picturesque villages.

The event is held as part of the village fete and starts and finishes on the Millennium Hall field. The race follows a course around Otmoor on a mixture of country lanes, tracks and fields.

Before the race: The runners gathered on the same field as the village fete which provided a really welcoming family-friendly atmosphere. There were plenty of stalls, events and even a beer tent to entertain supporters. The weather was warm and sunny and it was a quite idyllic scene.

Who ran: Dawn BREWARD, Froggles (Clare FROGLEY), Rachel PRIOR, ChairBow (Gareth BOWDEN), Brad HOOK, El Torro (Mark TORRINGTON), Grazer (Graham WEIR)

The Race: The course took the runners from the village of Horton-cum-Studley along tracks through arable farmland before joining a minor road to the north of Otmoor. It then went through the villages of Murcott, Fencott, Charlton-on-Otmoor and Oddington before re-joining tracks and footpaths around the southern uninhabited parts of the moor. Through the villages the locals gave their enthusiastic support often providing ad hoc water stations for the participants. Away from the houses Otmoor was in full bloom and teeming with wildlife, providing the most beautiful environment to run through. For the most part the route is flat, one exception being a surprisingly steep hill at mile 11 which caught a few unawares.
BDRC Results:
Mark Torrington – 1:43:54
Graham WEIR – 1 :45:58
Dawn BREWARD – 1:54:43
Gareth BOWDEN – 1:54:44
Brad HOOK – 1:57:23
Rachel PRIOR – 2:05:21
Claire FROGLEY – 2:08:37

Would you recommend? A beautiful course that ends at a village fete complete with beer tent, what more could you want?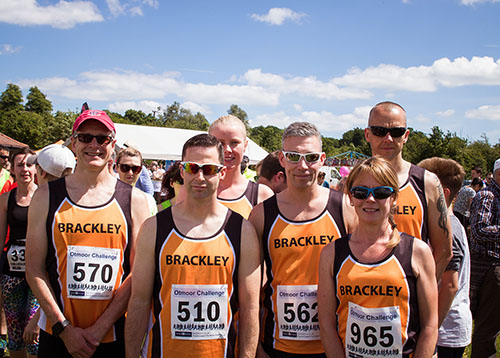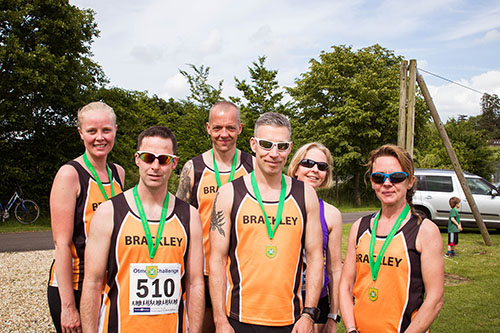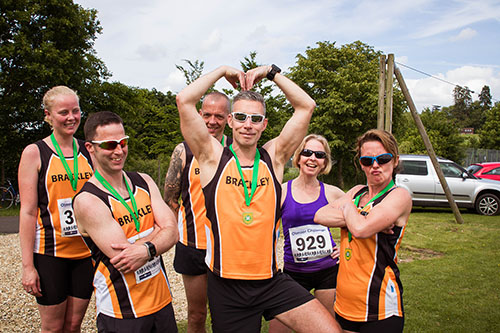 ---
Firkin 5 – Saturday May 20th 2017
Report by: Clara Locke
Distance: 5 miles
Location: Hook Norton Brewery

Event Details: Hook Norton Brewery's first fun run event. A 5 mile loop beginning at brewery with off road included. A fast sell out so get in quick!

Before the race: Plenty of information emailed and posted to face book page regarding race by brewery including parking areas, weather conditions, where spectators can stand and to enjoy race. There was also an onsite tea room to get out of the rain and have a cuppa pre race.

Who ran: Helen Brawn, Claire Frogley and Clara Locke

The Race: It was a very wet morning but the rain did stop as the race began, however the amount of rain leading up to the day ensured that the off road hills became more eventful with a lot of slip sliding and areas of single file. It was worth the climb though as when you reached the 2.5 mile 'water' station you were greeted with half pint of Firkins Finest. From there the rest of the race was mainly downhill or through fields with lots of giggles to be had. And finally the finish line where another pint of Firkins Finest was waiting plus a free burger!
BDRC Results: Not a PB race (not unless you want to be back to be first in burger queue) but we all completed together in 1:04:41

Funny Moments: The entirety of the race from beginning to end!

Would you recommend? Strongly recommend as made running fun in a beautiful area with lots of incentives to get you around. Also recommend bring bank card or cash to stock up on some Hooky from the onsite shop :-)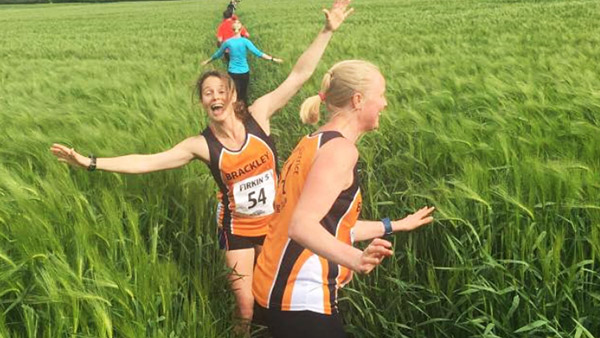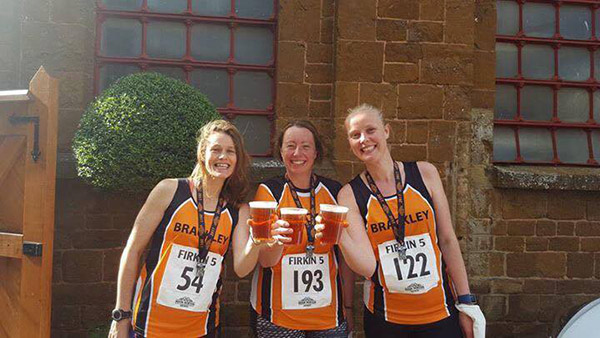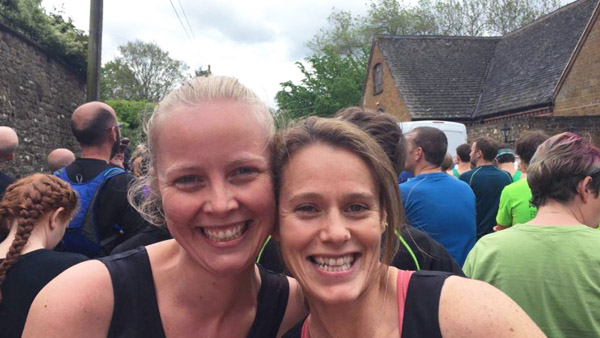 ---
Silverstone 10k – Tuesday 2nd May 2017
Report by: Julian Chronicle
Distance: 10km
Location: Silverstone
Web link: http://www.silsonac.org.uk/silverstone-10k-grand-prix-race/
Event Details: The first event in the East Midlands Grand Prix series and a chance to pretend to be a racing car on the Silverstone track (or was that just me).

Before the race: Lots of photo opportunities around the "Pit Lane" and out on the circuit and of course queuing for the loo.

Who ran: John, Mark, Michael, Nicola, Kelly, Natasha, Julian, Diane, Richard, Claire, Maxine and Julie.

The Race: A great atmosphere on "the grid" with over 1200 people taking to the start line. This naturally meant a slow start over the first kilometre as people found space and their race pace. After that a fantastic smooth and flat 2-laps, albeit very windy on the far side of the circuit, which meant many PBs were recorded.

Fantastic support at the 1k/6k mark by the local primary school.
BDRC Results:
64th - John Russell: 38:08
251st - Mark Torrington: 43:28
269th - Michael Bishop: 43:56
316th - Nicola Crookes: 44:56
491st - Kelly Weir: 48:35
615th - Natasha Berry: 51:01
632nd - Julian Chronicle: 51:30
635th - Diane Geatch: 51:36
649th - Richard McMahon: 52:05
676th - Claire Frogley: 52:38
915th - Maxine Sutton: 57:37
941st - Julie Waller: 58:23


Funny Moments: Nicola worrying we were too far back on the grid for a PB and gradually edging up the side. I shouldn't but seeing a few runners mown down by the wheelchair race lapping us!

Would you recommend? Definitely – ideal place for a PB and size of event meant a great atmosphere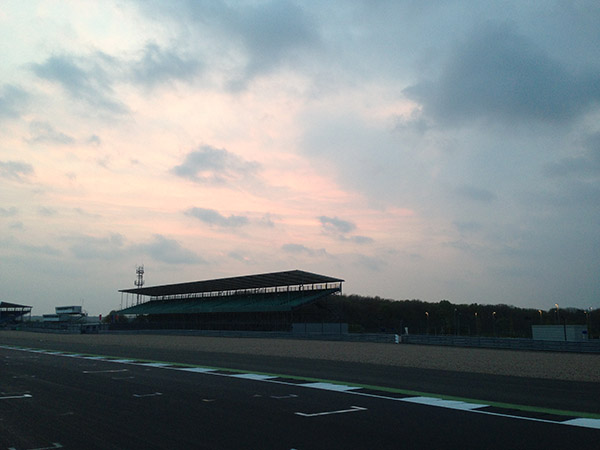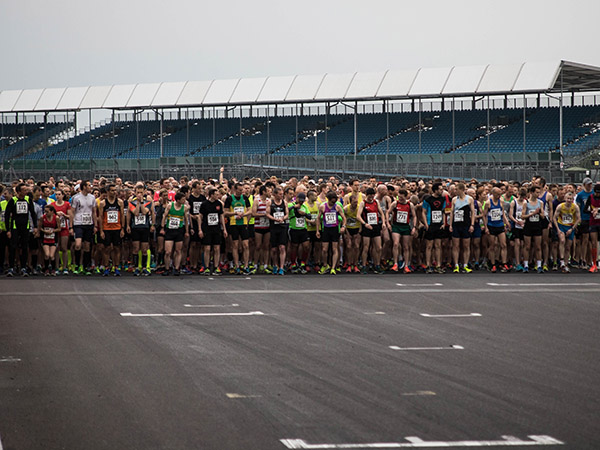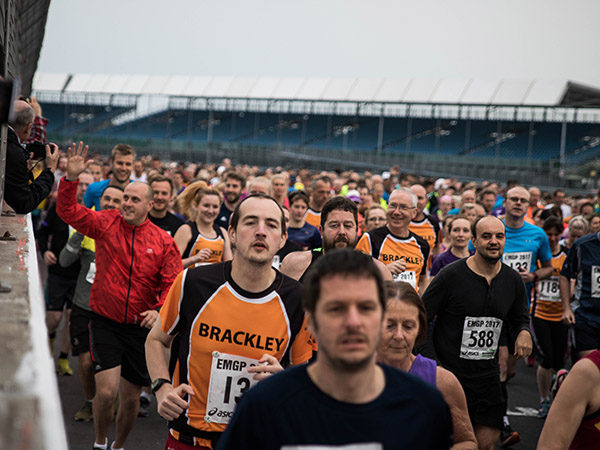 ---
Thornborough 5 Miles / 10 miles – 1st May 2017 (Bank Holiday Monday)
Report by: Nicola Crookes (AKA: Choochi)
Distance: 5 miles or 10 miles
Location: Thornborough Village
Web link: http://www.bucksvoice.net/tssc/
Event Details:The Thornborough Run is a fairly challenging, hilly course on our beautiful country roads. The route is: Start on Green, up Nash Road to Dancers Grave, left to Thornton, then left to Thornborough via Back Street. The 10-mile run is twice round the 5-Mile Fun Run course, which is published as being only for experienced runners. ALL RUNNERS must enter on the day, no entry forms or advanced registration. Medals are given to all 10 mile finishers. 10.40 start for 10 miles and 11.00 for the 5 mile race. There is a BBQ, teas and toilets in the village hall, chapel and village pub on the Green by the start/finish.

Before the race: We arrived and met up with the other BDRC runners outside the village hall where there were tables and chairs to enjoy the sunshine! It was definitely a very relaxed and friendly atmosphere and the cake stalls in the village hall kept all the children happy 

Who ran: Chairbow (Gareth Bowden), Nozzle (Chris Noble), YT (Adrian Crookes) ET (Eoin Ttwedle) and Choochi (Nicola Crookes). The Meadster (Gareth Meade) and Heidi Lewis ran the 10 miles race.

The Race: The course was definitely undulating, starting with a steep hill out of the village and then continuing up and down for the whole 5 miles. Unfortunately, as it hasn't been accurately measured it is not a registered certified course. It measured 4.9 on my Garmin.
BDRC Results:
BDRC collected some nice silverware with Chairbow getting a trophy for first place, myself getting a trophy for first lady and Nozzle getting a silver plate for first over 50 (which he technically should have won the previous year but didn't because he was only 50, so Mazzo 'won' it instead)!
5 miles
Gareth Bowden – 30:15
Chris Noble –33:45
Nicola Crookes – 35:28
Adrian Crookes – 36:27
ET – 39:53
10 Miles
Heidi Lewis - 1:18:59
Gareth Meade - 1:26:13

Funny Moments: Heidi & Gareth not realising that ET had even been there as he was late arriving and left straight after the race. Nozzle trying to juggle his beer whilst being presented with his plate. The size of Jane Simons trophy for first lady in the 10 mile race – it was HUGE!!!

Would you recommend? Would definitely recommend this race! A great way to spend a May Bank Holiday Monday. It's a beautiful course which ends in the village where there is a lovely old pub serving nice cold beer! There's cakes for the kids and there might even have been a BBQ too.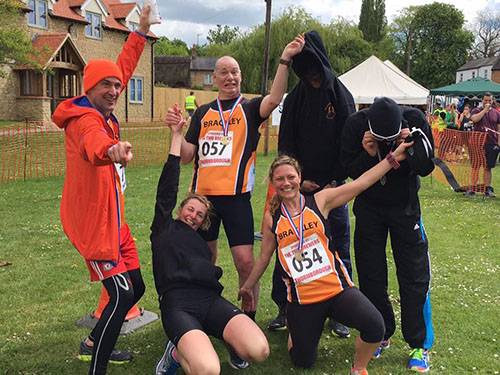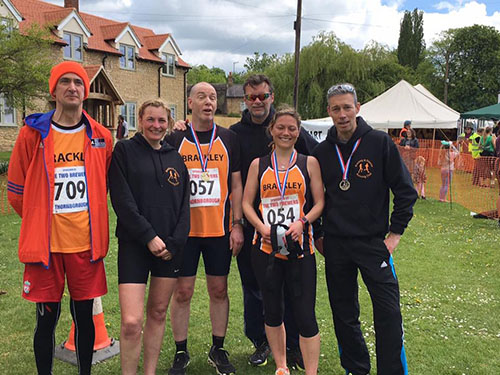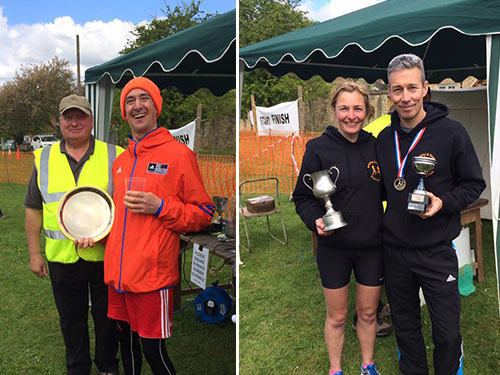 ---
Run the Claydons - Sunday 23rd April 2017
Report by: ET
Distance: 7 miles
Location: East Claydon
Web link: https://www.facebook.com/RuntheClaydons
Event Details: A seven mile undulating course taking in the Claydon villages near Winslow

Before the race: Excited young BDRCers for the junior race with proud parents. Catching up with friends on the long walk to the race start.

Who ran: John Russell, Graham Weir, ET, Claire Frogley, Gareth Meade, Natasha Berry & Julian Chronicle

The Race: A slow start on the narrow pathway back towards the village hall led to the scenic countryside of the Claydons. Lots of off road running. Fairly narrow finishing straight allowed lots of spectators to cheer everyone on at the end. Thanks to all supporters including Maxine, Helen, and Nick and Clara.
BDRC Results:
8th John Russell - 44:08
19th Graham Weir - 49:00
65th ET - 57:41
73rd Gareth Meade - 58:21
79th Claire Frogley - 60:16
89th Julian Chronicle - 61:21
107th Natasha Berry - 64:00

Special mention for Matthew Chronicle who came 1st in 40:37

Funny Moments:ET finding out he'd entered the race twice and paid twice. Oh, how he laughed.
Clip-Clops sprint at the finishing line!

Would you recommend? Definitely. Family friendly, small race with great running and well marshalled. A little pricey perhaps.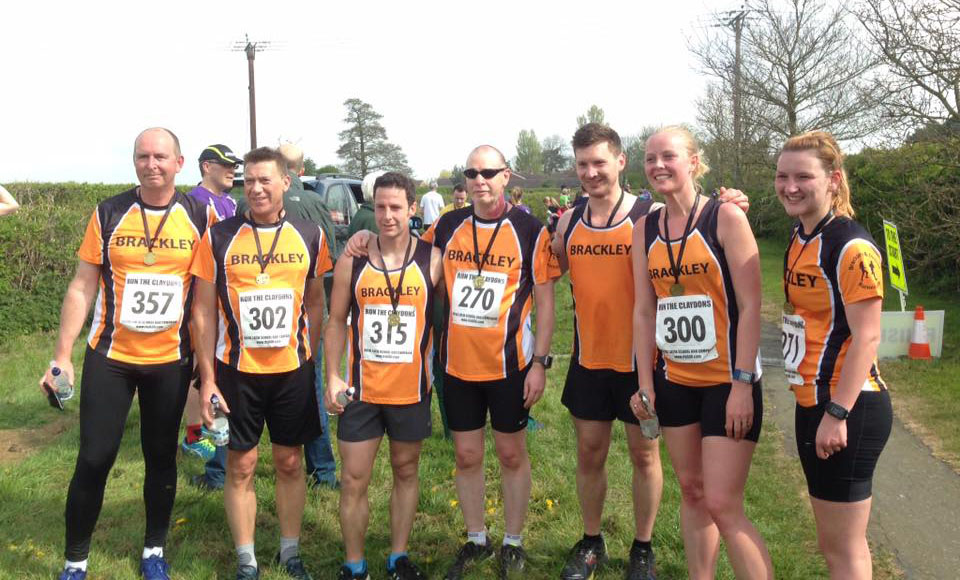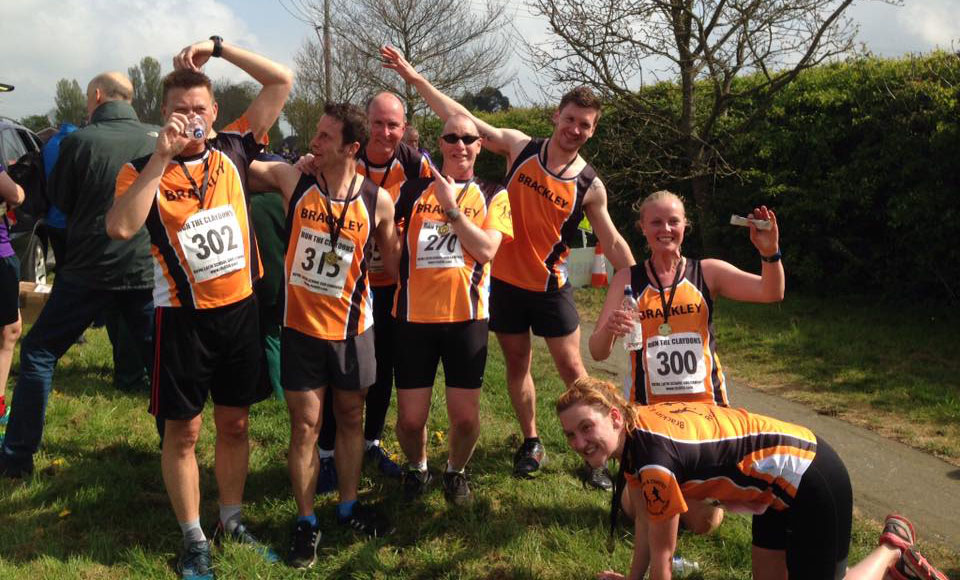 ---
Virgin Money London Marathon - Sunday 23rd April 2017
Report by: Mazzo (AKA: Ian Marriot)
Distance: 26.2 miles (although Strava tells me its longer )
Location: Central London
Web link: https://www.virginmoneylondonmarathon.com
Event Details: Probably the most iconic running event in the country and one of the world marathon majors. Circa 40,000 participants with the loudest most enthusiastic crowds you will ever experience.

Before the race: Two of the Brackley runners had made their own travel arrangements (Iain and Kirsty) whilst Gareth, Dawn and myself went on the coach organised by Alchester RC (I would totally recommend this option for anybody lucky enough to do this event in the future) Leaving Bicester at 06.00 and arriving at Blackheath for 08.00. This gave us two hours to finish our breakfasts (rice pudding for me, yum yum), queue for the toilets and take the obligatory photographs at the start. Last minute flaffing done and the bags dropped with the super efficient staff we made our way to our start pens. It took me just over two minutes to cross the start line when the race began and a couple of miles to get into my race pace once the runners had thinned out a bit.

Who ran: Iain Brown, Kirsty Hambleton, Gareth Bowden, Dawn Breward and Ian Marriott.

The Race: The weather was kind albeit a little warmer than I would have liked and the first few miles just seemed to fly by. It didn't seem long before I was approaching Cutty Sark, one of the first real landmarks and very popular with spectators. Further into the race, crossing Tower Bridge is always a highlight, it come just before the half way point (and is where the BBC had agreed to film me !). Coming off the bridge and turning right towards Limehouse is another high point for me as my family position themselves around mile 14 and mile 21 which always takes my mind off the running as I'm trying to find them amongst the crowds. High fives duly delivers to my children its back to the final few miles of the race and I'm feeling quite strong and even manage to pick up the pace and pass lots of other runners. With Big Ben in sight and just over a mile to go the noise is just immense and I don't care how tired you may feel, the crowd just pushes you on. Around the final turn outside Buckingham Palace the final 400 metres to the finish line and it's all over. What a fantastic race and my words don't do it justice.
BDRC Results:
Gareth Bowden - 2:55:06
Ian Marriott - 3:20:47
Kirsty Hambleton - 3:22:24
Dawn Breward - 3:28:23 (New PB !!!!!)
Iain Brown - 4:31:24

Funny Moments:
Before the race, standing next to a rubbish skip in the start zone with Tiny Dawn when three men came over and relieved themselves right next to us because the toilet queue was too long.

During the race: Doing my best to get past the Pope, a Nun and a Priest only to be overtaken by Minnie Mouse.

After the race: Enjoying my Facebook celebrity status following my appearance on the BBC.

Would you recommend? Goes without saying, this was my second VMLM and there is nothing like it for crowd support, atmosphere and feeling part of something so iconic. If it something you want to do, never give up trying to get in, you won't regret it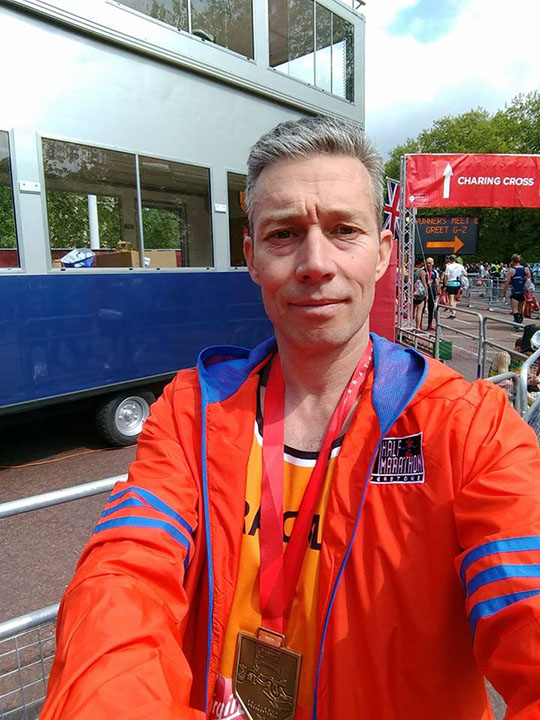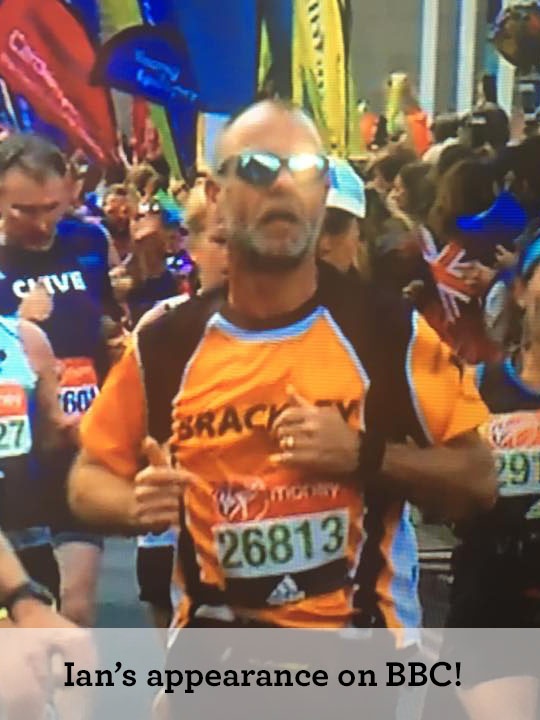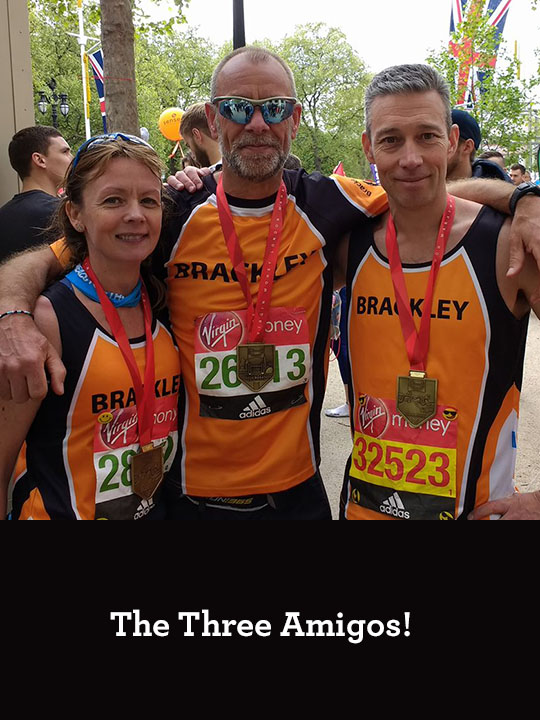 ---
Southampton Marathon - Sunday 23rd April 2017
Report by: El Torro (AKA Mark Torrington)
Distance: 26.2 miles
Location: Southampton City Centre
Web link: http://www.abpsouthamptonhalf.co.uk
Event Details: 2017 saw Southampton staging a marathon, half marathon and 10k race all on the same day, the 23rd April. Those doing the full marathon ran two laps of the half marathon course with the 10k route starting a finishing at the same place. Staggered starts ensured each race got underway smoothly and without confusion.

Before the race: Being in a city centre there was plenty of parking within a short walking distance of the start. The event was superbly organised with every facility available to the runners. The city Guildhall was the location of the changing rooms and baggage storage area, easily the grandest baggage drop of any event I have been to! There were even so many toilets there weren't the usual queues before the start.

Who ran: El Torro (Mark Torrington)

The Race: The route itself took the runners, on closed roads, from the city centre out through residential areas before a lovely wooded section around The Common. It then climbed up to the University Campus which provided typical undergraduate exuberant support before dropping down to run alongside the River Itchen. The organisers promote the crossing of the famous Itchen Bridge as a highlight of the race; while it is undoubtedly a spectacular landmark it is a challenge to run over especially for the marathoners who cross it for the second time at the 24 mile point!

The race finishes outside the city Guildhall with large crowds of spectators cheering the runners on. In fact the support around the whole course was very good with lots of the locals offering sweets and water to those taking part. The route was well designed for spectators as family and friends could easily get from the start out to other parts of the race to support the runners and then get back to see them finish.

The race was very well marshalled with the welfare of the runners a priority; in the afternoon as the temperatures rose the Ambulance Service was kept busy with people suffering from the heat.
BDRC Results:
Mark Torrington – 3:45:16 (229th out of 1074 finishers)(26th Age Group)

Would you recommend? As this event was held on the same day at the London Marathon it was popular with those who had been unsuccessful with the London ballot. Despite this I would recommend the race in it's own right as it is a very well organised and supported marathon. Perhaps not one with PB potential but one offering a safe and scenic route through the city.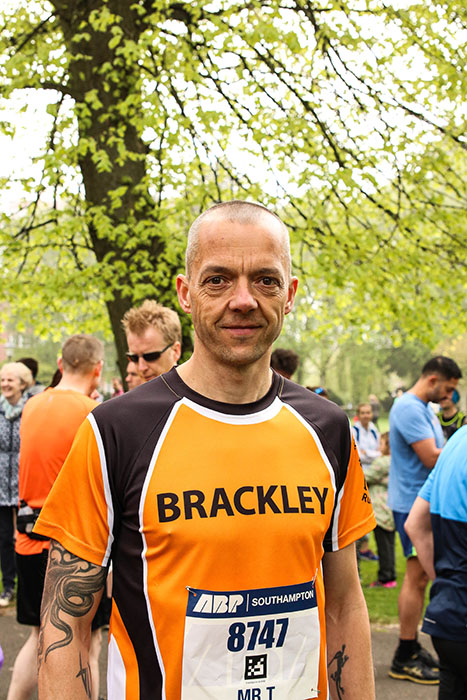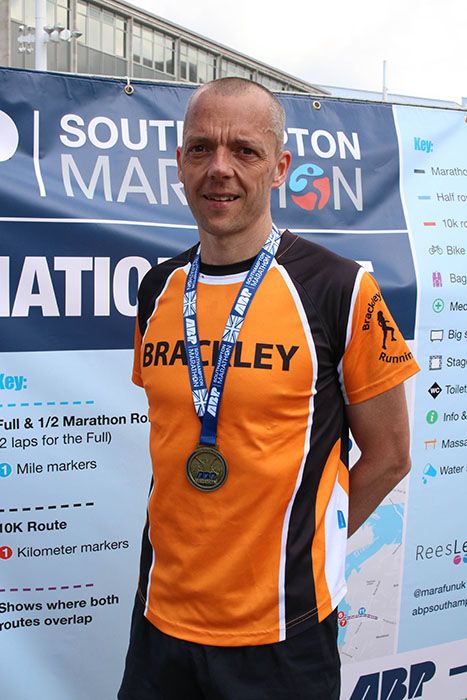 ---
The White Horse Half - Sunday 9th April 2017
Report by: Heidi Lewis
Distance:13.1 miles
Location: Grove, Oxfordshire
Web link: http://www.whitehorseharriers.co.uk
Event Details: A pb potential half marathon on fairly flat roads.

Before the race:We all met up at race hq for the usual pre race photo. It was very calm and well organised, not even a queue for the loo!

Who ran: Heidi Lewis, Natasha Berry, Claire Frogley, Michael Bishop, ET, Nicola Crookes, Adrian Crookes, Maxine Sutton, Chris Noble, Mark Torrington, Graham Weir, Brad Hook, Julie Waller.

The Race: The race is a lovely course that starts in the village of Grove then passes though quiet country lanes through the villages of Denchworth, Lyford and charney Bassett. It was really well marshalled with support along the way from a mixture of locals and friends/families of runners. The finish on the village green was a relief after the very hot run! The course would be a great pb opportunity but for me it was too hot and I wished I had carried water with me.
BDRC Results:
Some of us struggled with the heat but there were some amazing results by others, in particular Nicola Crookes who came 2nd in her age category. Also a big well done to Maxine on completing her first half marathon.

Christopher Noble 1.29.35
Mark Torrington 1.38.32
Nicola Crookes 1.39.09
Adrian Crookes 1.40.49
Graham Weir 1.42.21
Michael Bishop 1.45.09
Heidi Lewis 1.51.07
Brad Hook 1.55.47
Claire Frogley 2.02.55
Natasha Berry 2.05.11
Eoin Tweeddale 2.06.48
Maxine Sutton 2.10.55
Julie Waller 2.26.48

Funny Moments:
Watching ET before the race trying to stay calm as he still had no race number 10 mins before the start. Luckily Keely arrived just in time to hand it over.

Would you recommend? Yes I would recommend this race as it was really well organised and a good flat course. I'd just like it cooler next time though!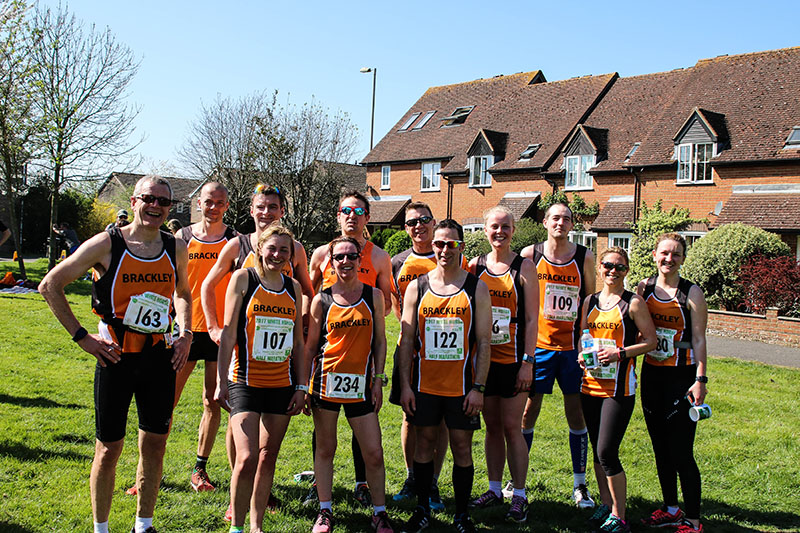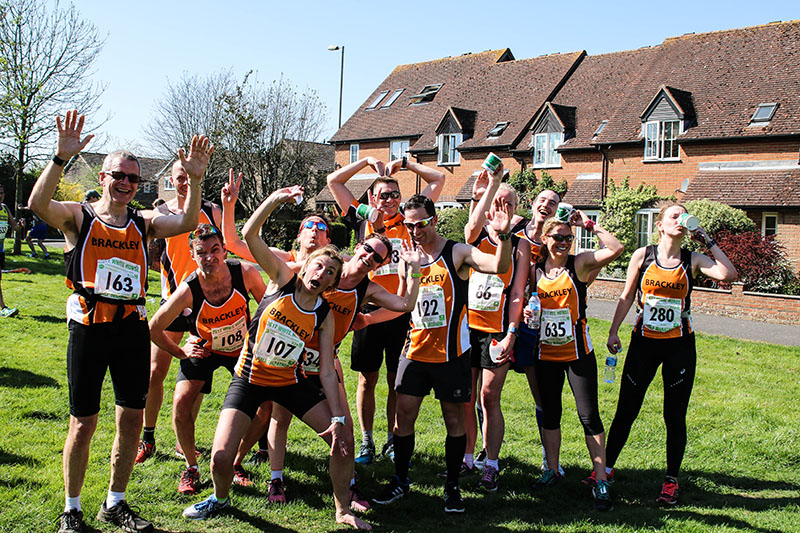 ---
Geoff Smith's Banbury 15m - Sunday 19th March
Report by: John Russell (AKA: JR)
Distance:15 Miles
Location: Banbury
Web link: http://www.banburyharriers.org/banburyrun.asp
Event Details: Starting by Spiceball Leisure Centre the course heads out of Banbury, climbs up to Little and Great Bourton and then off to Cropredy, it then does a 5 mile loop and heads back along the same route as the first five miles.

Before the race: Arriving early (As I normally do) parking was easy and went straight into the sports hall and collected my number. Slowly the other members of BDRC started to arrive, with the normal great atmosphere before the run there was a very relaxed feel. A short walk took us to the park where the start was.

Who ran: John Russell, Gareth Bowden, Ian Marriott, Michael Bishop, Mark Torrington, Dawn Breward, Heidi Lewis, Brad Hook.
In the fun run - Harrison, George, Charlotte and Amy. Oh and Keely and Helen.

The Race: The race headed out of the park and almost immediately started to climb out of Banbury, while a reasonably steady climb it wasn't too bad being so early on in the race. The good thing with the climb was that there was a lovely downhill stretch - lovely until you realised that you had to run up it later on in the race! The course carried along lovely quiet country roads. At mile 8 there was the first real climb, which wasn't as long as I had expected, which was good. At 10 miles you retrace the first 5 miles of the race, which meant running up that lovely downhill stretch, it was not so lovely now. With pretty much the last three miles being downhill you were able to push right to the finish, where we had lots of support from the Weirs and Brawns.

Incredible improvement by Michael on his last time on this course.

Supposedly, so I have been told, there were lovely views around the course too.
BDRC Results:
10th 1:35:31 John Russell
19th 1:39:18 Gareth Bowden
82nd 1:52:08 Ian Marriott
99th 1:55:51 Mark Torrington
106th 1:56:43 Michael Bishop
126th 1:59:32 Dawn Breward
142nd 2:02:44 Heidi Lewis
200th 2:13:10 Brad Hook

Funny Moments:
Cheryl taking photos on the hill near the last few miles of the run.
Being chased by Harrison and his T-rex to the finish.

Would you recommend? A lovely course, well marshalled, good atmosphere. Definitely one to do again.
---
Milton Keynes Festival of Running - Sunday 5 March
Report by: Dawn Breward (AKA: Tiny Dawn / Lady Brew)
Distance:20 Miles
Location: Central Milton Keynes
Web link: http://www.mkrun.co.uk/information/
Event Details: Plenty of parking and toilets available at the start which was very close to the Xscape. No registration queue as numbers were posted in advance. 8 BDRC runners opted for the 20 miler and overall 819 runners took part.

Before the race: Did a bit of car sharing but knew we'd see each other either at the start or the finish. ChairBow chauffeured in 4th gear the usual suspects, Grazer and Keeza Sportaged it over with RJ Kelly. JR and Helen Sing and Signed their way over (we could hear them on the A5). Before the race a bit of time for a moan, coffee, toilets, stretching (not from ChairBow's Book) toilets again and a pre race Mazzo special warm up gurcha!

Who ran: JR, Mazzo, Torro, Chairbow, Capt'n Nozzle-Hogsta Muddy Lugs, Gunners, Grazer, (Me) Lady Brew.

The Race: It was a cold windy day and we all knew that exposed parts of the course would be tricky. We expected a few puddles but not a flooded underpass a mile and a half in which we had no option but to run through and get soaking wet feet. A good few supporters throughout the race with BDRC's very own in house photographer 'El Chezza Paparazzi Torro' to pap a few pics. The course overall is pretty flat with well manned water stations. The race momentum picks up a bit for the 20 milers when we join those running the half marathon. Alas! no 'Power Man' this year in Woughton Village. I hear he's already handed over his outfit to Nozzle in good time for the '10K Chicken Run'. We all lost our enthusiasm in the last two miles and our legs felt pretty heavy when the course slowly inclines and weaves through Campbell Park to the bottom of the hill. The last 800 yards heading into the finish are downhill where the 'Barely audible Brawn' was shouting us all in, along with those that had run the shorter races.

BDRC Results:
John Russell - place 20 in 2:08:43, Gareth Bowden - place 47 in 2:15:55, Christopher Noble - place 79 2:23:50, Mark Torrington - place 216 2:42:12, Graham Weir - place 246 2:45:44, Ian Marriott - place 205 2:41:13 Dawn Breward - place 306 2:51:49. Tessa Gunson DNF but ran 10.2 of the course and put in a valiant effort considering how unwell she had been over the previous weeks.

Funny Moments:
None. Didn't get the brief about wellies and swimwear.

Would you recommend? Others may love it, but my personal opinion is that it's nothing more than a training run as part of your Spring Marathon training plan.
---
Winslow 10km - Sunday 28th February
Report by: Claire Frogley (AKA: Froggles)
Distance: 10km
Location: Winslow, Bucks.
Web link: www.winslowlions.org.uk/10k-run.html
Event Details: This race is organised by the Lions Club International. The race was attended by 276 runners on a blustery and cloudy day.

Before the race: Several car loads made their way from Brackley. No parking was available at the school, therefore runners were advised to park in one of three carparks available in the town centre (10-15 minute walk from the race registration hall). Registration was efficient with entries still available on the day.

Who ran: This race was well attended by BDRC members with 10 runners in attendance. Noz, Bish-Bash, Lady Brew, Choochi, ChairBow, Macca, Clip-Clop, ET, Lydia and me (Froggles). The race was also well supported by Chezza (Chief Photographer) & El Torro and Tom Frogley.

The race: The race is a single loop route which starts and ends at Furze down School in Winslow. The route is generously listed as 'mainly flat with slight gradients' and the start was quick and slightly downhill, although there is nothing 'slight' about the 1km hill at the end!! The route weaved through the villages of Verney Junction and East Claydon before returning to Winslow, 'that hill' and an attempt at a sprint finish on the flat home straight.

BDRC Results:
Gareth Bowden 39.12mins, Chris Noble 39:58mins, Michael Bishop 45:08min, Nicola Crookes 46:06mins, Dawn Breward 47:14mins, Lydia Perryman 48:29 mins, Eoin Tweeddale 50:37mins, Richard McMahon 50:49mins, Natasha Berry 53:24mins and Claire Frogley 53:29mins. Lots of PB's in the mix and Noz got 1st MV50 (didn't realise so didn't collect trophy).

Funny Moments:
I think the photos say it all!!! (Photos by Cheryl Torrington).

Would you recommend? Yes. This is a well organised local race. Highly recommended.
---
Ade's 21st birthday run (AKA Oxford 10k) - 22nd January 2017 (Remember it!!)
Report by: Adrian Crookes
Distance: 10km
Location: Horspath Sports Ground, Oxford
Web link: Not worth it.......
Event Details: Supposed to be a 10k race on paved ground/track.......it turned out to be a 10k race over uneven and frozen ground....no track, very little paving (and what bit there was, was in very poor condition)

Before the race: The good folk of BDRC turned up for my birthday celebrations in some numbers! We were all glad of the Horspath pavilion to collect race numbers, congregate in and escape the biting cold. It was a beautiful morning but bitterly cold (particularly for our happy and brave band of supporters (Helen, Lucy Long-shanks and of course club mascot Bobble-Hat Hols, sporting a fine new bobble-hat!!!....New champs Year, new hat and all that.....)

Who ran: A fine turn out from the ladies; Nicola 'choo choo' Crookes, Claire 'fro(i)ggers' Frogley, Keeza Weir, Heidi Lewis, Julie Wazler and debut girl Lydia Perryman. For the men; a smaller but select group Ade 'have I mentioned it was my birthday?' Crookes, Michael 'Bish Bash' Bishop and John 'speedy Gonzalez' Russell.

The race: As we stood on the start line freezing our wotsits, a number of us commented on how extremely relaxed it seemed on the line, "milling about", "run if you can be arsed" kinda relaxed! Then, bosh.....hooter....down to business! JR soon strode out into one of the leading positions, the rest of us trailed in his wake. With the frozen ground, molehills and the uneven paving (where it existed) made for tricky underfoot conditions. The terrain was very flat, so allowed some decent effort and resulting pace was good for all. The route had been changed at last minute due to the heavy frost, meaning the track had become a no-go area, which resulted in a course that was basically round a field, 5 times. As usual, fine team spirit and encouragement showed itself to the fore amongst the BDRC faithful. "HAPPY BIRTHDAY TO THAT MAN IN THE ORANGE" came a very loud fish wife kind of shout from my left......Keeza, passing on her good birthday wishes as we passed each other at one of the points where you pass others coming the other way! Each time we all passed each other, all showed great team support all the way round giving shouts of support and encouragement. I didn't hear many other teams doing that! Anyway, for some reason Bish Bash had turned up at the race looking like Scott of the Antarctic, and was duly shedding clobber each time he passed the small, faithful and loud BDRC support crew. This allowed me to close on him in the last few laps, giving me encouragement to push hard (but not hard enough!!).

The ladies were having their own battle behind, speaking of behinds, Choo Choo's "behind muscles" were "playing up"....any excuse I thought, when I asked why she was so far behind me at the end! Nevertheless strong runs from all the ladies, reflected in their excellent handicap scores for the race.

Particular mention to Lydia who, on her BDRC debut, ran a blinder, being 3rd BDRC lady home in a sub-50min time. John finished in 3rd place overall for the men, equalling his 10k PB.

Well done all, and thank you for making my birthday one to remember!

BDRC Results:
Ladies: Nicola Crookes (46:31), Heidi Lewis (48:32), Lydia Perryman (49:55), Keely Weir (50:45), Claire Frogley (54:23) and Julie Waller (58:47).
Men: John Russell (37:23), Michael Bishop (45:00) and Ade Crookes (45:04).

Funny Moments:
Relax......and leg it!
Keeza's birthday shout out.
Bish's mid-race striptease.
Ade's earliest beer for donkeys years.

Would you recommend? No! Shambolic! It won't be in the champs next year.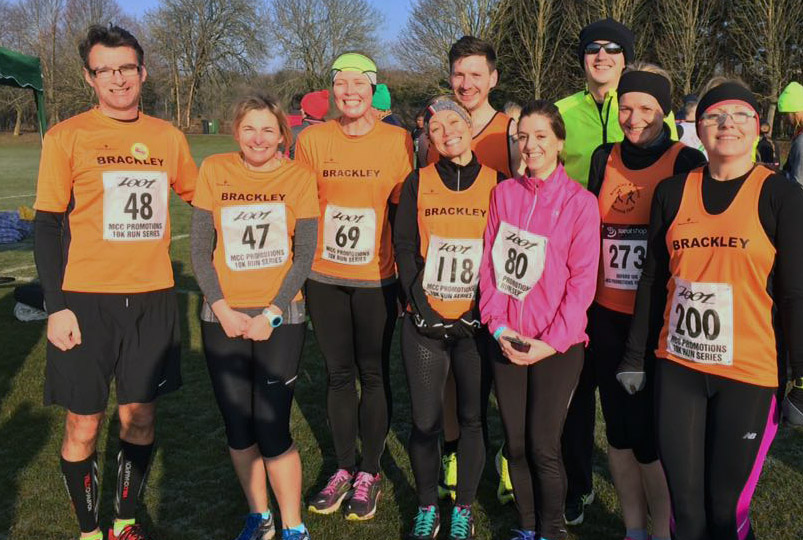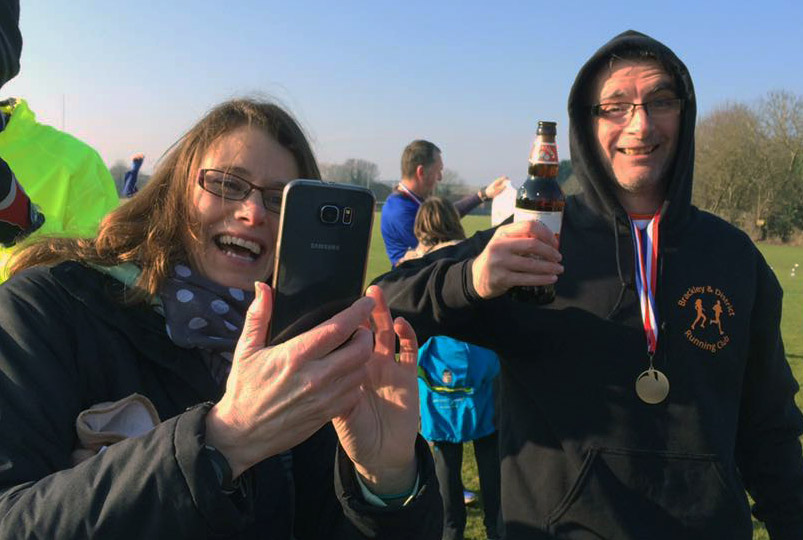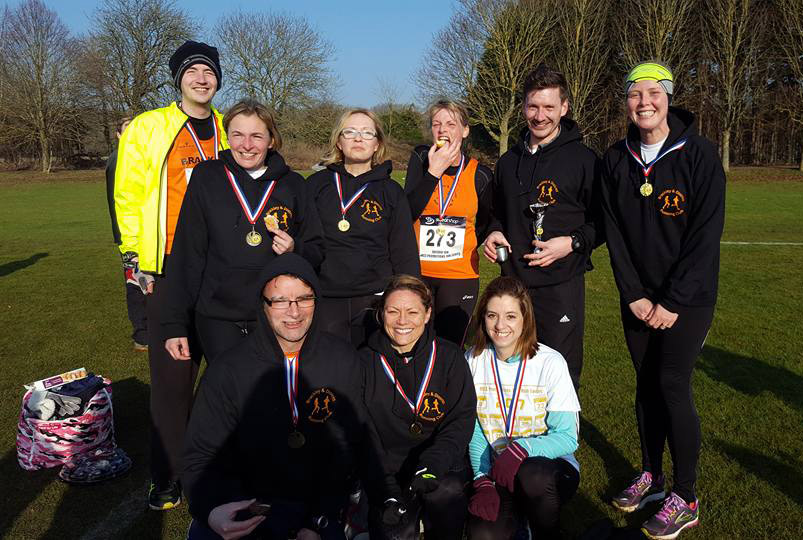 ---
Not the Roman IX - 15 January 2017
Report by: Richard McMahon
Distance: 12km
Location: Tiddington, near Stratford upon Avon, Warwickshire.
Web link: http://www.stratfordac.co.uk/pages/nottheromanix
Event Details: This event was the opening race in the 2017 Club Championship. The race is organised by Stratford Upon Avon Athletics Club and has been going in one form or another since 1968. Originally this was a 9 mile race but, as suggested by the title, the distance has changed and is now a measured 12k. As a well established race early in January, it regularly attracts between 600 and 700 runners including a high proportion of club entrants.

Before the race: The start is approximately 1k from the race HQ and with heavy rain forecast plastic bin liners were donned to keep out the wind and the wet during the walk.

Who ran: Tessa, Froggers, Ladybrew, Grazer, Mazza, Chairbow and Macca.

The race: The course starts down a slightly narrow lane, which does not allow much overtaking for the first 1 – 2Km. However, once the lane has been negotiated, the course is predominantly on well marshalled, tarmacked, roads and is more or less uphill for the first half. There is quite a steep hill at 5Km, but it is fairly short and after that the course steadily loses elevation, with the odd hump, all the way down to the finish. The course is rural, passing through Loxley village about two thirds through. Froggers and Tessa ran together, with Claire achieving a PB that she attributed to the fantastic support given to her by Tessa. I started with Mazza and Grazer, but they were soon out of sight ahead of me and I didn't see another BDRC orange shirt until I crossed the finishing line!

At the finish there was water and T shirts for everyone, as well as first points on the board in the club championship!

BDRC Results:
Gareth Bowden 68th - 49:40
Ian Marriott 142nd – 52:28
Graham Weir 184th – 54:41
Dawn Breward 196th – 56:33
Claire Frogley 382nd – 1:05:
Tessa Gunson 383rd – 1:05:43
Richard McMahon 423rd – 1:06:38

Funny Moments: With heavy rain forecast, the picture Froggers posted on Facebook of her ready in her running gear, plus goggles and swimming hat was priceless!

I've had the pish taken out of me for various things in my time, but never before for having the poshest bin bag in the club!

Would you recommend? A well organised race with plenty of parking, marshalls and two water stations. I have not run a 12k race before and it made a good stepping stone to doing a 10 miler in February.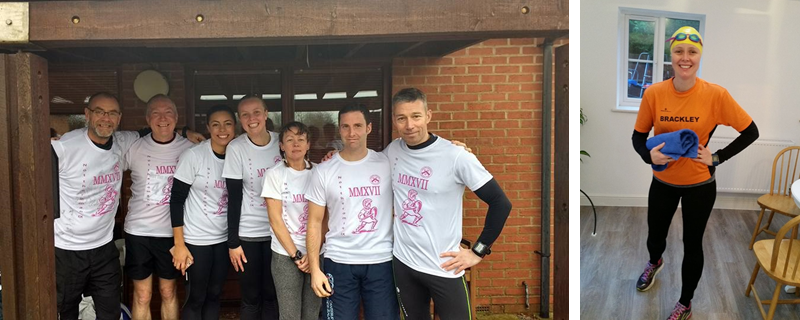 ---