» 2018 Reports | » 2017 Reports | » 2016 Reports | » 2015 Reports | » 2014 Reports | » Download template
White Horse Half Marathon - 7th April 2019
Report by: Julian Chronicle (AKA: King Julian)
Distance: Half Marathon
Location: Grove
Web link: whitehorseharriers.uk

Event Details: Starting and finishing in Grove, the course quickly heads out into the countryside onto an anti-clockwise loop around the Vale of White Horse and finally back on the same road into Grove. Race is mainly flat and run on quiet country lanes which are generally well surfaced, eagle eyed BDRC runners will have spotted a couple of miles are run (in reverse) along the Hanney 5-mile course.

Before the race: It was easy to spot those who'd never run this event before! They followed the signs to the official race car park and as a result had walked miles before they got to the HQ! Old timers sensibly parked on road closer to start. The HQ itself was in local primary school and had changing, loos and a bag-drop. From here it was a 5-min walk, or chance to warm up for the serious runners, to the start. As always the BDRC runners sought each other out for chat/micky taking/support and encouragement and the odd photo.

Who ran:
Being a Club Championship event there was an impressive turnout: Karine, Nicola, Claire, Maxine, Louise, Chloe, Julie, Kelly, Chris, Kevin, Adrian, Stuart, Gareth, Mark, Julian

The Race:
A very relaxed start with runners gathering on closed road near Rugby club, the BDRC runners spaced at intervals throughout the pack based on how "up for it" we were feeling! If there was a pre-race briefing it was inaudible and those of us at the back didn't even hear a gun/hooter – only realised race had started when we looked up from chatting to see runners heading up the road!

Race headed around outskirts of Grove, with some lively support from local residents, before heading out into the countryside. As a small event, runners quickly spread out and found their pace. Around the 2-mile mark there was a very short hill to turn onto the circuit, shortly after this it was SMILE for Barry - and jump if you had the energy (I didn't). Around the 5-mile mark race turned left, which in my head was the second segment of the circuit, and passed a welcome drinks station.

It was then a long stretch up to the top of the circuit and onto third section of circuit (in my head it was squarish ok) and another welcome and enthusiastic drinks station. Hitting the 9/10 mile mark a few people were beginning to flag, of which I was very much one and it was a real effort to force a grin for Barry who was lurking at the 11-mile mark. With Del Boy, Mini Max and myself running close together at this point a marshal asked if this was a club championship event – I just about managed to answer yes. Finally the circuit was completed and it was the home straight towards Grove, a couple of railway bridges seemed like Everest, but by now the finish was audible. The 13-mile marker was finally here and a final sprint (or crawl) on a brief grass section to the line.
BDRC Results:
Ladies:
Karine – 1:44:40 (PB)
Choochi – 1:46:00
Froggles – 1:49:32 (PB)
Mini Max – 1:57:13 (PB)
Chloe – 2:09:19
Wazzer – 2:18:13
R Kelly – 2:21:27

Men:
Noz – 1:25:22
Cornish – 1:27:10
YT – 1:37:10 (PB)
Serge (Power) – 1:39:35
Disco Stu – 1:42:53
Meadster – 1:51:12
Del Boy – 1:56:15 (PB)
King Julian – 1:57:02
Funny Moments:
Much amusement in the Men's Changing area at the size/height of the toilets! I didn't check the ladies…….

Cornish complaining afterwards that he was having to walk the furthest to post run drink as the "old gits" couldn't face going further than Flag.

Would you recommend? Yes, it is a small well organised event and an ideal race for anyone looking to attempt their first half. As the results show, the flat course also has plenty of PB potential for those looking for a fast time. My one slight criticism is that the car-park, HQ and Finish were somewhat spread out across Grove.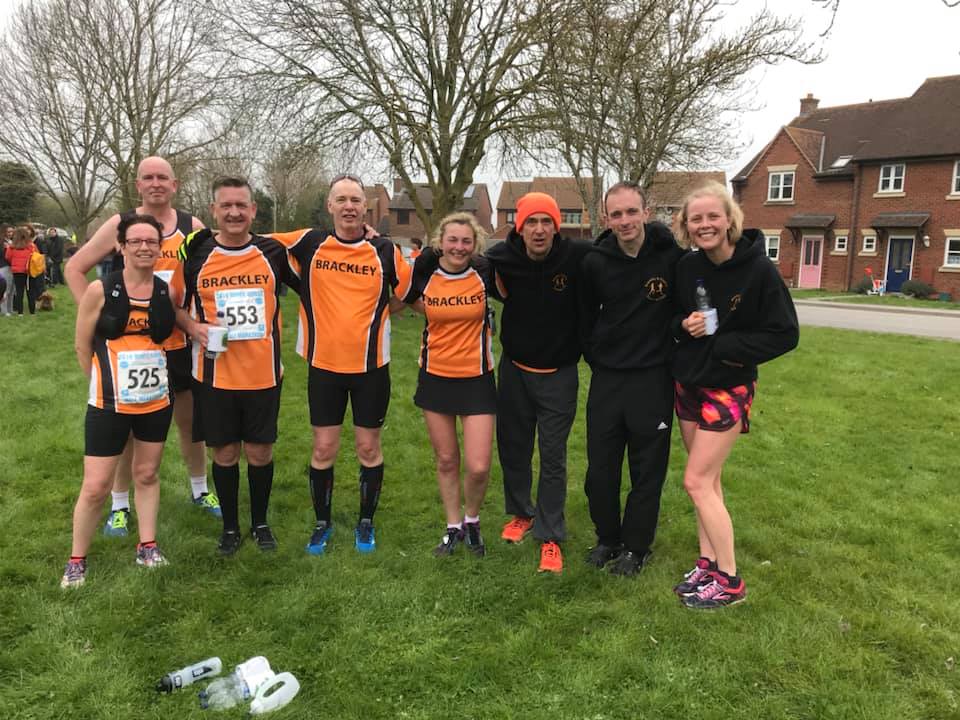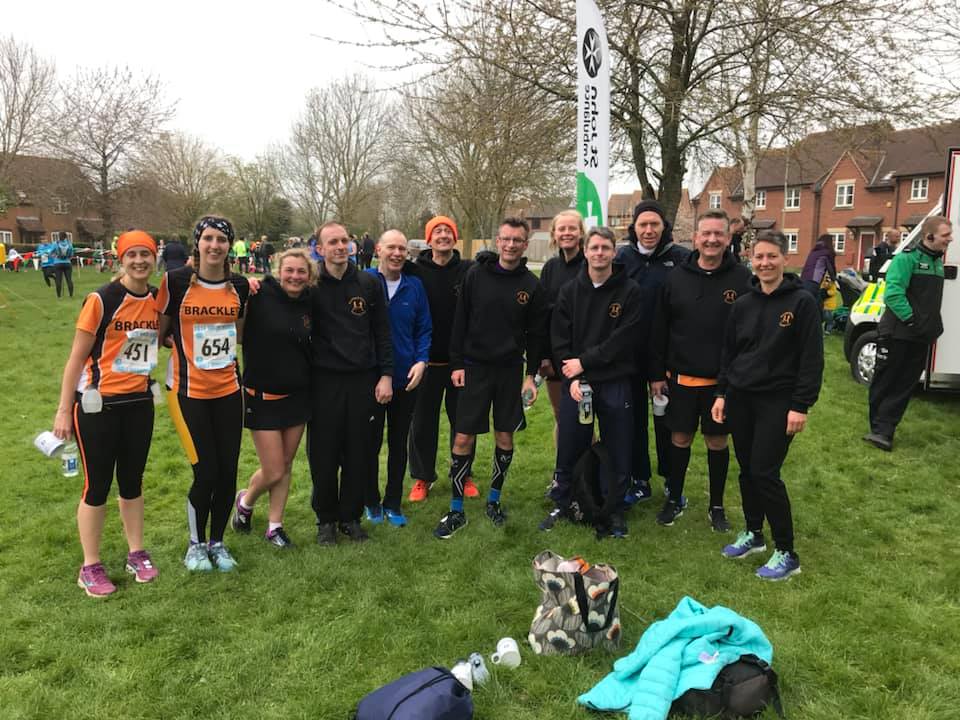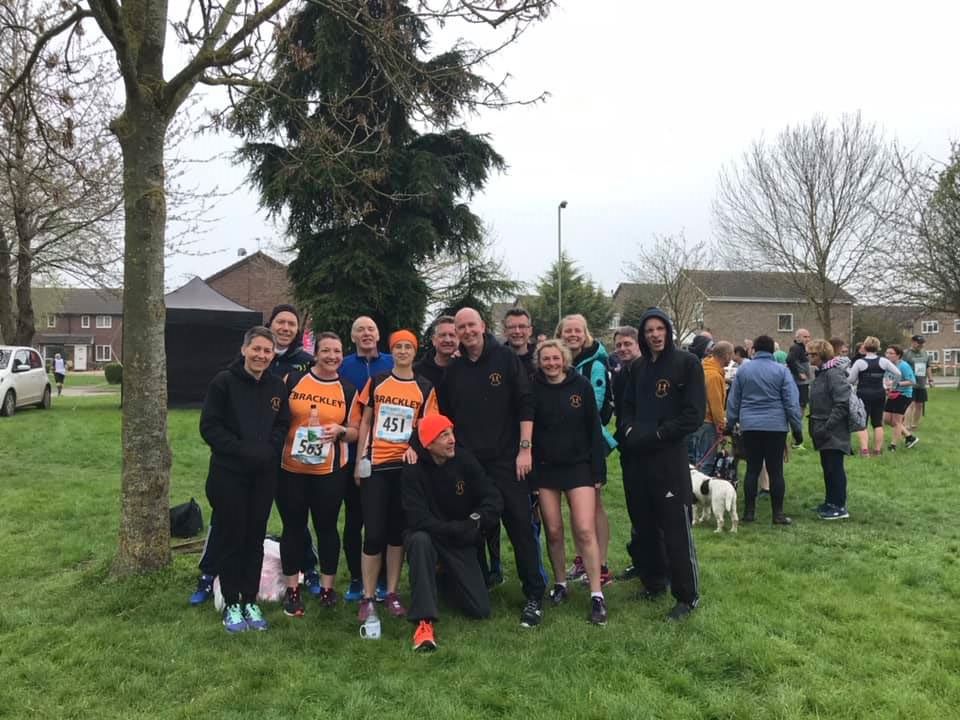 ---
MK Festival of Running - 17th March 2019
Report by: Richard McMahon (AKA Macca)
Distance: 5k, 10k, half marathon and 20 miles.
Location: Milton Keynes
Web link: mkrun.co.uk

Event Details: MK Festival of running claims to be the 'biggest festival of running in the country', and it certainly attracts a large field. This well-established event is a Club favourite as with the variety of distances there is something for everyone. For that reason, the Club subsidises the entries and as a consequence almost half of all our members participated in one race or another. The run village was based outside Xscape and had plenty of portaloos, a baggage drop off and registration tent.

Before the race:Despite there being several thousand runners, parking within easy walking distance is not a problem, even if you are arriving for one of the later races. The start times were staggered, with the 20 miler away first at 9.50AM, and the half away last at 10.45AM. Despite this there were a larger contingent of BDRCers at the meeting point before the 20 milers headed off. The weather was brass monkeys, so there was a lot of debate about the merits or otherwise of base layers, shorts and running vests!! As well as Club members, there were a lot of familiar faces from other clubs and local parkruns. I ran the half marathon, which had the advantage of seeing all the other races start, and even some of the 5k racers finishing!!

Who ran:
5k:
Claire 'Froggles' Frogley, Maxine 'Mini Max' Sutton, Julie 'Wasler' Waller, Anne-Marie Gordon, Tom 'Tommo' Frogley, Gareth 'Meadster' Meade, Alasdair MacSporran.

10k:
Nicola 'Choochi' Crookes, Karine Peter, Alexandra Raschke, Nicola Olliffe, Sara Brooks, Siobon 'Shiv' Herring, 'Our' Kelly Llewelyn, Adrian 'Yorkshire Terrier (YT)' Crookes, 'Power' Serge Daval, Andrew Gardner, Michael 'Bish Bash Bosh' Bishop, 'King' Julian Chronicle, Jamie 'Jock' Horseman.

Half Marathon:
Chloe 'CP#1' Plester, Chloe 'CP#2' Plummer, Emily Cowing, Rachel 'Lolly' Prior, Kevin 'Cornish' Tustian, Richard 'Macca' McMahon, James Olliffe, Toby Cartwright, Tom Weedon, Paul Brown.

20 Miles:
Heidi Lewis, Sarah Scott, Louise Follner, Louise Stephens, Frances Cartwright, Chris 'Noz' Noble, Mark 'Del Boy' Poulton, Dave Bowen, Ian 'Mazzo' Marriott.

Sorry if I have missed anyone!!

The Race:
I ran the half, and positioned myself halfway back from the start so as to keep out of trouble! The course started on the dual carriageways which even with the high numbers allows runners to have reasonable space within half a mile or so. After 2 miles the course became more park than urban, with the route going through Woughton on the Green, and then heading towards Willen Lake. I gradually caught the 2:10 pacers and had to make my presence known to get past as the pack of runners with them were spread across the whole width of the path. The course takes a large, 10 mile, loop, incorporating the two well manned water stations before heading to Campell Park and the notorious hill. The 20 mile and half marathon routes come together about three miles from home making the course quite crowded with runners with a greater variety of paces. A few miles from home I spotted CP#1 ahead and managed to tag along next to her. Tom Weedon soon joined us, but clearly having plenty left in the tank pulled away and was soon out of sight. Whilst the course is relatively flat, the last mile is up hill, with the energy sapping Beacon Hill drawing the last bit of determination out of runners before the sprint to the finish line.
BDRC Results:
5k Women:
Claire Frogley 22:53 (First in age group)
Maxine Sutton 26:30 (First in age group)
Julie Waller 28:08
Anne-Marie Gordon 28:46

5k Men:
Gareth Meade 23:32
Alasdair MacSporran 24:04
Tom Frogley 25:20

10k Women:
Nicola Crookes 47:04 (First in age group)
Karine Peter 48:02 (second in age group)
Alexandra Raschke 50:42
Nicola Olliffe 54:08
Sara Brooks 55:31
Siobon Herring 58:28
Kelly Llewelyn 1:02:03

10k Men:
Michael Bishop 43:04
Serge Daval 44:05
Adrian Crookes 45:05
Julian Chronicle 52:30
Andrew Gardner 1:00:53
Jamie Horseman 1:02:03

Half Marathon Women:
Emily Cowing 2:00:42
Rachel Prior 2:02:58
Chloe Plester 2:08:10
Chloe Plummer 2:57:47

Half Marathon Men:
James Olliffe 1:22:33
Kevin Tustian 1:33:01
Toby Cartwright 1:39:39
Paul Brown 1:58:08
Tom Weedon 2:07:15
Richard McMahon 2:08:10

20 Miles Women:
Heidi Lewis 2:48:42
Louise Follner 3:06:31
Frances Cartwright 3:15:01
Sarah Scott 3:16:01
Louise Stephens 3:46:45

20 Miles Men:
Chris Noble 2:21:43
Dave Bowen 2:36:20
Ian Marriott 2:37:09
Mark Poulton 3:16:02
Funny Moments:
King Julian's interview to camera, hopping from one leg to the other, whilst Froggles tried to get a word in!!

Would you recommend? Yes. The race is well organised, well marshalled and at the end you get a bottle of water, a banana and a medal! As is becoming more common, if you want a shirt you have to pay extra for it. The courses are fairly flat, and whilst MK has the reputation of being all roundabouts and dual carriageways, the routes are predominantly through parks and away from the main roads. The large numbers of entrants gives a good atmosphere, without being so crowded you can't get in a decent rhythm.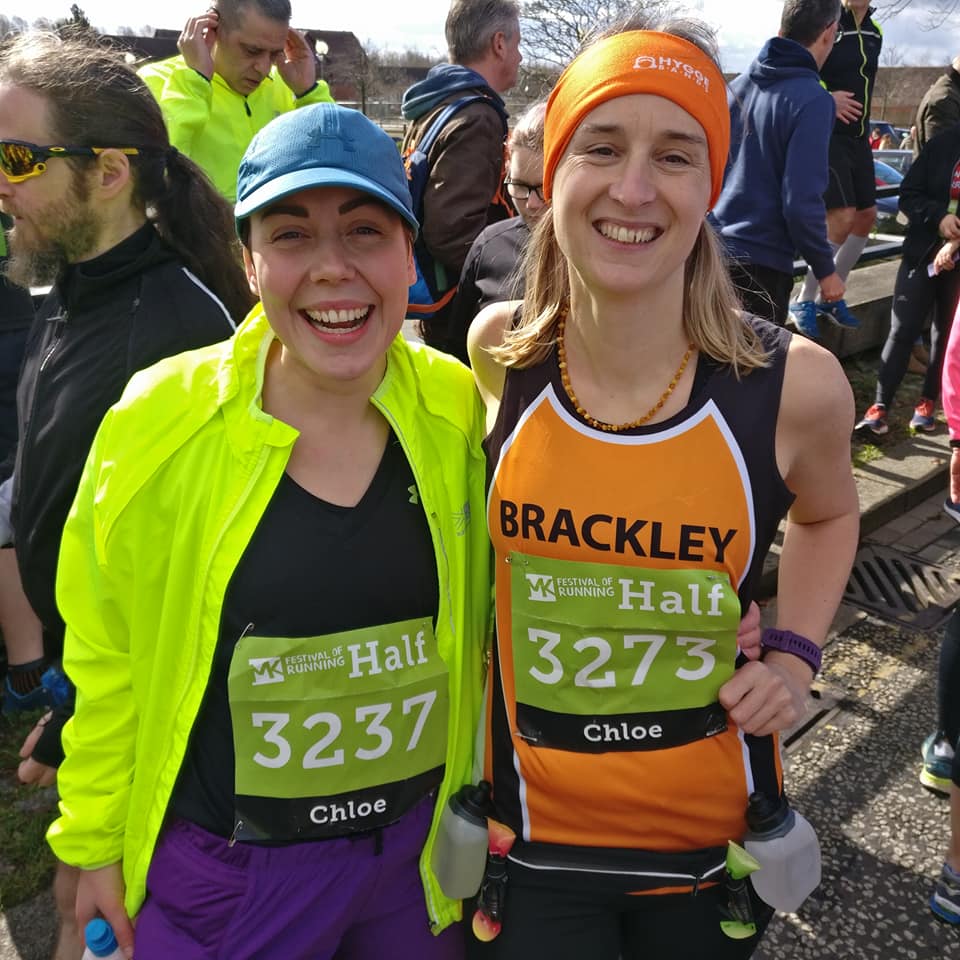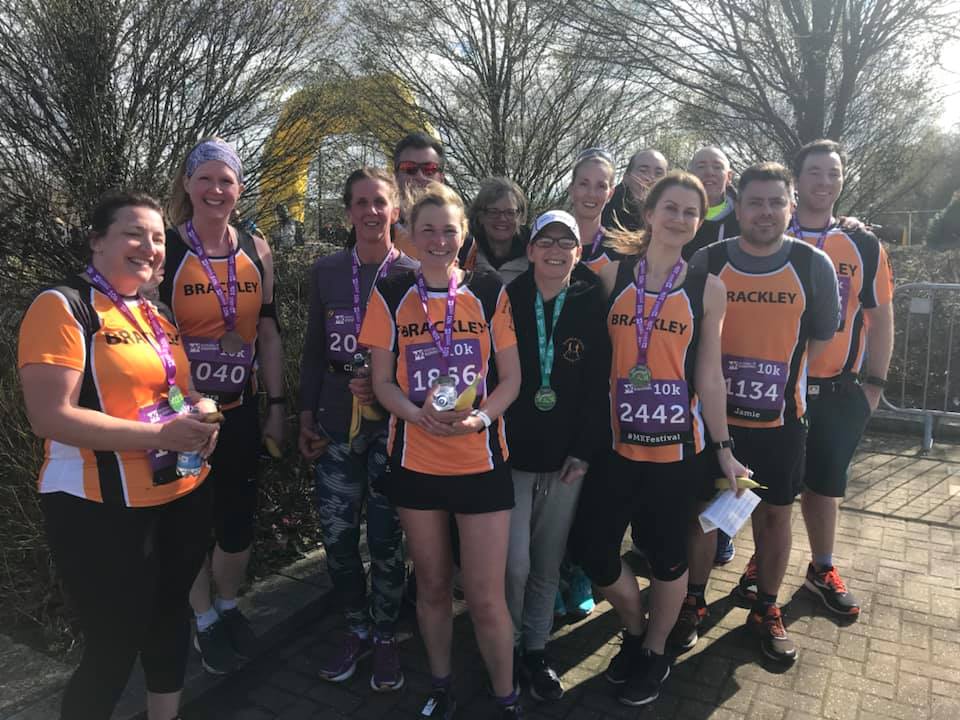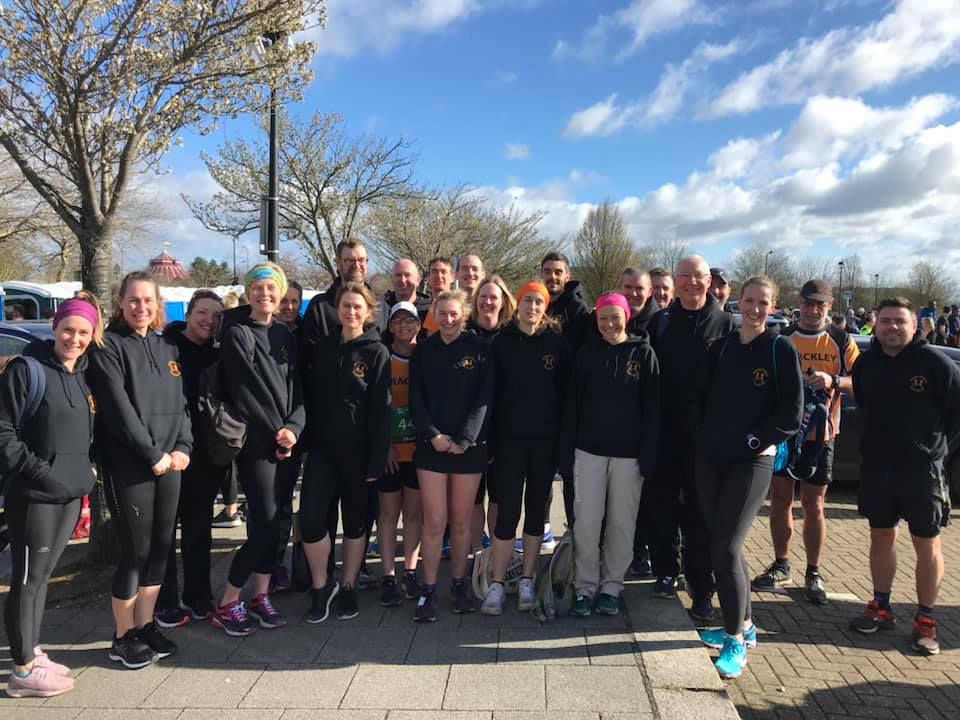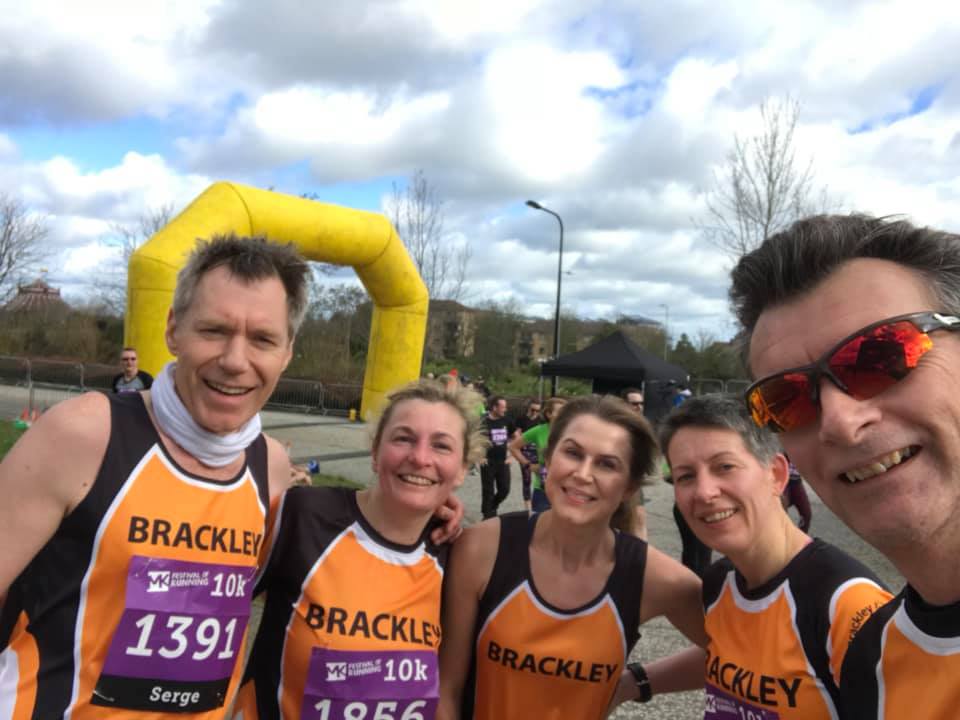 ---
Leighton 10K - 31 March 2019
Report by: Eoin Tweeddale (AKA ET)
Distance: 10km
Location: Long Marston Cricket Club
Web link: leightonfunrunners.org.uk

Event Details: Annual Leighton Buzzard 10K organised by Leighton Fun Runners. A different route to their normal race due to building works in Leighton Buzzard.

Before the race: Entertainment by the Ukie-Toones – a 10 piece ukulele ensemble playing fun songs including Hi-Ho Silver Lining, Friday I'm in Love, Yellow and many more. Great fun.

Who ran:
Running Royalty (King Jules), Nobility (Noz) and the extra-terrestrial (ET)

The Race:
An early 9am start (especially as the clocks had gone forward the night before). A flatish route taking in country and residential roads with a challenging section along the Grand Union Canal towpath.
BDRC Results:
1. Noz: 39:18
2. ET: 49:43
3. King Jules: 51:28
Funny Moments:
Realising that BDRC were represented solely by the V50s. Now known as the BDRC Saga Louts.

Would you recommend? Yes, fun being serenaded by Ukie-Toones, inexpensive race fee, good course, well marshalled with good facilities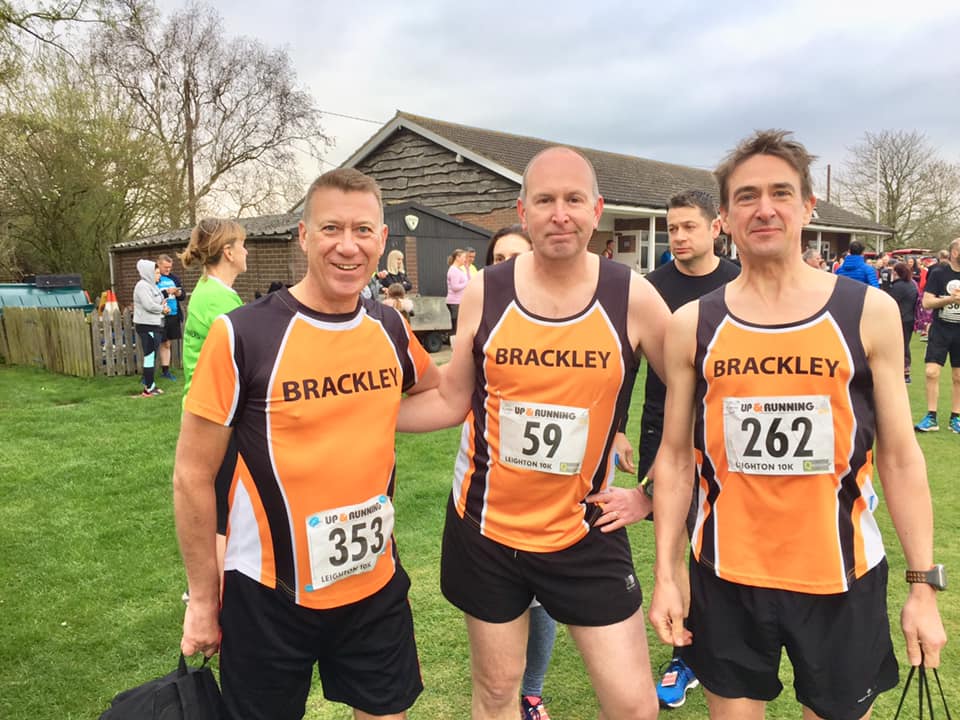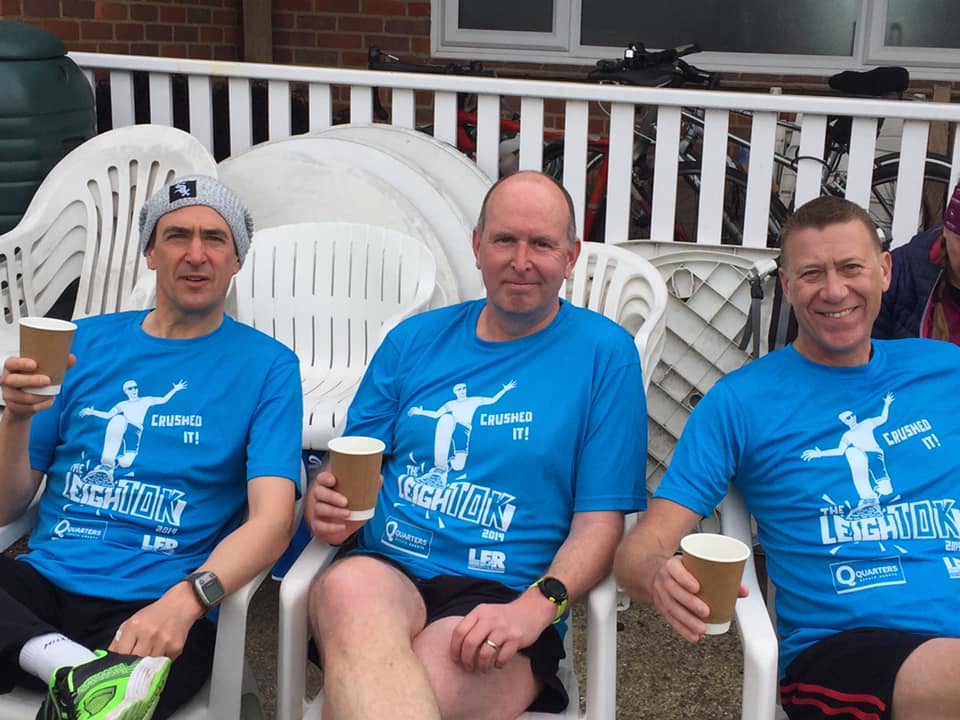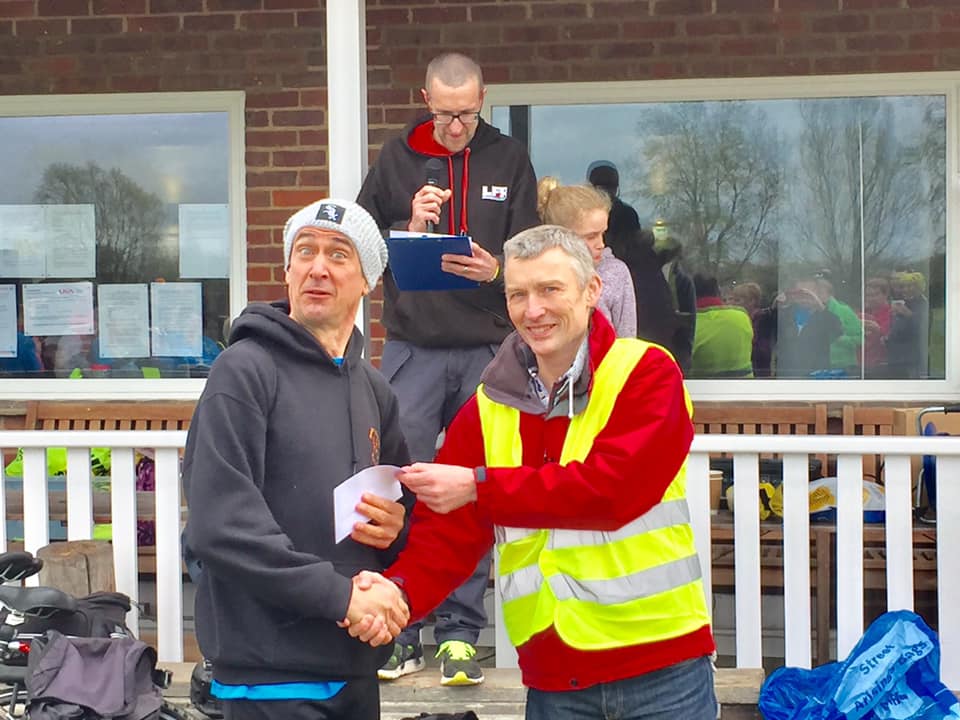 ---
Millennium Way Ultra – Sunday 3rd March 2019
Report by: Gareth Meade (AKA Meadster)
Distance: 41 miles
Location: Newport, Shropshire – Burton upon Trent, Staffordshire
Web link: BeyondMarathon.com

Event Details: It's a point to point race From a car park in Newport to Shobnall leisure centre in Burton Upon Trent. Run mainly along canal tow paths, Old railway lines, Riversides and fields.

Before the race: Signing on is at Shobnall leisure centre. When you sign in you get your number, a timing chip and a GPS tracker which had to be fitted high up on your body. You are then loaded on to a coach that takes you to Newport town centre car park for the start. Once at the start there was the usual explanation including "don't fall in the canal or the slurry pit".

Who ran:
Who ran: Pete "Boggy" Faulkner and Gareth "Meadster" Meade

The Race:
It all started off well none of the forecasted showers or high winds. The first couple of miles were through Newport and then you head out of town on cycle route 55 which is an old railway line. You basically follow this to checkpoint 1 at 11 miles. Nice running. I was lucky and got talking to a young lady from Nantwich called Suzanne Lynn and three guys from Manchester. After checkpoint 1 you run through Stafford and follow the river Sow and then along the Worcestershire and Staffs canal to check point 2 at mile 21. From here you carry on with the canal eventually turning on to the Trent and Mersey canal through Rugeley. At this point you head under the railway lines and across the ploughed, muck spread fields to Yoxall for check point3 at 31 miles. The fields did smell quite badly with all the muck that had been spread across them and in some places were ankle deep in slurry. Yeuggh. Luckily unlike one of the Manchester guys I managed to stay on my feet. There were a couple of hills at this point which were very slippy and yes your right the guy from Manchester slipped over again, sliding back down the hill. From here you carry on across the fields dodging the Bullocks and sheep to Wychnor and then back down onto the Trent and Merseyside canal which runs alongside the A38. This you follow for the remaining 6 miles into Burton and then Shobnall, passing Branston water park and Burton Marina, where you head up onto the small road section back into the leisure centre. Getting back in time for a warm pie and a warm cup of coffee. Aah nice. Although relatively flat (it only has about 200 feet of elevation) it is fairly arduous as there isn't any rest up, as it's full on running. The checkpoints were well set for food and drink. We did have a number of showers but nothing like what was forecast. (Think you guys had it worse) but it did get very very windy for the last 10 miles due to Storm Freya.
BDRC Results:
Pete "Boggy" Faulkner a fantastic 4th place in a time of 6:26.40, 40 minutes quicker than he did last year and only 16 minutes behind the winner. Awesome work on that terrain. I finished 98th out of 209 in a time of 9:44.51
Funny Moments:
Typical as Jasper Carrot (70's comedian) would say, I got the "Nutter" on the bus sit next to me. First he decided to eat six bananas and then wouldn't shut up telling me about his running, so I didn't get any sleep. Not really funny more demoralising, during the run just when I was starting to struggle I got overtaken by a bloke in a Scooby Doo costume.

Would you recommend?Yes. A good race for a first time Ultra runner but more gruelling than you would think. Well organised. You will need to self-navigate (or cheat like I did and follow the others around you).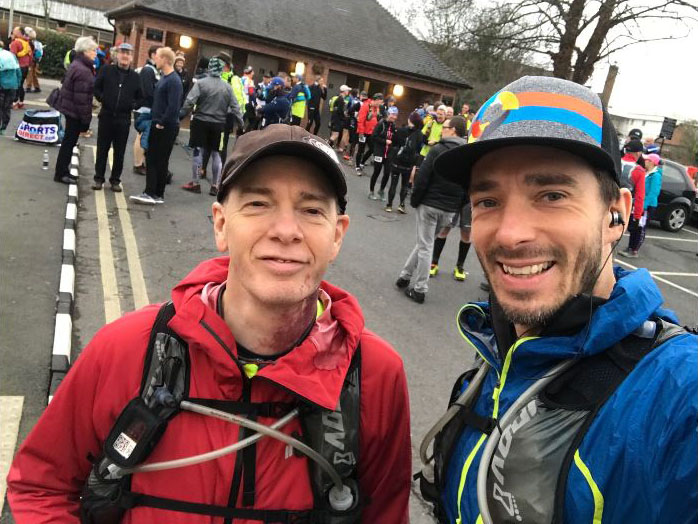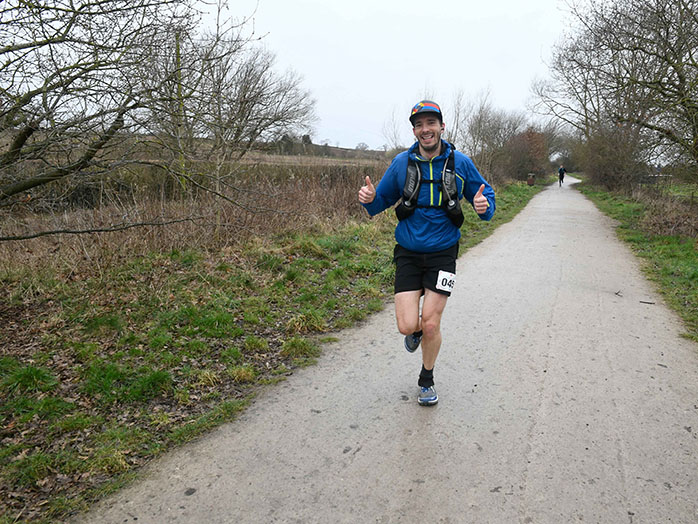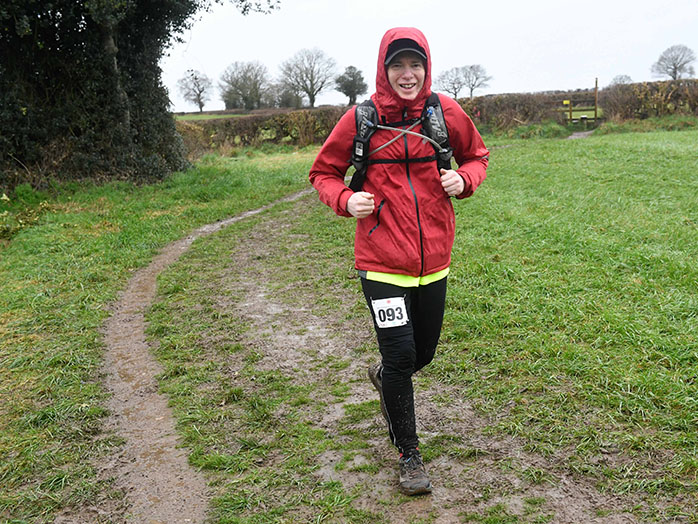 ---
Winslow Lions 10k – Sunday 24th February 2019
Report by: Chris Noble (AKA Nozbod)
Distance: 10km
Location: Furze Down School, Verney Rd, Winslow.
Web link: winslowlions.org.uk/10k-run.html

Event Details: A 10K undulating run along the roads of rural Buckinghamshire. Changing facilities and toilets at school. Hot drinks, bacon rolls and other light refreshments. Entries were available on the day. Car parking 5-10 min walk from HQ.

Before the race: Needed early prep for race so made own way. Parked in prime spot immediately outside venue. Cornish did same as he needed to get away straight after the race. All met op in sports hall for collecting of race numbers and chit chat/bants.

My thoughts were on gaining back the old git trophy, so did own warm op and missed the girls 'boob' warm op (see 'Funny Moments').

Who ran:
Choochi, Cornish, Del Boy, Froggles, Heidi, Karine, Macca, Noz, Power, Scotty, Wazzler & YT

The Race:
The race: Perfect conditions, cool but sunny day and little/no wind. Needed quick start so positioned myself towards the front… standing next to Power. Few other BDRC's were close by and Cornish was on the front row.

BANG!! The start gun fired and we were off. After the short uphill start, we quickly found our positions and turned right onto the speedy downhill section which contributed to a riiiight rapid first mile.

Always catches me out just how undulating this race is. You don't notice too much the long, steady, nearly 2 mile climb from 1.5-3.5 miles, Verney Junction to East Claydon, but it takes it out of you for sure. Could frustratingly see Cornish cruising his way around. Next was a 1 mile down hill so tried to push on here before a left turn taking us back to Winslow… and THAT hill. Marcin got some dodgy pics and vids of us all 'racing' up it wearily, but then it was a case of attempting to put the afterburners on along the sleight downhill gradient Verney Road leading to the school and the finish line. Cornish had decided to pull his finger out by this point and finished 40 secs ahead and a v.credible 11th overall. Collected t-shirt, had much needed sports drink that was laid on and did a few stretchies whilst cheering in the other mighty BDRC's. Then more bants and post-race team pics, all agreeing the t-shirt was a great looking purple.

Some personal PB's were achieved, great running from all and a fun Sunday morning was had. Oh, did I mention I got 1st MV50 trophy 🏆🔥🙂 Oh, and improved my BDRC old git 10k record 👊😎
BDRC Results:

| | | | | |
| --- | --- | --- | --- | --- |
| Name | Time | Overall Pos | Cat Pos | Category |
| Kevin Tustain | 37:48 | 11 | 7 | M-SNR |
| Christopher Noble | 38:27 | 14 | 1 | MV50 |
| Serge Daval | 44:12 | 61 | 13 | MV50 |
| Adrian Crookes | 44:20 | 63 | 16 | MV40 |
| Heidi Lewis | 47:36 | 93 | 3 | FV35 |
| Karine Peter | 48:16 | 101 | 3 | FV45 |
| Claire Frogley | 48:39 | 105 | 5 | FV35 |
| Nicola Crookes | 50:37 | 133 | 5 | FV45 |
| Mark Poulton | 52:36 | 159 | 40 | MV50 |
| Sarah Scott | 53:45 | 169 | 11 | FV35 |
| Richard McMahon | 53:53 | 171 | 43 | MV50 |
| Julie Waller | 1:01:36 | 251 | 25 | FV45 |
Funny Moments:
Cornish's 'oooh sailor' pose (but without the usual pout) in the sports hall.

Ok, apparently there wasn't an actual 'boob warm up', it was bants and demonstrations about the problems with sports bras breaking 😂

At about 1-mile Marcin went past on his motorbike shouting abuse at me and beeping horn.

Power hearing someone shout 'cmon Brackley' going up 'THAT' hill, then thinking he might have to walk up part of it… but then heard another "cmon Brackley" a few seconds later and The Power powered to the finish to keep ahead of YT.

Avin' a riiight giggle for the post-race team pic. Some pics too dodgy for FB/websiiite 😂

Would you recommend? Of course, great local event, hence it's always in Club Champs.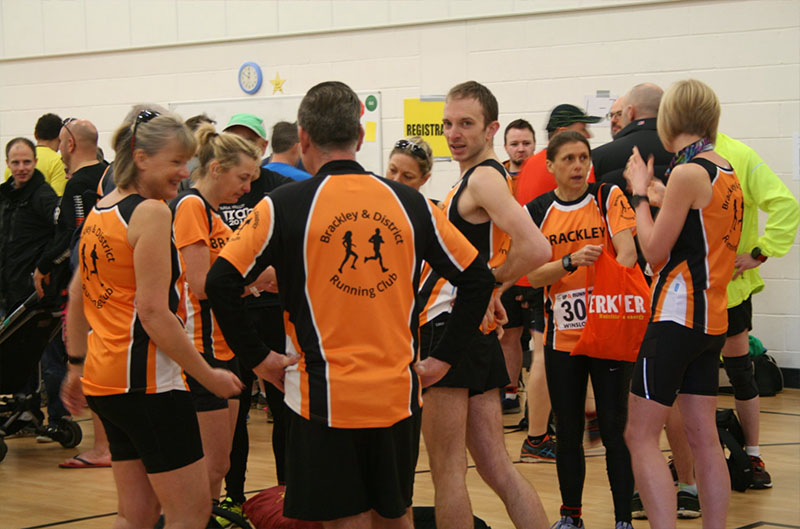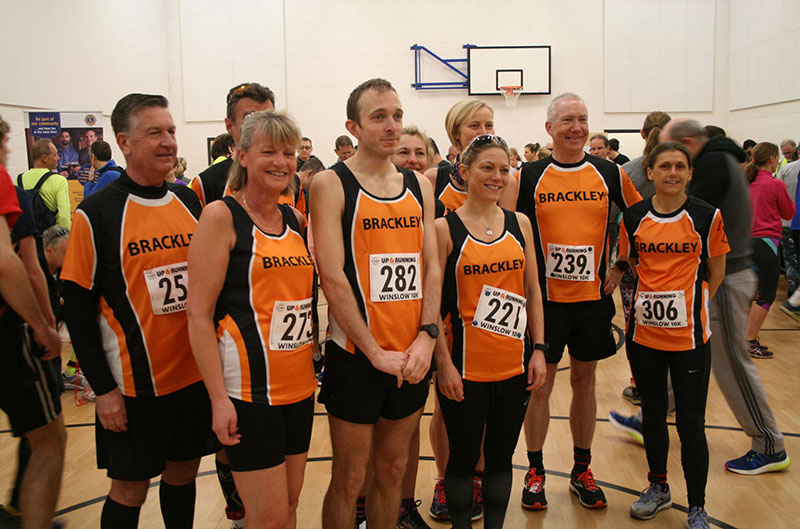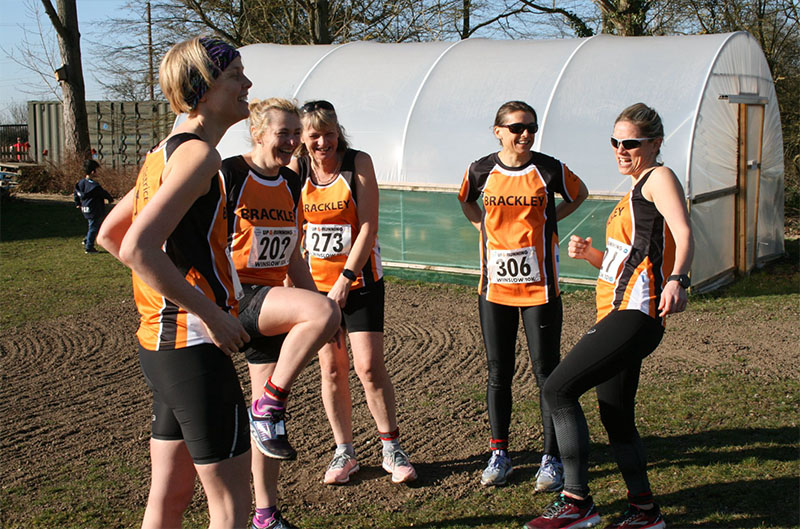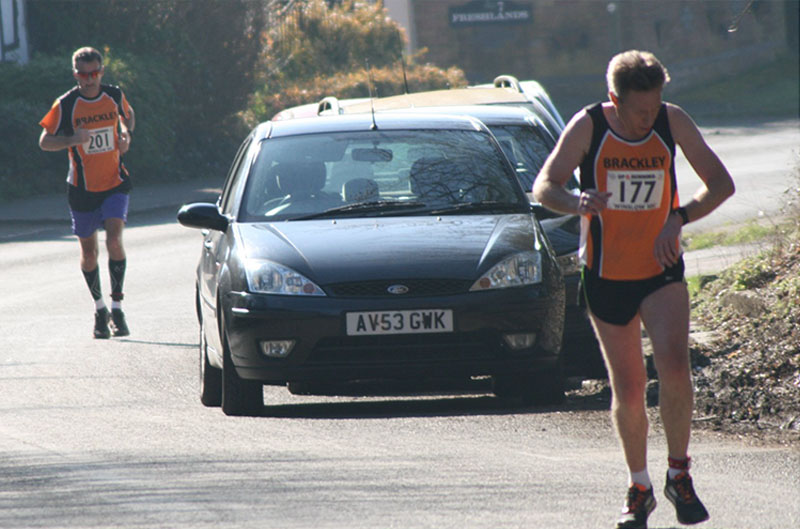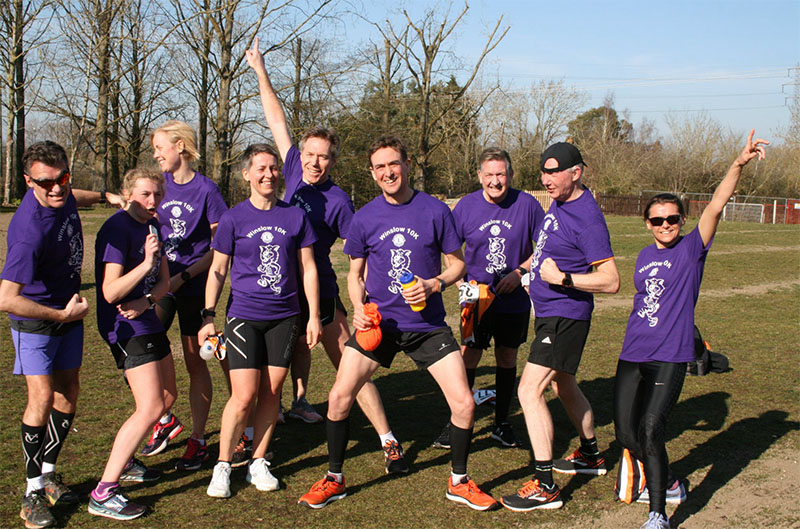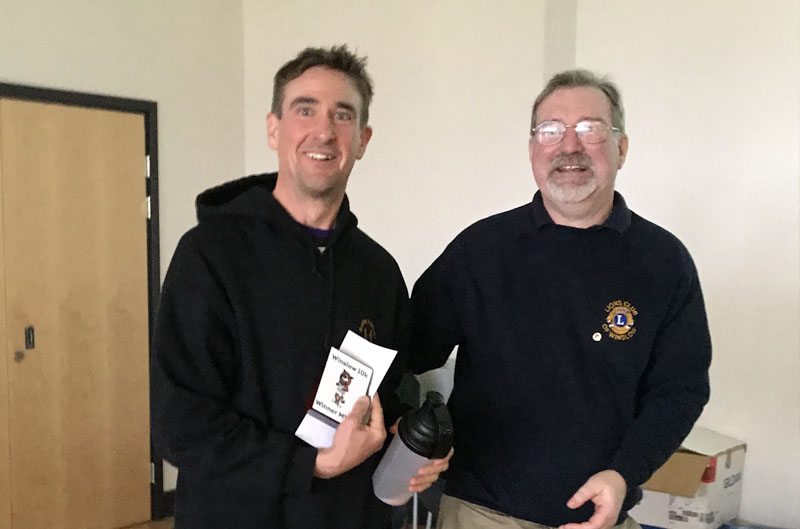 ---
Gayton – Sunday 27th January 2019
Report by: James Ollife
Distance: 5km & 10km
Location: Gayton, Northants
Web link: onyourmarksevents.org/events1/running-events/gayton-10k-5k-run.html

Event Details: The Northamptonshire village of Gayton sits on top of a hill, overlooking Northampton. The 5k run is a fairly flat route, taking runners through the village of Gayton on quiet, mostly single track roads. The 10k event takes runners from Gayton down single track roads over the Grand Union Canal and railway bridge, with breathtaking views of Northampton. The sting in this run is the Gayton Hill to climb back into the village to join the 5k route back to the finish line.

Before the race:Absolutely fricking freezing!!! Waking up in the early hours to hear the wind whipping around the house had already pre warned that it was going to be nasty out there but nothing could have prepared us for the icy gale that was blowing on Sunday morning!! The long trudge uphill from the school car park to the race hq at the farm was soundtracked by complaints of grumpy cold runners (why oh why do we do this again and again?!). Once at the farm it was a case of collecting your number, trying to ensure it didn't blow away before you pinned it on, and finding a spot in amongst the farm machinery in the corner of a barn. 2 portaloos was about right for this many people and strangely enough inside one was probably the warmest spot to hang out pre-race!! The call to race start came at 10:50 and we all duly filed along to the start, which in itself was a bit of a farce, runners dodged cars that were still driving along the open country lane whilst the organisers spread out the start mat (and lifted it again to let said vehicles through). Hanging around and starting late there were a fair few grumbles from those around me. When we finally did get underway an organisers car parked in the middle of the road created a quick chicane within the first 20m. I've heard a few negative remarks about On Your Marks events and to be honest they didn't cover themselves in glory here unfortunately!!

Who ran:
10km - James, Kevin (Cornish), Heidi, Claire (Froggles), Sue, Mark (Del Boy), Louise, Alex, Richard (Macca), Nicola O, Chloë and Andrew

5km - Nicola C (Choochi), Eoin (ET) and Tom (Tommo).

The Race:
After the shaky start it was an ok, yet lonely race for me in the end. A small group of us were together at the start, annoyingly I ended up on the front with a couple of smaller guys tucked in sheltering behind through the first km. A chap I recognised from Leighton Buzzard AC as being faster than me pushed on slightly and I knew there was no way I was going to stay with him for the whole race so made the decision to let him go. My main aim today was to keep it nice and controlled and not go mad, I was not expecting a pb by any stretch but really didn't want to blow up and hate the day. The first 5km are undulating with a nice long downhill and a few short sharp uphill's, the large railway bridge being one of them, I ended up having to dodge a couple of cars waiting at the traffic lights so I imagine this could have caused a bit of grief in the middle of the pack where it was a bit busier. The wind was really quite crazy and there were a couple of times where I was almost blown off the road (no exaggeration I promise!), there were a fair few swear words spat though gritted teeth at this point!! Next up I had to focus on the notorious hill at 5km, I intentionally dialled it back a little so as not to be on the edge when I got there, as I did this I could hear the chap behind gaining on me, he sounded like he was struggling a lot more than me and I knew if I could keep him behind on the hill chances are that would be the last I saw of him. Luckily this was the only point of the whole day where the wind was a blessing, it was a tailwind all the way uphill so gave a nice gentle nudge up the incline, I did manage to keep in front and sure enough I didn't hear him again. Over the top and through a village, a special mention must go to the marshal manning the water station, she gave me a cheery wave as I ran passed and she looked absolutely frozen. Around 7km ish the 5km racers joined the 10km route, this is always a welcome distraction and it was nice to see plenty of youngsters running; I always try to make a point of giving them a well done as I pass. There were a few more ups and downs as we approached the finish with a nasty little uphill before the final turn back to the farm. I picked it up for the last few hundred metres and crossed the line 2nd overall, two races and two trophies as a BDRC member, orange must be my lucky colour!! 37:18 today, better than I predicted pre race but some way off what I know I am capable of so bitter-sweet I guess.

After chucking on a few layers it was nice to cheer new clubmates on at the finish (apologies for when I inevitably cheer the wrong name at you – it took me over 3 years to learn half the names at my previous club and I still got those wrong!!)

Well done to all that finished on what was a tough day, if you managed a decent time today then you are in a great place for a flat course on a calmer day!!
BDRC Results:
Two more trophies for the club this weekend (4 in the space of 7 days I believe!).
Both 2nd places today, Nicola Crookes in the 5k and myself in the 10k.

10km Results
James Olliffe 0:37:18
Kevin Tustain 0:38:15
Heidi Lewis 0:47:15
Claire Frogley 0:47:27
Sue Torrance 0:48:51
Mark Poulton: 0:51:44
Louise Follner 0:51:59
Alex Raschke 0:52:52
Richard Mcmahon 0:54:35
Nicola Olliffe 0:56:09
Chloë Plester 0:57:27
Andrew Gardner:0:58:41

5km Results
Nicola Crookes 0:22:51
Eoin Tweedale 0:23:56
Tom Froggley 0:25:12

Not so much a funny moment but a relief at being handed a trophy immediately after crossing the line meaning there was no need to wait around in the cold (did I mention it was cold?!) for a presentation. Apparently, it was because the podium couldn't be set up due to the wind!!

Would you recommend? On a day when it's not blowing a gale then maybe it's an ok, local race, but a few quid overpriced. If the weather is anything like this one then no way!!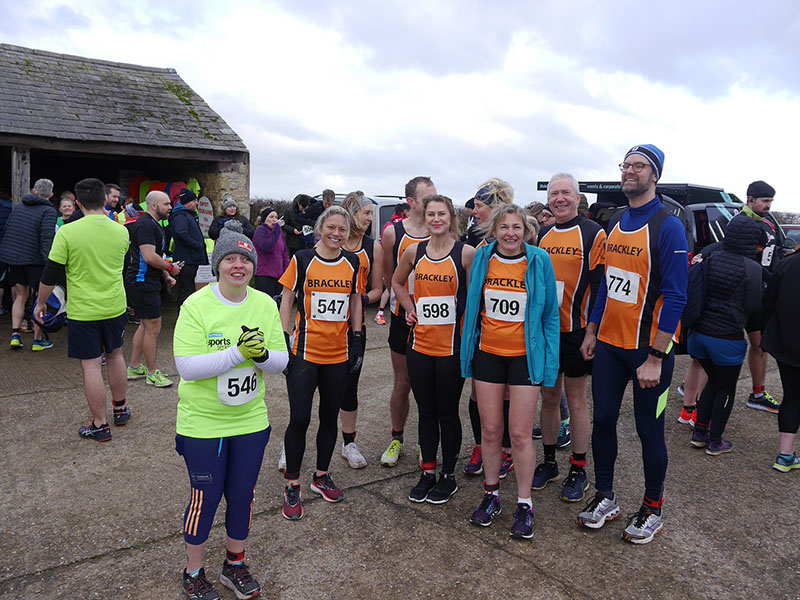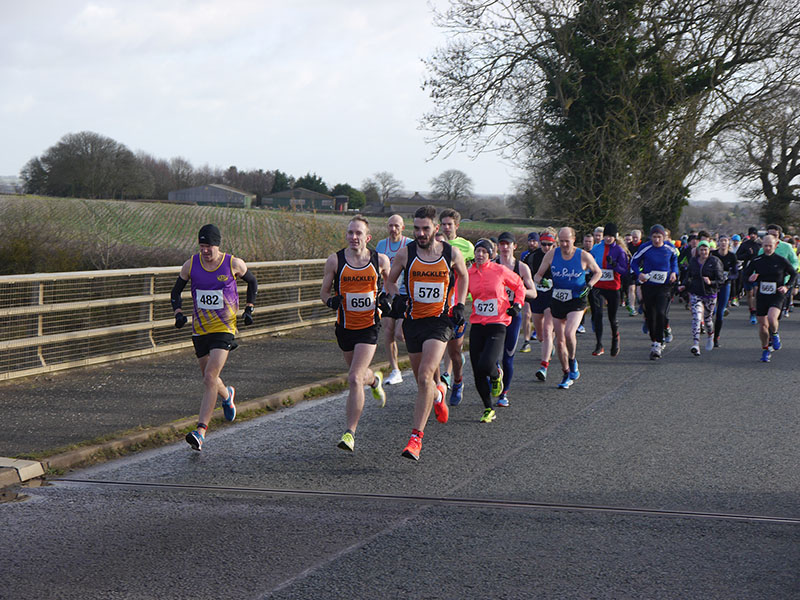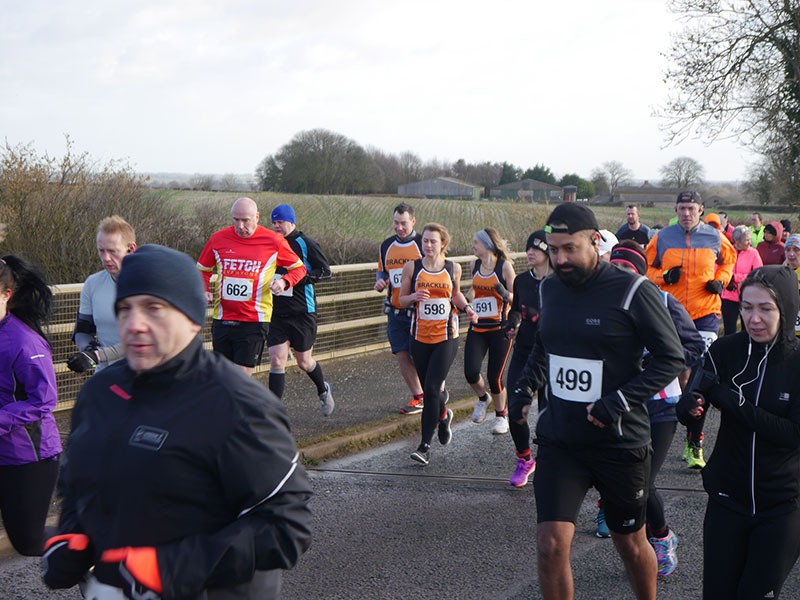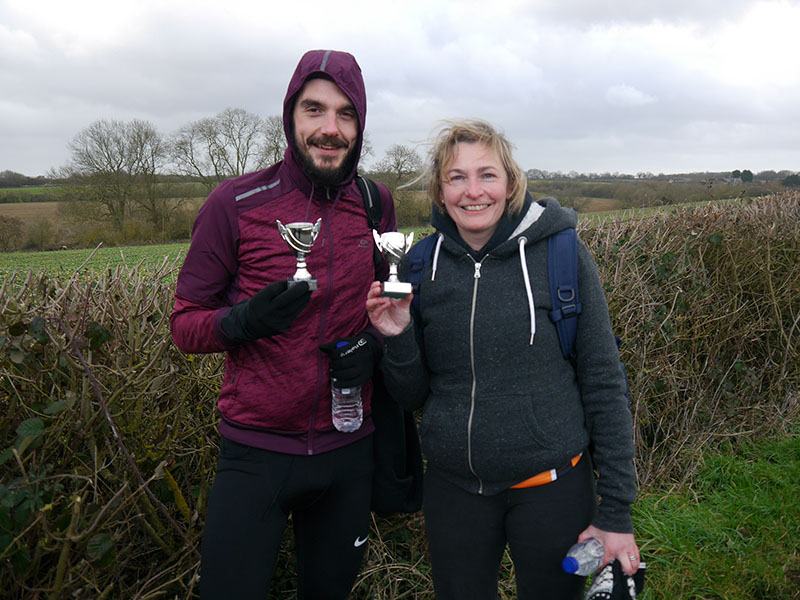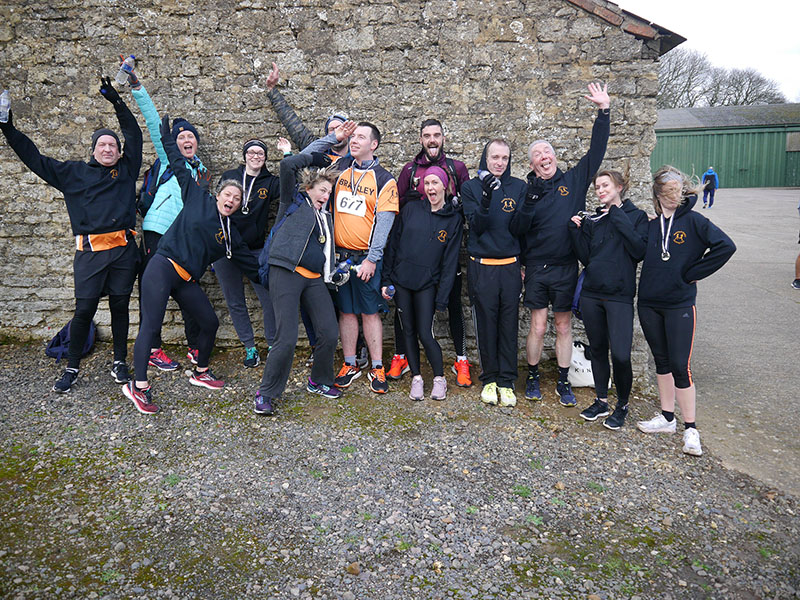 Photos by Adrian Crookes (AKA YT)
» Click here
to view more images of Gayton
---